I had been needing a change of scenery, and this weekend, boy, did I ever get one.
I also got a steak and a soufflé; an engagement party with fifty longtime family friends, a few pork tenderloins with pistachio chutney, and an enormous mocha fudge cake; a ring that once belonged to my great-grandmother Millicent; and a four-and-a-half-day weekend with family old and new. Oklahoma, you may be flatter than a pancake, but you sure know how to throw a party. From now on, I'm going to get engaged a lot more often.
Last Thursday, while most of North America was sleeping—at 3:30 am, to be precise—Brandon and I hopped a shuttle to SeaTac. A few hours later, we arrived at Will Rogers World Airport—though the "world" part is a bit optimistic, if you ask me—ready for a weekend of festivities, with a suitcase containing five chocolate bars and a pound of coffee for my mother, a lacy black dress for me, and for Brandon, a (gorgeous! 12-dollar!) green vintage suit. [Oklahoma may have lots of oil, but some things have to be imported.] My mother met us at the baggage claim, and from there, the rest of our stay brought a very busy, very welcome onslaught of family and friends, and even a shockingly good falafel sandwich.
Going home is a strange sensation. It's a little like stepping into a warm swimming pool: something familiar and safe and inviting, but also not entirely of my element. It was good to be home, to hear the crickets and cicadas and the benevolent roar of the air conditioner in my old bedroom, and to fall asleep in mid-afternoon in my father's armchair. I can still navigate the streets without a thought, although the prayer on the front page of the daily newspaper does give me pause. Oklahoma City is still my hometown, even if it does strike me as kind of a strange place. It always has. But if this city loves you, it lets you know. It remembers the poems you wrote for the school literary magazine when you were sixteen. It gets teary-eyed when it talks about your dad. It pinches your fiancé's dimples. And sometimes, it's awfully hard to leave.
To everyone who celebrated with us this weekend, thank you. Please accept this cookie recipe as a belated party favor from two devoted Seattlites. We'll be back soon.
Chocolate Chip Cookies with Dried Apricots and Espresso
Adapted from Leslie Mackie's Macrina Bakery and Café Cookbook
Given all the regulations on liquids, gels, lotions, creams, soups, sauces, and other sort-of-solids, few foods can slip past the security checkpoint these days. Brandon managed to sneak hummus on board by camouflaging it under a nubbly cloak of toasted pine nuts, and I got away with a Tupperware of ratatouille and a boiled egg, but otherwise, the airplane is a pretty desperate place where food is concerned. Quite handily, however, cookies are one of the few items that seem to be a safe bet. I packed a baggie of these on Thursday morning, stashed them in my bag, and got them on board without skipping a beat. Phew.

Tender and chewy, they make a perfect traveling companion: warm with the flavor of ground espresso beans and chunky with chocolate chips and dried apricots, they satisfy a handful of cravings in one fell swoop, which is very useful when you're several thousand feet up, and with only beverage service. The recipe comes from Macrina Bakery, one of the best bakeries in Seattle. Although I love popping into their First Avenue storefront for a cookie, these are simple enough to make that it's almost easier to go home and preheat the oven. Anyway, the cookies from the bakery sometimes taste too sweet, but my homemade ones are always spot-on, thanks to my rigorous quality-control measures in the form of, um, frequent dough sampling.
Should you pack a few for your next trip, I recommend asking your flight attendant for one of those tiny cartons of milk to drink alongside. Or, on second thought, if you're trying to save some for family or friends at the other end of the flight, maybe you'd better not. Oklahoma, I'm so sorry. We ate them all. But I did bring you the recipe.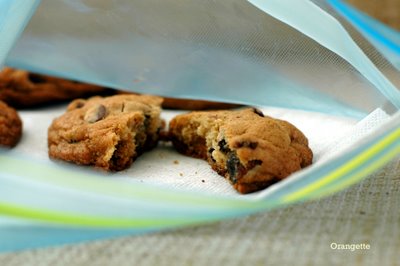 A few words about ingredients:
Note that the apricots called for here are unsulfured. Because of that, they don't have the pretty, pale orange color that more common sulfured apricots do. Instead, they're a sort of deep brown. I don't mind, but if you would prefer orangey apricots, feel free to use them. Also, about the espresso beans: their flavor is quite mild here – more of a supporting player than a star – so if you want something stronger, you might play with upping the amount of ground espresso beans by, say, a quarter of a teaspoon at a time. I like them as is, but Brandon thought a bit more espresso would be nice.
2 ¼ cups unbleached all-purpose flour
1 tsp baking soda
¼ tsp salt
½ tsp finely ground espresso beans
10 ounces good-quality semisweet chocolate chips, such as Ghirardelli
¾ cup unsulfured dried apricots, diced
8 ounces (2 sticks) unsalted butter, at room temperature
¾ cup granulated sugar
¾ cup light brown sugar
2 large eggs
2 tsp pure vanilla extract
In a medium bowl, combine flour, baking soda, salt, and espresso. Stir with a whisk until well mixed. Add chocolate chips and apricots, and mix well with a spoon. [Adding the apricot bits at this stage and coating them with flour helps to keep them from sticking to one another.] Set aside.
In the bowl of a stand mixer (or in a large mixing bowl), combine the butter and sugars. Using the paddle attachment (or the regular beaters of your handheld mixer), mix on medium speed until the mixture is smooth, fluffy, and pale in color about 5 minutes. Add 1 egg, and mix to incorporate. Scrape down the sides of the bowl with a rubber spatula; then add the remaining egg and the vanilla extract. Continue mixing until incorporated, about 1 minute. The batter should look very fluffy, almost like frosting. Remove the bowl from the mixer, if using, and scrape down its sides again.
Using a rubber spatula, gently fold half of the dry ingredients into the batter. After the first half is fully incorporated, add the second, and continue folding until all of the flour has been absorbed. Scrape down the sides of the bowl, and cover it with plastic wrap. Chill the dough in the refrigerator for at least 1 hour and up to 4 days. [I made a few cookies after 1 hour, but I saved most of the dough for the next day. The dough that chilled longer made for a chewier, chunkier cookie, like the ones pictured above.]
When you are ready to bake the cookies, position a rack in the center of the oven, and preheat the oven to 350 degrees Fahrenheit. Line a rimmed baking sheet with parchment paper.
Scoop hunks of dough out of the bowl—I used a medium-size spring-loaded ice cream scoop—and roll them into fat, 2-inch balls. Place 8 balls on the baking sheet, leaving 2 inches between each ball. Place the remaining dough in the refrigerator while the first batch bakes.
Bake cookies for 15 to 18 minutes, or until golden brown around the edges and slightly soft in the center. To help them bake evenly, rotate the baking sheet every four minutes. When the cookies are ready, remove the pan from the oven, and carefully slide the sheet of parchment paper and its cookies onto a countertop, cutting board, or cooling rack. Allow to cool for about 10 minutes, if you can possibly wait, before eating. Repeat with the remaining chilled dough.
Note: Cooled cookies will keep in an airtight container or plastic bag for up to 3 days at room temperature. Brandon, my live-in Heloise, taught me to put a paper towel in the container or bag with them, and I find that it helps to regulate humidity and keep their good, chewy texture intact. These cookies also freeze well.
Yield: About 20 cookies, give or take a few tastes of raw dough for the baker