The call came last Thursday.
"Molly." Rebecca said sternly. "Sunday morning. Jimmy's." I wasn't sure if this was a command or a question. "He's doing baked eggs. Don't eat after three o'clock on Saturday."
In only a few words, there it was: the return of the Jimmy.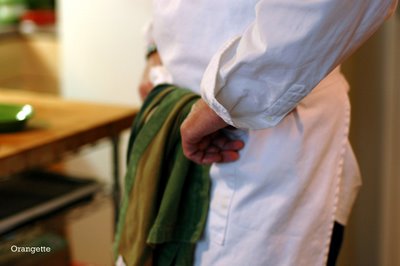 Longtime readers of this site will remember Jimmy, my former employer Rebecca's gay husband and the crowned king of Sunday mornings, the man whose bold, fearless conquests of the kitchen have clogged many an artery, spawned Dutch babies across the land, and won countless full-bellied followers. For a while there, I had the honor of spending nearly one Sunday out of four in Jimmy's petite, astoundingly productive kitchen, and astounded I was by the quantities of fat, sugar, and cream that fell upon my plate. It was delightful; it was delicious; it was completely immoderate. I loved those mornings, but in all honesty, I feared them a little too. So when a few months passed without a call from Rebecca, I was sad, but I took it as a sign that my waistline and I were supposed to stay at home, where the milk is (mostly) nonfat and the chocolate stays in the cabinet until well after noon.
You'd better believe, though, that when the call did come, Brandon and I wasted no time in getting to Jimmy's. While we did get off the elevator on the wrong floor and pace the hallway for a few minutes, wondering why none of the doors were emitting the usual bacon-scented tractor beam, when we finally reached the right floor and the right door, oh, we were ready.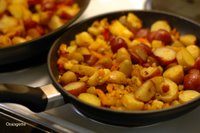 There was a skillet of potatoes on the stove, browning slowly in butter with a dice of bell pepper. Rebecca, wearing a Café du Monde apron and a Band-Aid on her thumb—"Jimmy made me grate the cheese," she explained cheerfully—poured mimosas and stirred the potatoes.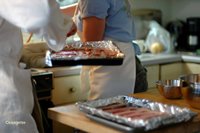 Jimmy stood at the counter with three small sheet pans of bacon and a bowl of sugar, cayenne, and black pepper, which he spooned atop the slices before sliding them into the oven, where they began to slowly sizzle and crisp, turning a gorgeous shade of shiny, burnished red.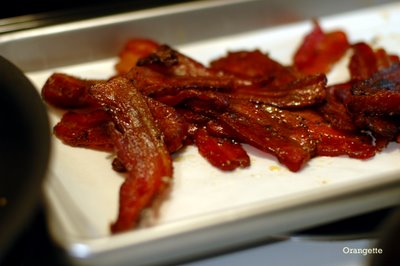 Then he prepared the eggs. I have had baked eggs in many incarnations, but I had never seen any like these. The whites were seasoned and whipped separately, so that they formed a frothy nest in which to place the yolk. A dollop of crème fraîche sat on top like a cap, along with a few feathery shreds of the Cantal cheese that gives this dish its elegant name: oeufs à la Cantalienne. Once in the oven, the whites puffed around the yolk like a rumpled lace collar, and the whole thing went airy and golden, like a sort of deconstructed soufflé.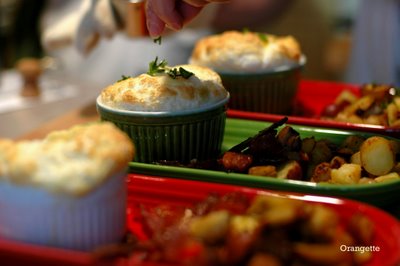 It was eggs, bacon, and hash browns, but served up Jimmy-style: on oblong Fiestaware plates, and at 9 am.
I stabbed at the yolk with my fork, and it split into the soft, spongy whites with a rush of yellow. The melted cheese wove a fine web over the top and down into the egg, where it wound delicately around the tines when I scooped up a bite. It was almost cloudlike—but then it was creamy too, swallowing with the soothing, milky tang of crème fraîche. My only regret, having quickly scraped my ramekin clean, was that I didn't drag at least one of the potatoes through the saucy, yolky stuff at the bottom. But I swallowed my remorse with a few bites of bacon, whose sweet-hot burn made a tasty distraction—tasty enough, in fact, to tide me over until the next call.
Oeufs à la Cantalienne
Gourmet, September 2006
Rather than the Cantal cheese called for here, Jimmy used Beaufort, and although that might technically make these oeufs à la Beaufortienne, we found the substitution more than acceptable. In fact, so far as I could tell, every single speck of these beauties was gobbled up. Jimmy served them in individual ramekins, but Gourmet's recipe indicates that you could also use a single 9"-by-13" baking dish, which would make this easy recipe even simpler.
A note to those who, like me, have mixed feelings about rich breakfasts and brunches: this is the recipe for you. It feels almost virtuous somehow—so much so that I'm tempted to call it "Jimmy lite." But I won't.
Butter, for greasing ramekins
6 large eggs
¼ tsp salt
¼ tsp black pepper
1/8 tsp freshly grated nutmeg
1/8 tsp cream of tartar
3 oz coarsely grated Cantal cheese, about 1 cup
6 Tbs crème fraîche
Chopped fresh chives, for garnish
Position an oven rack in the middle position, and preheat the oven to 350 degrees Fahrenheit. Butter 6 (8-ounce) ramekins or a 9"-by-13" baking dish. If you are using ramekins, place them on a rimmed baking sheet for ease of transport.
Separate the eggs, putting the whites into a large mixing bowl and carefully sliding the whole, unbroken yolks into a small bowl of cold water.
Using an electric mixer at medium-high speed, beat the egg whites with salt, pepper, nutmeg, and cream of tartar until they just hold stiff peaks. Fold in ½ cup cheese gently but thoroughly. Divide the egg white mixture among ramekins or transfer to the baking dish, smoothing the top slightly. [The whites will stand above the rims of the ramekins.] Make an indentation in the center of the whites in each ramekin, or, if you are using the baking dish, make 6 evenly spaced indentations. Using your fingers, carefully remove the yolks from the water one at a time, and slip one yolk into each indentation.
Stir the crème fraîche so that it is smooth and free of lumps, and spoon one tablespoon on top of each yolk. Sprinkle the eggs with the remaining cheese.
Bake the eggs until the whites are puffed and pale golden, 10 to 14 minutes. The yolks should jiggle slightly. Sprinkle with chives, and serve immediately.
Yield: 6 servings
_______
Sweet-and-Spicy Bacon
Gourmet, September 2006

I should begin by saying this: I am not a huge fan of bacon. The thought of it is certainly pleasant enough, but it doesn't send me clawing for a plateful. I like it better as a flavor component in a larger dish, I guess, than as a stand-alone thing. This bacon, however, is no ordinary stuff. No one—not even I—can straddle the fence when pork fat meets sugar, cayenne, and black pepper. I ate three pieces, and that's no small potatoes.
1 ½ Tbs packed light brown sugar
Rounded ¼ tsp cayenne
Rounded ¼ tsp freshly ground black pepper
1 lb thick-cut bacon (about 12 slices)
Position an oven rack in the middle position, and preheat the oven to 350 degrees Fahrenheit.
In a small bowl, stir together the brown sugar, cayenne, and black pepper.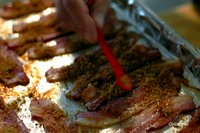 Arrange the bacon slices in 1 layer—not overlapping—on the rack of a large broiler pan. [Jimmy didn't use a broiler pan. Instead, he lined a rimmed baking sheet with aluminum foil and put the bacon on the foil. It seemed to work just fine.] Bake the bacon for 20 minutes. Turn the slices over, and sprinkle them evenly with the spiced sugar. Continue baking until the bacon is crisp and deep golden, about 20-35 minutes more, checking every 5 minutes. Transfer to paper towels to drain before serving.