When it comes to cold soups, I'm of two minds. Part of me says that cold soup is as close as it gets to perfect summer fare. I mean, it's only logical: so many of the season's fruits and vegetables take well to cold preparations, and anyway, there's something about a hot, steamy day that begs for a cool, quenching soup. But the other part of me can't quite get behind it. Sometimes savory flavors don't sit right when served cold and puréed: the taste doesn't seem to fit the temperature and texture. Cold soups can taste harsh and kind of squeaky in the mouth, but their flavors seem somehow muted too, without the aroma and richness of their warmer siblings. And moreover, it just feels weird to sip cold liquid from a spoon. Cold liquids, this part of me argues, should be sipped from a frosty glass, or maybe taken through a straw, like a milkshake. Cold soups are not, sadly, much like milkshakes.
By this point, you can probably tell which of my two minds I usually think with. Which is why, when Brandon pointed out a recipe for a chilled carrot-ginger soup in a recent Gourmet, I nodded my approval with only mild enthusiasm. The list of ingredients sounded pretty good—especially with the presence of avocado and curry—but well, you know. Let's just say that I didn't exactly rush out in search of a stash of carrots. A week or so went peacefully by, sans cold soup, and then, on Saturday, it happened: my eye—cursed wandering eye!—fell upon a five-pound bag of organic carrots at Whole Foods. And what's more, it was only $2.99. Two ninety-nine, people. I was powerless.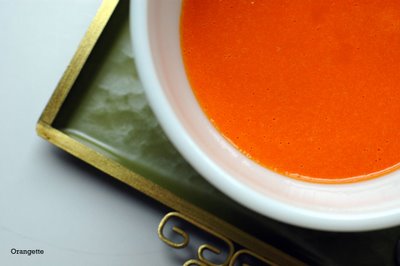 So today I came home from work to find Brandon in the kitchen and three cups of fresh carrot juice in the blender, soon to be joined by an avocado, lime juice, ginger, and salt. They whirred together for barely a minute—just enough time, say, for a girl to trade her high heels for bare feet—and then dinner was ready.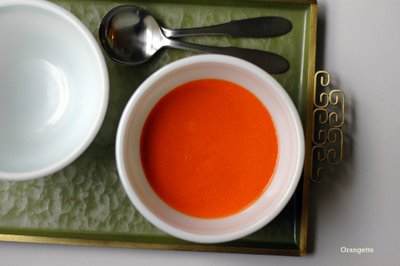 A vivid orange, almost iridescent, this soup is one of the prettiest things to land atop our table this season. It is also quite stunningly delicious—"even better," Brandon said in mid-mouthful, "than the sum of its parts." Silky smooth and subtly sweet, the beguilingly simple carrot base is spiced up with the zing of fresh ginger and a gentle kick from lime. The avocado blends in almost imperceptibly, its subtle richness serving as a sort of culinary cashmere blanket, I like to imagine, to soften and unite the soup's flavors. Heck, even I liked it. It's pretty perfect summer fare, I must admit—no matter how many minds you have.
Gingered Carrot Soup with Avocado
Adapted from Gourmet, August 2006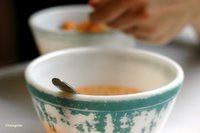 This soup is easy, easy, easy, and it would make an elegant prelude to a dinner from the grill—maybe flank steak or fish, with a few baby potatoes. [We, um, followed our soup with some garlic knots, but that's not necessarily recommended.] The only thing to fuss over is the carrot juice: it must be fresh, either juiced at home or bought fresh from the refrigerated section of your grocery store. Don't be tempted to grab the canned or bottled stuff. We juiced ours at home, and it took less than five minutes, so if you have a juicer, now's the time to dust it off and use it! You'll need three or four pounds of carrots to make three cups of juice.
2 medium firm-ripe Hass avocados
3 cups fresh carrot juice (see note, above)
¾ tsp salt
5 tsp fresh lime juice
2 tsp finely grated peeled fresh ginger
A pinch of good-tasting curry powder
Crunchy sea salt, such as Maldon or fleur de sel
Quarter the avocados; then pit and peel them.
In a blender, purée 1 avocado with the carrot juice, salt, 4 tsp of the lime juice, and the ginger until very smooth.
Cut the remaining avocado into small dice, and gently toss with the remaining teaspoon of lime juice, curry powder, and a pinch of sea salt.
Serve the soup with a generous spoonful of the seasoned avocado dice.
Yield: About 4 appetizer-size servings