I am a list-maker. In fact, if I were deemed eligible for some sort of "World Champion" title, it would most likely be for my skill at making lists, although I am awfully good at lip-synching too, and crying, and balancing my checkbook, and scraping my breakfast bowl clean. ("What are you hammering in there?" Brandon yells from the bedroom. "Let me guess—a nail in the baseboard? No, no, wait! A birdfeeder for the backyard? No, no, I know! Your breakfast!" he shouts, ever the wise guy, over the ping! ping! ping! of my spoon against the bowl.) Yes, as I was saying, I am good at many, many things, but I am a true champion at lists.
I love lists. They're so liberating. I can purge my entire brain onto a piece of paper, and Look! There it is! I don't have to think about things anymore, because the paper does it for me. I can see exactly what needs to be done, and then I can decide what to do—or, even better—what not to do. [Oh, sweet liberty!] Most days come with a list, and some weekends do too. Under my roof, even the grocery list has a little space of its own, albeit a small, fat-splattered one on the shelf next to the stove, beside a looming pile of cookbooks. But my favorite variation on the theme, my pet list, is a messy Post-It that sticks in my agenda. It is the nerve center, the motherboard, the county seat. It is my list of what to cook. Because some days, you know, you forget. And if there's one thing better than a delicious meal, it's got to be a delicious meal that lets you check something off the list.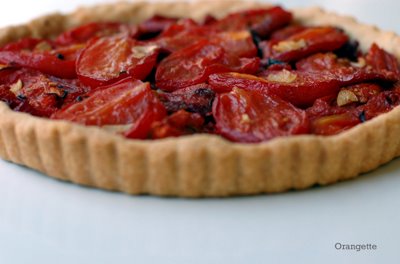 This tart is both. It's been on the Post-It—one item of, oh, eleven—for at least a month now, waiting for a few pounds of good Roma tomatoes to make it possible. I tore the recipe from a magazine a few summers ago on a trip home to see my mother, who always plants a fat, shiny pile of recent food magazines and other ragtag mail—the newsletter from my grade school, say, or the society pages from Oklahoma City Friday, "The Newspaper for Oklahoma's Trendsetters!"—on my bed as a welcome-home present. (My mom knows just what I like.) To make a long story short, said recipe joined me for the trip back to Seattle and has, in the summers since, taken up permanent residence in my seasonal repertoire. It's an old friend of sorts, one I've been wanting to introduce you to. Hence, you see, its presence on the list.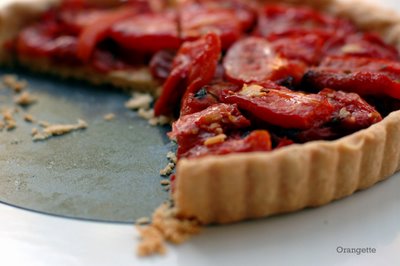 And if you know a good thing when you see it, you'll add it to your list too. Bright with the summery, sweetly acidic flavor of tomatoes, this tart tastes like the color red incarnate, a lush, vibrant, saturated flavor. I like to think of it as a cousin to pizza, one with a frilly collar and a French accent. Under its layers of thyme-and-oil-roasted tomatoes lies a thin cushion of cheese and a basecoat of mustard mixed with crème fraîche, whose soft dairy tang brings a creamy quality to the sweet-tart tomatoes. Gathered together in a tart shell made with plenty of butter, this thing calls for some serious plate-scraping, if not "World Champion" status.
Roasted Tomato Tart with Crème Fraîche and Thyme
Inspired by Food & Wine, June 2003
This tart is a tad labor-intensive, but if you've got time to spare on a Sunday afternoon, it's well worth the effort. And as an added benefit—a gift with purchase, if you will—you'll get a wonderfully fragrant kitchen too. As Brandon said, pointing to the oven, "That smells amazing." In a pinch, you can try leaving the skins on the tomatoes: the texture of the finished tart filling won't be as uniform and silky, but it'll still taste good, and it'll take less time. Also, depending on what's in your garden or at your local farmers' market, you can try using other types of thyme. We used lemon thyme, because that's what we had.
4 lbs ripe plum tomatoes, trimmed, halved, and seeded
¼ cup olive oil
1 Tbs fresh thyme leaves
Kosher salt
2 medium garlic cloves, thinly sliced
½ batch Martha Stewart's pâte brisée without sugar (enough for one 9-inch tart), unbaked, or your favorite savory pastry recipe
2 Tbs crème fraîche
1 Tbs whole grain mustard
½ cup finely shredded gruyère cheese
Preheat the oven to 350 degrees Fahrenheit, and place racks in the top and bottom thirds of the oven.
In a large mixing bowl, toss the tomatoes with olive oil, thyme, and a generous pinch or two of salt. Arrange the tomatoes, cut side down, on a rimmed baking sheet, and pour over them any oil that is left in the bowl. Slide the tomatoes into the oven and bake for 35 minutes. Remove the tomatoes from the oven, and let them sit for about 5 minutes. Working carefully, remove the tomato skins. [I find that a pair of rubber gloves—the yellow, snug-fitting kind that you might wear when you wash dishes—helps here, but if your fingers are less heat-sensitive than mine, you might be just fine without them.] Turn the tomatoes cut side up, nestle the slices of garlic into their flesh, and roast for 30-35 minutes more, until the tomatoes look a little dry and the garlic is pale golden. Let the tomatoes cool.
While the tomatoes cook, roll out the pâte brisée on a lightly floured surface. Press it gently into a 9-inch tart pan with a removable bottom, and fold in the overhang to reinforce the sides. Trim away any excess dough. Chill the tart shell until the tomatoes are finished roasting.
When the tomatoes are ready, line the tart shell with aluminum foil and fill with pie weights. Bake the tart shell for 30-35 minutes, or until just set. Remove the foil and the weights, and bake the tart shell for 5 minutes longer, or until pale golden.
In a small bowl, mix the crème fraîche and the mustard; then spread the mixture evenly over the bottom of the tart shell. Sprinkle the cheese on top. Arrange the tomatoes in the tart shell in two layers, cut side up. Bake the tart for 25 minutes, or until the tomatoes are just beginning to brown at their edges. Serve hot, warm, or at room temperature.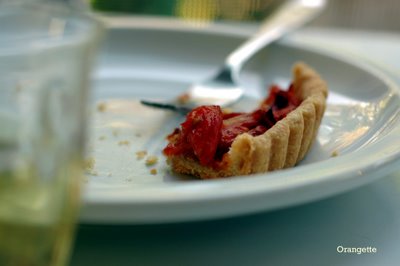 Yield: 6 servings, for an appetizer or a light lunch