Today I want to talk about something that I hold very dear, and for once, I don't mean Brandon. I want to talk about something made of flour, eggs, sugar, and milk, something cooked on top of the stove and served most often with syrup. I want to talk today about pancakes—or, more precisely, leftover pancakes. A hot, steaming short stack is nice every now and then, but in my humble opinion, the best part of a pancake breakfast is the stuff that's left on the serving platter after everyone has eaten their share.
I discovered this small delight during my years of living alone, when a batch of pancake batter meant automatic leftovers. Once the little cakes were cool, I would slip them two at a time into sandwich baggies, slip the baggies into a heavy Ziplock bag, and stash them in the freezer. At first, I did it out of necessity—really, who could waste a perfectly good pancake?—but before long, I found myself whipping up batches of batter for the sole purpose of replenishing the supply in the freezer. Apparently, I love leftover pancakes.
Frozen, defrosted, or warmed in the toaster oven, it doesn't really matter, because it's delicious. Whether plain, with jam, or with peanut butter, the lowly leftover pancake makes a royally satisfying snack at nearly any hour: after work and pre-cocktail, mid-morning, or at midnight. [Given that I've expounded at quite some length on my sentiments toward brunch, it should come as no surprise that I eat my pancakes at odd hours.] I've been known to eat buttermilk pancakes straight from the baggie, plain and dry and delicious, and I'll go for a gingerbread pancake straight from the freezer, still hard and icy. But for the last year, my favorite play on the theme has involved JetBlue and leftover blueberry buckwheat pancakes, which defrost with a lovely, delicate crumb and taste quite spectacular when eaten at the tail end of a red-eye, as the plane swoops down over early-morning Manhattan. That is my kind of pancake breakfast.
But now that the days of living alone—and, happily, all those red-eyes—are behind me, a batch of pancake batter doesn't leave much for the freezer. So when I read a recipe for a Bundt cake whose flavor, the author wrote, is "reminiscent of buckwheat pancakes," you'd better believe that I fired up the oven. Come snack time, the only thing better than a pancake, I figured, is a slice from a cake that tastes like one.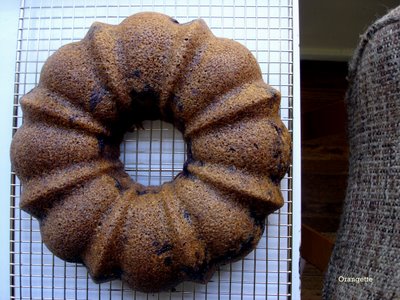 Luckily for us all, I figured right. As promised, this big, beautiful, wreath-shaped cake has all the toasty, nutty flavor of a buckwheat pancake, and more.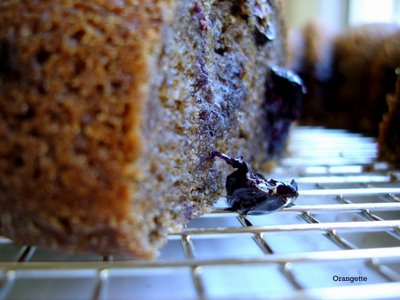 Impossibly tender and moist, this cake is rich but somehow still light on the tongue, and not too sweet. Its crumb shimmers prettily with moisture from the buttermilk and the berries, which explode into each bite. It's about as close to refreshing as a cake can get, which makes it a very fine snack for a summer afternoon. It's enough to put my pancake pan out of business—or the leftovers business, at least.
Buckwheat Bundt Cake with Blueberries
Adapted from Kitchen Sense, by Mitchell Davis
For the purposes of full disclosure, you should know that I received this book as a review copy, free of charge from the publisher. But I liked it enough to make it my nightstand reading for nearly a week—high praise in my house, free book or no—and then to actually cook from it. I had never heard of Mitchell Davis prior to all this, but I liked the feel of his book from the very start. His tone is easy, conversational, and confidence-inspiring—sufficiently so, in fact, to prompt me to bookmark about a dozen recipes. This buckwheat cake makes for a very tasty first foray.
If you would like to make the cake as Davis intended, replace the blueberries with ¾ cup chopped toasted walnuts, and be sure to use the orange zest that I have listed as optional below. It brings a fragrant orange note, which is nice but—I think—not entirely necessary.
1 cup buckwheat flour
1 cup unbleached all-purpose flour
¾ cup light brown sugar
½ tsp kosher salt
4 tsp baking powder
½ tsp orange zest, optional
2 large eggs
2 cups buttermilk
6 Tbs unsalted butter, melted and cooled
¼ cup honey
½ tsp pure vanilla extract
1 cup fresh blueberries
Preheat the oven to 375 degrees Fahrenheit, and set a rack to the middle position. Grease and flour a standard-size (10- to 12-cup) Bundt pan, and set it aside.
In a large mixing bowl, combine the buckwheat flour, all-purpose flour, brown sugar, salt, and baking powder, and whisk to mix well. Add the orange zest, if desired, and whisk to distribute.
In a separate bowl, whisk the eggs to break them up; then add the buttermilk and whisk to mix well. Add the butter, honey, and vanilla, and whisk well. Don't worry if the honey hardens a bit in the cool liquid; keep stirring, and it will dissolve. Likewise, if the melted butter cools into little shards, don't fret. Pour the liquid ingredients into the dry ones, and stir just to combine. If the melted butter has clumped, whisk very briefly but vigorously to smooth the batter. Do not overmix.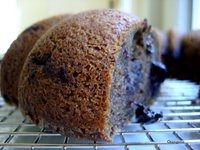 Pour 1/3 of the batter into the prepared pan. Scatter about half of the blueberries over the top. Add another 1/3 of the batter, and top with the remaining blueberries. Top with the remaining batter. Bake the cake for 25-30 minutes, until the cake rises, pulls away from the edges of the pan, and springs back when pressed gently. Remove from the oven and let cool for 15 minutes before unmolding onto a wire rack to finish cooling completely.
Note: This cake is even better after it sits for a day or so, which means great leftovers. Wrapped airtight and stored at room temperature, it will keep for up to four days. It also freezes well.