At the risk of sounding as though we're carb-loading over here—which, actually, now that I've typed that, sounds like a pretty tasty thing to do—I present you with my second pasta dish in as many posts. I'm having a hot summer fling with Italy, but luckily, Brandon doesn't seem to mind. In fact, I think he's happy about it. You will be too, when you taste this.
The dish in question comes not from a cookbook, magazine, or radio show, or from a personal "Eureka!" moment at the stove, but rather from a reader comment on this very site. Last week, in response to my post on rigatoni with various permutations of onion, a very kind and knowledgeable reader named Tony left a comment calling my attention to the (possibly) ancient origins of the dish. I had forgotten that until a few centuries ago, when New World fruits and vegetables began to trickle into Europe, Italy had never seen a tomato, so its pasta sauces and accompaniments were, like last week's rigatoni, pomodoro-less, with nary a red sauce in sight. To this day, in fact, there remain countless non-tomato sauces, though your neighborhood Italian-American joint would have you believe otherwise. Some sauces are simpler and some more imaginative, some ancient and some new. One is even built, Tony wrote, on a delicate foundation of zucchini blossoms. Lucky for us, Tony then offered a recipe.

And knowing better than to look a gift horse in the mouth—or ignore fate when it appears in the form of a crate of squash blossoms at the Saturday farmers' market—I stepped up to the stove with Tony's notes in hand and made a meal so delicious that it shimmied its way, quite irresistibly, into a new post.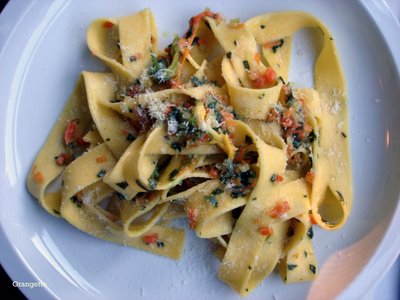 From Abruzzo by way of Italian food authority Giuliano Bugialli and one saintly reader of this website, this recipe will henceforth be a permanent resident of our small home in Seattle. Built on the color palette of a Mediterranean summer—all shades of yellow, gold, orange, red, and green—this pasta sauce is unlike anything I had tasted before: delicate but rich, earthy but somehow also ethereal, scented with the dark, floral perfume of saffron. The noodles are barely slicked with reduced broth—almost naked, it seems, until you lean in close and see that they shimmer a little amidst the sweet bits of carrot, onion, celery, and squash blossoms. These last melt into the sauce, giving up their light zucchini flavor, and become almost indiscernible to the eye—a less dramatic presentation than one might hope for, maybe, but still pretty enough to elicit a lot of sighs and plate-scraping around our table.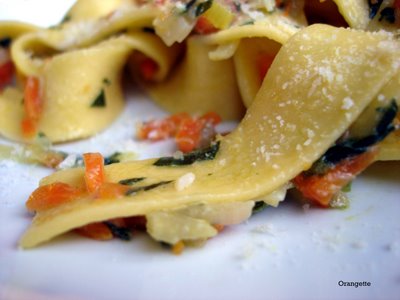 All of which is to say grazie mille, Tony.
Pappardelle with Zucchini Blossom Sauce
Adapted from Tony and, I think, Giuliano Bugialli's Bugialli on Pasta
I call for pappardelle here, but you could really use any noodle that you like. I like pappardelle not only because I find it awfully pretty, but because its big, flat, wide shape makes a lovely surface for the light sauce to cling to. I could also envision using rigatoni, or maybe fettucine. Whatever shape you choose, be sure to use a brand that contains eggs. It makes for a sunny color and a flavor that goes well with the sauce. I chose an imported dried brand called La Romagna.
And about the broth: use a good one! What I really want to say is that you should only use homemade—from, say, the chicken stock recipe in the Zuni Café Cookbook—but I know that many of us, myself included, don't always have time for such things. So if you must use a store-bought broth, be fussy. The canned or boxed stuff will be sub-par here; instead, ask if your local specialty store carries a good frozen or refrigerated stock. The sauce in this dish is made by reducing it, so the better it is, the better your result.
Good-tasting olive oil
1 Tbs unsalted butter
1 medium red onion, finely chopped
1 stalk of celery, finely chopped
1 medium carrot, finely chopped
Leaves from 10 sprigs Italian parsley, finely chopped
12 zucchini blossoms, quartered from stem to tip
Salt
6 saffron threads
2 cups chicken or vegetable broth, preferably homemade (see note above)
1 egg yolk
½ lb. pappardelle
Pecorino Romano, finely grated
Put a large pot of salted water over high heat; this will be your pasta pot.
In a large skillet, warm a splash of olive oil and the butter over medium heat. Add the red onion, celery, carrot, and Italian parsley, and cook, stirring occasionally, until the vegetables are translucent. Add the zucchini blossoms, a pinch or two of salt, and the saffron, and stir gently to mix. Add about ¾ cup of broth, and stir to combine. Raise the heat to medium-high and add the rest of the broth a splash or two at a time, taking about 5-8 minutes to add it all. Stir frequently. Allow the sauce to simmer until most of the liquid has evaporated and only a thin film of thickened broth remains in the pan. Remove from the heat.
In a small bowl, whisk the egg yolk slightly with a fork.
Meanwhile, cook the pasta until tender but al dente. When the pasta is almost ready, place the zucchini blossom sauce back over medium heat. Use a small measuring cup to scoop up about 3 Tbs of pasta water and, whisking constantly with a fork, gradually add the hot water to the egg yolk: together, they should make a loose, pale yellow liquid. Pour this mixture into the sauce in the skillet, stirring well. Using tongs or a spider, scoop the finished pasta from its pot into the skillet, and toss with the sauce over medium heat for about 30 seconds.
Serve, topped with grated Pecorino.
Yield: 2-3 servings