I'm not sure how to feel about brunch. In my book, it's really sort of a tease. It's the meal that I most salivate for, a holy union of sweets and savories, a weekly wonder spot where pancakes, crêpes, toast, eggs, hash browns, sausages, scones, waffles, and maple syrup converge. I entertain grand fantasies of Sunday mornings out somewhere, with plates of pancakes and Brandon nearby, whiling away our bleary eyes over freshly squeezed orange juice. But more often than not, brunch just leaves me sorry, with a heavy stomach and the sour aftertaste of regret. It's the one-night stand of meals, you could say—the sort of one-night stand that you might experience on a weekend morning, of course, and in broad daylight, with your betrothed.
This feeling has been sneaking up on me for a while now, but it wasn't until a month or so ago that I was ready to admit it. It was a Sunday morning, and Brandon and I had just come from a brunch of eggs Benedict at Glo's with Rebecca and Jimmy. It was a clear, crisp April day, the sort of weather that makes my engagement ring really sit up and sparkle. I had my man by my side and an easy day ahead, and I'd just eaten a toasted English muffin topped with two perfectly poached eggs and the most delicate, lemony hollandaise to ever meet my fork. But I had also, unfortunately, fallen prey to the piece of communal coffee cake that landed in the center of our table, as well as a pile of greasy hash browns that happened to be on my plate.
These things can happen, as you know, and especially at brunch. Whether you're inclined to the sweet or the savory, in the end, the entire menu looks delicious—and it is, sort of, under its snowdrift of whipped butter or its slow-running river of cheese. Inevitably, I wind up wishing that brunch came later in the day—at dinnertime, maybe—when my stomach and psyche are better prepared for such things. Even if I manage to restrain myself to something sensible—say, a bowl of oatmeal—I'm really no safer: it emerges from the kitchen nearly eight times larger than anything I would fix at home. And usually, that's where I wish I had stayed.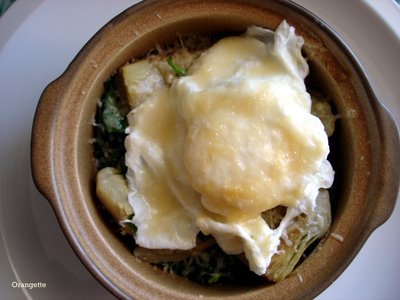 Luckily, I have found a brunch partner who shares my sentiment, and who is happy to have his orange juice in the do-it-yourself comfort of a home kitchen. He also, incidentally, makes a mean eggs Florentine, a less frilly riff on the classic layered dish of eggs, spinach, and white sauce spiked with cheese. Brandon's version is based on one he once ate at Balthazar, with an artichoke heart as a base. To keep things as simple as possible—as they should be, I think, on a Sunday morning—he does away with the white sauce and instead treats the vegetables to a quick sauté in sweet butter. Its rich, familiar flavor elevates what might otherwise be just a plain pile of artichoke and greens, making for a dish that is lighter and cleaner-tasting than its namesake, but still worthy of a weekend morning.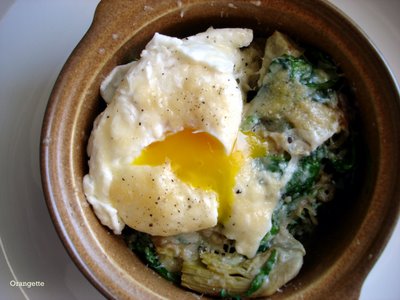 In fact, with a poached egg on top and a shower of Parmigiano-Reggiano, it's even worthy of repetition, weekend after weekend. I made it yesterday—sans Brandon—for my mother, who had come to Seattle for 48 hours of early-stage wedding scouting, and if I read her face correctly, I dare say that my betrothed has her blessing. But he knew that already.
Eggs Florentine with Artichoke Hearts, à la Brandon
Inspired by Balthazar
On first glance, the centerpiece of this dish is the timeless duo of eggs and spinach. But to my palate, the crux of the matter is the butter. This recipe does not involve a large quantity of the stuff, but its aroma and flavor infuse the spinach and artichokes, stretching into every bite. Between that and the runny poached egg, a fairly straightforward combination of ingredients becomes something deeply satisfying. And, as Brandon likes to say, "It doesn't make you want to die afterwards." It would also be delicious for lunch or dinner.
A scant 2 Tbsp. unsalted butter, divided
1 (8 oz.) package frozen artichoke hearts, thawed overnight in the refrigerator, or 8 oz. fresh artichoke hearts, trimmed and blanched
1 medium shallot, peeled, halved, and thinly sliced
A generous ¼ pound baby spinach, washed and spun dry
2 large eggs, poached according to the directions here
1/3 cup finely shredded Parmigiano-Reggiano, divided
Salt
Freshly ground black pepper
Place a 12" skillet over low heat, and add 1 tablespoon of the butter. When it has melted and begins to foam, add the artichoke hearts. Cook, covered, until they are softened and fully thawed; then raise the heat to medium and continue to cook, uncovered, stirring and shaking the pan, until they are golden in spots. They should smell wonderfully buttery. Add the remaining butter and the shallots, and cook, stirring frequently, until the shallots are softened and lightly caramelized. Add the spinach and a good pinch of salt, and cook, stirring gently, until just wilted.
Divide the spinach and artichokes between two medium gratin dishes or shallow ramekins. [I used the latter, roughly 4 ½ inches in diameter and 2 inches deep.] Sprinkle half of the cheese over the two dishes. Top each dish with a poached egg; then sprinkle the remaining cheese over the eggs.
Working quickly and carefully, use a blowtorch to melt the cheese on top: it should bubble lightly and turn golden brown in spots. Serve immediately, seasoning with salt and pepper at the table.
Yield: 2 servings