I am not a magician. I have no magic wand, no card stashed up my sleeve, no giant quarter to pull from your ear. But last June, when I offered the online equivalent of a rabbit pulled from a hat – a man named Brandon, seemingly pulled from the ether – you kindly accepted my sleight of hand. You cheered. You sent congratulations. And you were respectfully restrained in your questions. You, dear reader, have been very patient. For all the stories that I have spun into the fabric of Orangette, this was the spottiest and the most sparse. It was the most significant, but also the scariest to tell, because Brandon came into my life just as you have, dear reader: through the open window of this website. While I was busy telling food stories, this food blog was spinning for me a story of its own.
It all began on April 3, 2005, with an e-mail. "I'm sure you get this all the time," its sender announced, "but your site is wonderful." "The main problem," he concluded, "is that you live in the wrong city. If you were in New York, I would like nothing more than to take you out to Balthazar for some French martinis and a Balthazar Salad." Three weeks, two dozen e-mails, and one very long phone conversation later, the sender flew to Seattle. He sat with me on the Harbor Steps and ate pistachio gelato. He bantered with the boys at Frank's Produce in Pike Place Market. When I asked to kiss him, he obliged. The next morning, we retrieved our dirty dinner plates from the kitchen table, wiped up the crumbs, and walked—more than a little wide-eyed and woozy—into an indefinite future of long-distance phone calls and cross-country plane tickets, dates at Di Fara this month and Pike Place the next. I knew that Brandon would be in my life for a long time, and that snippets of that time would slip naturally into Orangette. But I was afraid of sounding like a People magazine story—"Blog Brings Them Together," maybe, or "Food Lovers Find Love Online!"—so I made ours the one story that I would not tell.
But it isn't every day that a website lands a wonderfully food-obsessed New Yorker in my life, unplanned, unexpected, and with an uncanny eye for a proper Neapolitan pizza crust and a palate to match. A year ago today, it brought Brandon to me, and last Wednesday, March 29, 2006, on a bench on the Brooklyn Heights Promenade, it made me his fiancée.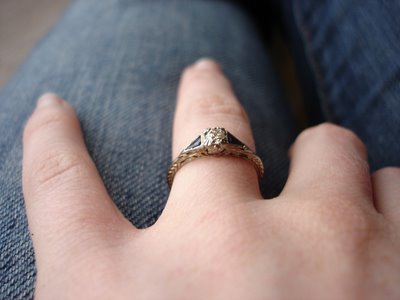 And to celebrate—after, of course, a bottle of Taittinger Domaine Carneros, a few Di Fara slices, and several Black Hound bittersweet truffles on the subway ride home—I vowed to sit down and tell you the whole story, from start to finish, fan mail to engagement. Awards are alright, and good press is pretty nice, but not even a magician could have pulled from this food blog a better surprise: a New Yorker with a one-way ticket to my northwesterly city, a wedding to plan, a husband-to-be, Brandon.