Under normal circumstances, I try to play it cool. Sure, there's this guy named Brandon, and I think he's pretty dreamy and stuff, but most of the time, I try to keep my swooning behind the scenes. Few people look fondly upon public displays of affection—on the Internet or otherwise—and far be it for me, dear reader, to risk spoiling your appetite. But then this guy named Brandon came to town, and one afternoon, he bought me a quarter-pound of culatello. Nothing makes a girl feel prone to public gloating like a present of cured pork from a very handsome vegetarian. And should he then, over the span of ten short days, churn from her kitchen a batch of whole-wheat pita, a bowl of silky-smooth hummus, a vat of fiery hot sauce, ten crisp and custardy cannelés, two lunches' worth of green papaya salad, rocky road candy with homemade marshmallows, a quart of milk chocolate ice cream with cocoa nibs, a tart and tangy cilantro chutney, a softly sweet tamarind sauce, and the finest chana masala to ever flirt with her lips, she's bound to start dishing—about the chickpeas, at least.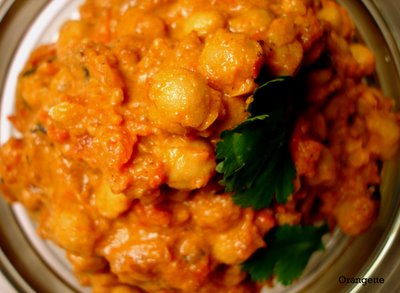 Mine is certainly not the first man to make chana masala, nor does he have any sort of pedigree—ethnic or otherwise—to lend him an air of authority in Indian cookery, but he does have a palate, and a very precise one at that. I may be the more orderly of our twosome, but next to his, my palate is a proverbial bull in a china shop, rubbing clumsily against a rabble of spices. I chew and swallow, but he concentrates, teasing apart tightly woven layers of flavor. So when he starts surveying the spice rack, I set the table, sit down, and watch.
All too often, restaurant renditions of chana masala are a show of alchemy gone astray. They pound the tongue with a heavy hand of tomato, smother the taste buds under a slick of oil, or tumble down the throat with a thud, the unfortunate result of unbalanced seasoning. Bold but delicate, Brandon's version stands as a testament to the fine art of tasting, tweaking, and tasting again. It begins—as many good things do—with a pot of onions on the edge of burnt. Then comes a small but spirited parade of spices, a mess of tomatoes, cilantro, cayenne, and chickpeas, and a few studious spoonfuls for the cook. With a subtle sweetness and a soft rumble of heat, these are chickpeas worthy of a public display of affection—or a post, at least.
When I'm not hovering next to him with a pen and paper, Brandon makes his chana masala by feel, tasting and tweaking, stirring and sniffing. The recipe that follows is our joint effort to make his rendition reproducible, and to make it user-friendly for those who love a good, prescriptive recipe, myself included. You should feel free, however, to taste and tweak as you see fit. It's the Brandon Way.

This chana masala can be served in two different styles: with a half-cup of whole-milk yogurt to smooth and soften the flavors, or sans yogurt, served with a squeeze of lemon and a pinch of fresh cilantro. I prefer the former, but Brandon leans toward the latter. Either way, this dish is even better the second—or third—day.

Good-quality olive oil

1 medium onion, coarsely chopped

2 medium cloves garlic, minced

1 tsp cumin seeds

½ tsp ground coriander

¼ tsp ground ginger

1 tsp garam masala

3 cardamom pods, lightly crushed

1 28-ounce can whole peeled tomatoes

1 tsp kosher salt, or to taste

1 Tbs cilantro leaves, roughly torn, plus more for garnish

A pinch of cayenne, or to taste

2 15-ounce cans chickpeas, drained and rinsed

6-8 Tbs plain whole-milk yogurt, optional

A few lemon wedges, optional

Film the bottom of a large saucepan or Dutch oven—preferably not nonstick—with olive oil, and place the pan over medium heat. Add the onion, and cook, stirring frequently, until it is deeply caramelized and even charred in some spots. Be patient. The more color, the more full-flavored the final dish will be.

Reduce the heat to low. Add the garlic, stirring, and add a bit more oil if the pan seems dry. Add the cumin seeds, coriander, ginger, garam masala, and cardamom pods, and fry them, stirring constantly, until fragrant and toasty, about 30 seconds. Add ¼ cup water, and stir to scrape up any brown bits from the bottom of the pan. Cook until the water has evaporated away completely. Pour in the juice from can of tomatoes, followed by the tomatoes themselves, using your hands to break them apart as you add them; alternatively, add them whole and crush them in the pot with a potato masher. Add the salt.

Raise the heat to medium, and bring the pot to a boil. Reduce the heat to low, add the cilantro and cayenne, and simmer the sauce gently, stirring occasionally, until it reduces a bit and begins to thicken. Taste, and adjust the seasoning as necessary. Add the chickpeas, stirring well, and cook over low heat for about five minutes. Add 2 Tbs water, and cook for another five minutes. Add another 2 Tbs water, and cook until the water is absorbed, a few minutes more. This process of adding and cooking off water helps to concentrate the sauce's flavor and makes the chickpeas more tender and toothsome. Taste, and adjust the seasoning as necessary.

Stir in the yogurt, if you like, or garnish with lemon wedges and cilantro. Serve.

Yield: about 4 servings