Flan.
There, I said it: four little letters, a word that once furrowed my brow and spelled a long, sharp shiver down my spine. Most kids love to try a new four-letter word, but in this mouth, f-l-a-n was far too foul.

It was, as most important things are, a textural issue. For the better part of my childhood and adolescence, I lived by a simple mandate: nothing that jiggles shall cross the threshold of my jaw. Yogurt would be smooth and well stirred. Aspics, custards, and crèmes brûlée and caramel would be kept well out of sight. Jell-O would forever remain boxed and safe, in a powdery, potential state. There would be no squirting or squelching between the teeth; no skidding, slipping or sliding on the tongue. Such were the rules: hard and fast, and anti-flan.
But sometime around age seventeen, I was tricked, seduced, and brought under the sway of custard's French cousin, the pot de crème. It hid in broad daylight on a dessert menu, three simple words conjuring up something cold and creamy, maybe—even ice-creamy, I imagined. I was young and pleasantly naïve, and I never saw it coming: this wolf in custard's clothing, this sweet-faced thing promising a so-called pot of cream. When it arrived, I grimaced at its smooth, taut, shiny surface, but one vanilla bean-flecked bite later, I succumbed, licking the spoon and scraping the ramekin clean. For as hard and fast as I had set the rules, they fell with surprisingly little fanfare. I'd been confusing gelatin with a good, creamy custard—a terrible wrong that I've since worked hard to right.
I still like my yogurt stirred to smooth, but I'll be damned if I'll let a little jiggle get in the way of dessert—or dinner. Sweet custards and pots of cream are fine, but a recent foray into my collection of recipe clippings yielded something savory instead, and every bit as seductive: an asparagus flan.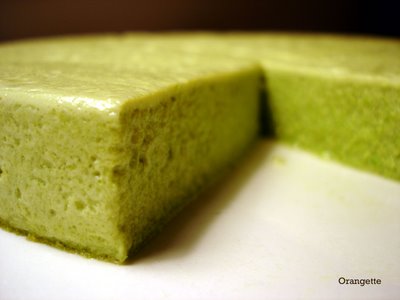 Under most circumstances, I am strictly of the belief that fresh, springtime asparagus needs no embellishments—simple roasting is just right—but this case is an exception. Steamed to bright green and puréed to velvet, baked with milk, eggs, and little more, asparagus gets dressed up, but it somehow tastes simple, intense, even more like itself: clean, delicate, and verdant. It melts seamlessly into a light custard, morphing into a smooth, silky thing that slices under the knife like softened butter, all glide and no jiggle.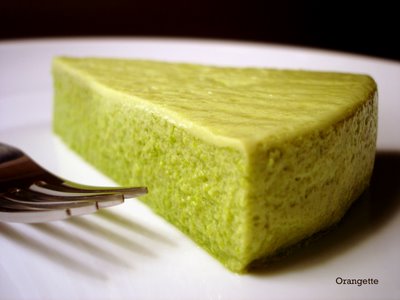 It goes down easy enough for a sweet shiver and a sigh, easy enough to step up—if only while the season lasts—as my favorite four-letter word.
Asparagus Flan
Inspired by Gourmet, May 2004
According to the original recipe, this Italian-inspired flan is to be served with a rich, creamy Fontina sauce. I found, however, that so much cheese quickly overshadowed the flavor of the asparagus—a near-perfect thing that, quite frankly, shouldn't be messed with. I prefer this flan sans sauce, served as a light lunch with, say, a pile of roasted fennel and potatoes. If you can find decent Roma tomatoes—in season or not—and slow-roast them, they would also be a perfect, sweet-tart side. This flan would also be an elegant accompaniment to a festive springtime supper of roasted lamb or chicken, or a few slices of grilled flank steak.
2 pounds fresh asparagus
4 large eggs
1 1/3 cups whole milk
2 Tbs freshly grated Parmigiano-Reggiano
1 ¼ tsp salt
A pinch or two of freshly ground black pepper
A pinch or two of freshly grated nutmeg
Preheat the oven to 325 degrees Fahrenheit, and set a rack to the middle position. Butter an 8" x 2" round cake pan, line the bottom of the pan with wax paper, and butter the paper.
Prepare the equipment for the hot water bath. You will need a baking dish large enough to hold the cake pan and deep enough to safely hold at least an inch of water; I used a 10" by 15" Pyrex pan. Place a cooling rack or folded dish towel in the bottom of the baking dish; this will keep the cake pan from touching the hot pan underneath it and further protect the flan from direct heat. Fill a large pot with water, and bring it to a boil: this water will be used in the water bath.
Place a steamer basket in the bottom of a Dutch oven, and fill the pan with water to about ½" deep. Bring the water to a boil while you snap the woody ends from the asparagus and gently rinse the stalks. Place the asparagus in the steamer basket, and steam it, covered, until the stalks are bright green and very tender, about 6-8 minutes. Transfer half of the asparagus to the bowl of a food processor, and process to make a smooth purée. Scrape the purée into a large sieve set over a bowl, and then repeat with the remaining asparagus. Using a rubber spatula, press and stir the purée through the sieve into the bowl. This takes a bit of time, but it is well worth it: when you are finished, you will have a small, thick mass of woody bits and fibrous asparagus skins in the sieve, and about 1 ¾ to 2 cups of very smooth purée in the bowl. Discard the contents of the sieve, and set the purée aside.
In a large bowl, whisk the eggs to break them up. Add the milk, cheese, salt, pepper, and nutmeg, whisking to blend. Add the asparagus purée, and whisk to thoroughly combine.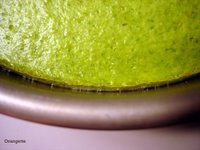 Pour the asparagus mixture into the prepared cake pan. Place the cake pan on top of the rack or towel in the larger pan. Gently slide the pans into the oven, and, taking care not to splash, pour the boiling water into the larger pan until it comes about halfway up the cake pan. Bake until the flan is set and beginning to pull away from the sides and a toothpick inserted in the center comes out clean, 50 minutes to 1 hour. Transfer the cake pan to a rack to cool slightly, about 10-15 minutes.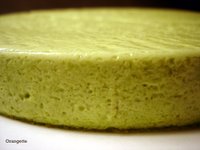 Run a thin knife around the edge of the flan to loosen it. Invert a serving plate over the pan, and invert the pan onto the plate. Remove the pan, and discard the wax paper. Cut the flan into wedges, and serve.
Yield: 6-8 servings