There is something you should know about Brandon: when it comes to food, his main themes are obsession and exaggeration. He takes hot sauce straight from the spoon, and he has more oils and vinegars than you and I have fingers and toes. If he's lying awake at two a.m., he's likely weighing the merits of salad onions versus storage onions, and if he calls at lunchtime with a quavering voice and "terrible news," what he really means is that his once-coveted pizza oven only goes to 575°, not 900°.
And it's not by chance that I mention pizza. The stuff is chief among the occupants of his thoughts—not surprising, perhaps, given that it's the birthright of all New Yorkers, but in the mind of Brandon, we're talking more than just a slice down the street. For example, we'd only just met when he first told me—in superlatives I've come to know well—about Di Fara Pizza, a bare-bones corner spot in equally bare-bones Midwood, Brooklyn.*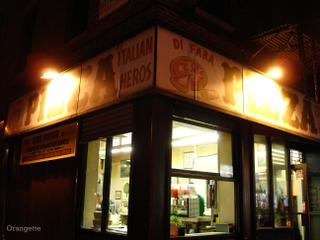 "It's heavenly," he told me solemnly. "It'll change your life. It's quite possibly the best thing you'll ever put in your mouth."

Now, not being a natural exaggerator—nor a New Yorker—myself, my first instinct was to give him the old hairy eyeball. A bit of research confirmed that he wasn't the only Di Fara disciple, but still, I was only cautiously enthusiastic. Pizza is fine stuff, but no slice had ever sent me swooning, much less happily traveling across the country and an hour and a half on a hot subway just for a bite. But then, dear reader, I set my hairy eyeball upon a slice at Di Fara.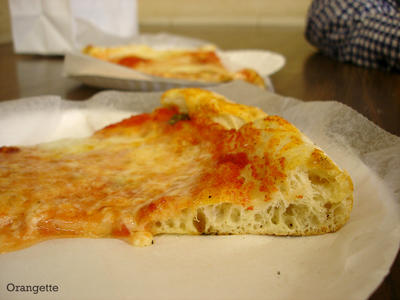 Di Fara Pizza is a one-man show, owned and operated for the past forty years by Domenico DeMarco, a stoop-shouldered, asbestos-fingered Italian with an accent as rough as his pies are delicate.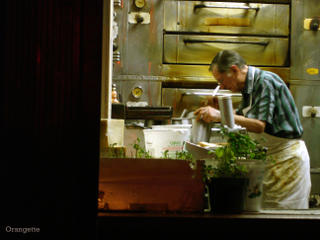 At nine o'clock on the average night, the small shop is just beginning its evening rush. Customers arrive in twos or threes and, like us, press against the chest-high counter that separates the modest dining room—its five or so folding tables speckled with a dust of Parmigiano Reggiano—from Domenic's kitchen: a couple of countertops, a tall steel-faced oven set to 700°, and, through a narrow doorway, a dark back room where one of his adult children can often be seen prepping ingredients or stirring a saucepot. Domenic stands alone behind the high counter, shuffling back and forth between a stack of pizza pans, a few pots of fresh herbs, and the oven. In a sort of instinctive reverence, we watch him quietly, with the fervent attentiveness of hungry—but well-trained—animals.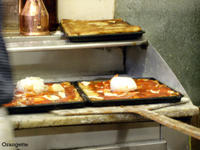 Di Fara's pizza comes in two shapes: "square" and a more traditional New York "round," as they're listed on a board mounted high on the kitchen wall. The first is a complex, multi-step affair: a ½-inch thick rectangular crust rich with olive
oil, baked in multiple stages,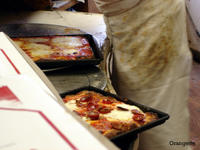 topped with a stewy tomato sauce, shredded mozzarella, slices from an entire fist-sized ball of fresh cow's milk or buffalo-milk mozzarella, a dusting of Parmigiano Reggiano or Grana Padana from a hand-crank grater, fresh herbs from the windowsill, a drizzle of olive oil, and, if requested, additional toppings such as pepperoni or sautéed artichoke hearts. Rich like a dense focaccia, oozing and saucy with fresh cheese and simmered tomatoes, it's the sort of pizza that demands a knife and fork—preferably plastic, so as to better match the paper plates.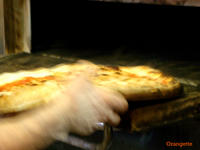 But if you're a true New Yorker—or the skeptical girlfriend of one—the round pie may well have you making grand proclamations. To be more specific, the first words out of my mouth upon getting this thing into it were, I believe, "This is innncredible!"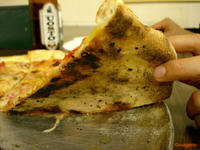 Domenic paints the crust lightly with a sweet uncooked tomato sauce, dots it with shards of fresh herbs, and showers it with shredded mozzarella, slices of fresh cow's milk or buffalo-milk mozzarella, grated Parmigiano Reggiano or Grana Padana, herbs, and finishes with a thin stream of olive oil. Minutes later, when he pulls the finished pie from the oven with his bare hands, the outer rim of the crust has risen and puffed into a delicious thing not unlike a rustic French baguette: crisp where it meets the tooth, its interior chewy and filled with air holes. The crust is Neapolitan-meets-New York, its underside toasty and splotched deep brown, bendy but not floppy, sturdy but delicate.
I may not yet be cozy enough with superlatives to declare it, à la Brandon, "the most incredible thing in the entire world [insert vocal exclamation points]", but I can say without a hint of exaggeration that there are few things more delicious than a warm early-autumn night with frosty bottle of beer, a few Di Fara slices, a pile of napkins, and a certain New Yorker. I've learned by now, anyway, that if he gets too heavy on the hyperbole, a quick twirl of the curls at the nape of his neck is enough to distract him for a moment—or just long enough to steal a bite from the slice in his hand.
*Di Fara Pizza is located at 1424 Avenue J (the corner of Ave. J and E. 15th Street) in Brooklyn. It's a far ride from, say, the Upper West Side, but from Union Square, it's an easy trip on the Q line out to the Ave. J stop. And if you, like me, think a good pizza deserves a cold beer, don't hesitate to run to one of the convenience stores on Ave. J to pick up a bottle or two while you wait for your pie. There's usually a bottle opener on the counter at Di Fara, or you can rough it with your keys. And just for reference, as of September 8, 2005, a large round cheese pizza was a mere $15.00.