In recent months, I've spent a lot of time gushing about Seattle. I don't plan to stop anytime soon, but I should confess that when it comes to cities, I've been known to be unfaithful. First, there was San Francisco, and bien sûr, there will always be Paris. And though Seattle and I will celebrate our third anniversary in a couple of months, lately I've been feeling downright googly-eyed about New York, or, rather, a wonderfully food-obsessed New Yorker. It's serious—the sort of situation that leads to an uncontrollable frenzy of cross-country care-package exchanges, from Ithaca Nut Brown Ale to Fran's chocolates, and from a vintage KitchenAid stand mixer(!) to orange-nutmeg muffins. I think I heart New York.
Through a variety of forces and what some might call divine intervention, a young man named Brandon came into my life and brought with him, among other things, a bottle of Woodford Reserve bourbon and a keen eye for ridiculously underpriced kitchen equipment. For our first date, he proposed SoHo, Balthazar, and French martinis, but instead we settled on Pike Place Market, Bottega Italiana, and pistachio gelato. In the months that have followed—during which I've secretly and thoroughly vetted him for you, dear reader, and have found him eminently worthy of your company—we've sent criss-crossing the country both boxes of food and ourselves. Some might thank the heavens, but I thank the United Parcel Service, JetBlue, and MasterCard.
As a modest early offering, I sent him a dozen homemade chocolate-covered coconut macaroons, and Brandon sent back four bottles of Ithaca Nut Brown Ale and one of his favorite bourbons. I shipped off a jar of homemade apple butter, and he sent back two kinds of pink sea salt, from Hawaii and from the Himalayas, and a jar of hazelnut spread from Le Pain Quotidien. I picked out a package of Fran's gray salt caramels, and he countered with two bars of Michel Cluizel dark chocolate, a bar of Jacques Torres 60% chocolate, and a thick, dark bar of Spanish Chocovic 72% chocolate from Fairway, all four wrapped together in a silky green ribbon from Ladurée (he'd been saving it, he said, "for the right occasion"); as well as a bag of chocolate-coated and cocoa-dusted roasted almonds from Jacques Torres. I spent one of my loveliest evenings in recent memory sitting alone in my car in the parking lot of UPS, a box from Brandon spilling Styrofoam peanuts on the seat next to me and a smorgasbord of chocolates spread out on my lap. And just as I began to slip irretrievably into a care-package-enduced food coma, another box arrived, this time bearing an original K45 KitchenAid stand mixer.
I suppose I could have been overwhelmed, called a time-out, or picked up my skirts and fled, but when presented with such a show of gastronomic generosity and eBay aptitude, there was really nothing to do but retire to the kitchen and whip up a proper thank-you. Brandon had once mentioned in passing his love for a good nutmeg muffin, and well, I don't let these hints escape me. Instead, I bake—and I hand-deliver.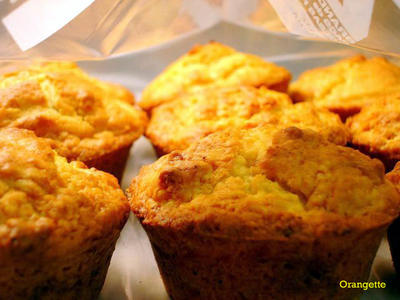 So with only a slight delay, I flagged down a flight to New York and arrived with a bag of muffins in hand, red-eyed but no less googly-eyed. Yes, when it comes to cities, I've been known to be unfaithful, but maybe Seattle won't mind sharing me every now and then.
Brandon ate quite a few of these toasty, spicy little cakes at the now-defunct Oberlin Music Café in Oberlin, Ohio ("some of the best espresso I've had," he told me a bit mournfully), but since its closing, he hadn't had a nutmeg muffin. Though I was unsure of the idea of a muffin flavored with sizeable quantities of what I considered an "only a pinch" spice, I did some detective work and found this recipe. It seemed promising, and with a bit of tweaking and the addition of fresh orange zest (optional, but nice), it more than lived up to its potential. Luckily—or rather, wisely—Brandon thought so too.
2 cups unbleached all-purpose flour
¾ cup light brown sugar
1 Tbs baking powder
½ tsp freshly grated nutmeg
½ tsp salt
Zest of ½ to 1 orange, to taste
1 large egg
¾ cup heavy cream
¾ cup milk (nonfat is fine)
4 Tbs canola oil
Preheat the oven to 400 degrees Fahrenheit. Spray a 12-cup muffin tin with cooking spray.
In a large bowl, stir together the flour, brown sugar, baking powder, nutmeg, salt, and zest. Set aside.
In a medium bowl, beat the egg well. Then stir in the cream, milk, and oil, whisking to blend well. Add the wet ingredients to the dry ingredients, and stir to just combine (overmixing will develop the gluten in the flour and make for tough muffins).
Scoop the muffin batter evenly into the wells of the greased muffin tin. Bake the muffins for about 20 minutes, or until domed and nicely golden. Serve warm. [These muffins also freeze beautifully. Allow them to thaw at room temperature; then reheat them gently in a 300-degree oven.]
Yield: 12 smallish muffins.