I have a confession to make.
I have a dark, dirty, now-not-so-secret fascination with the "missed connections" listings on craigslist. It's not that I go there expecting to find a message left expressly for me, although I suppose it wouldn't be entirely out of the question to see "Hottie buying Chocolove 77% at Whole Foods – m4w – 28," or perhaps "Saturday Pilates vixen in black ninja outfit – m4w – 26." No, mine is, as you might expect, a curiosity vaguely informed by anthropology. After all, it is springtime, and true to our most basic animal instincts, humans everywhere—but especially on craigslist—are on the hunt for a mate. It's very entertaining to watch and read, and cheaper even than a trashy romance novel. And anyway, sometimes anthropology is nothing more than glorified voyeurism.
Although this is not exactly the kind of study that will help me to finish my thesis, it does get me thinking. In springtime, any space with or without four walls starts to look like a bedroom, from buses to bus stops, elevators, and entire streets—not to mention my personal weakness, the grocery store, where the term "check-out line" takes on a whole new meaning. At this time of year, everything is an aphrodisiac, from ginger to gas fumes. And though we seem to be feeling unusually hopeful and open-minded about the sexy possibilities around the next corner, I'd like to point out one that you might not have dared to consider: beets.
Beets aren't your typical erotic fare, I know. But given the proper context and care, they—like so many others who are rough, misunderstood, and given to spending lots of time underground—can be transformed into something surprisingly luscious. Take, for instance, a beet-feta tart.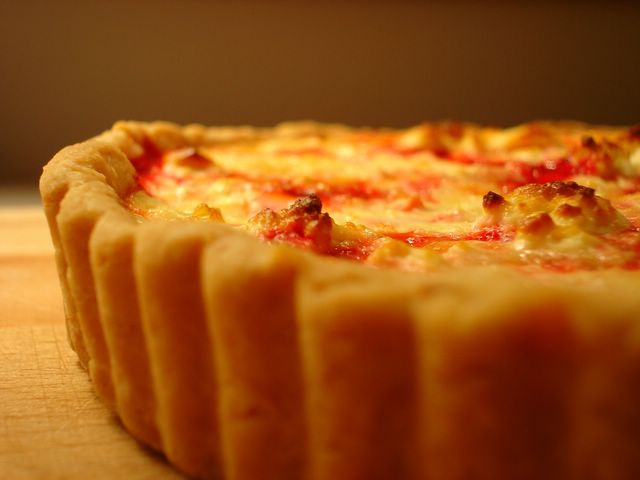 I first tasted this tart at a loosely aphrodisiacs-themed dinner party back in late February. For the occasion, Kate had roasted a chicken and served it on a platter of red rose petals, with handcuffs around its legs and a thin black satin ribbon tied around one of its wings. Margot and Todd arrived with a perky green salad served in a bowl looped with a danger-sexy spike-studded belt, and for my part, I whipped up a rum cream pie topped with chopped pistachios and shaved chocolate, banking on the age-old formula of booze plus whipped cream. There were also, of course, the standbys: oysters, strawberries, wine, melted chocolate, and so on. But the vedette of the evening was the beet-feta tart brought by a friend of a friend whose name I can no longer remember. I didn't, however, forget the important details: the tart looked like a sheet of hot-pink satin overlaid with off-white lace, and it was blush-inducingly delicious. It brought together the dark, earthy flavor of beets—sweet and rich, with a welcome bitter edge—and the salty tang of feta, binding them in a smooth, eggy custard.
The party didn't exactly turn into a display of our most basic animal instincts, but the tart was plenty satisfying. And now that the season is optimal for both beets and bedrooms, it could only get better. I'm sure I'll see you in the check-out line.

Beet-Feta Tart
Adapted from a very nice woman at a dinner party
1 half-recipe Martha Stewart's pâte brisée without sugar (flaky pie dough, enough for one 9" tart)
2 medium-sized red beets, washed, roasted (at 400 degrees in an aluminum foil packet for 45 minutes to 1 hour, until very tender; you don't want a crunchy beet here), and peeled
2 large eggs
¾ cup milk (I used whole)
4 oz French feta, crumbled
A pinch of salt
Preheat the oven to 375 degrees Fahrenheit.
On a lightly floured surface, roll the pâte brisée into a circle large enough to line a 9" round removable-bottom tart pan. Transfer the dough into the pan, pressing it gently to the edge and up along the sides. Line the dough-lined tart pan with a sheet of aluminum foil, and place enough beans, rice, or pie weights in the aluminum foil to cover the base of the tart pan in a single layer. This will prevent the dough from puffing when you blind-bake it. Place the tart pan in the oven, and bake for 15 or so minutes, until the edges of the tart shell look set and barely golden. Remove the aluminum foil and weights from the tart pan, and continue baking until the tart shell is light golden. Remove the tart pan from the oven and allow to cool.
Turn the oven down to 350 degrees Fahrenheit.
Meanwhile, cut the roasted and peeled beets into ¼-inch slices. Mix the eggs, milk, feta, and salt in a small bowl or measuring cup.
Arrange the beet slices in the blind-baked tart shell, taking care to cover the base of the shell as well as possible. It is preferable to only have one layer of beets, although you may want to add an extra beet here or there to cover an empty spot. Pour the egg mixture over the beets.
Bake the tart for 40 minutes to an hour, until the filling is set and lightly golden in areas. Allow to cool for at least 10 minutes. Serve warm or at room temperature.