I come from a very little family.
My mother Toni and her identical twin sister Tina measure a mere five feet tall in their (very small) stocking feet. Family lore has it that at age seven, they were still sufficiently Lilliputian that the nuns in their Catholic grade school would pick them up, prop them on one habit-cloaked hip, and tote them around. Tina's daughters, my cousins Sarah and Katie, are likewise petite, having topped out just shy of the five-foot mark. On my father's side, my half-sister Lisa has done her best to turn the tide, climbing to the unprecedented height of 5'3", but ultimately I, at a whopping—nay, titanic—five foot five, am the female giant of the family. My father—an inch and a half under six feet and certainly no colossus—must have fought hard to sway the odds, or perhaps it was all the bovine growth hormone I was forced to guzzle with my nightly glass of milk at the family dinner table.
Either way, if there's a jar of jam to be fetched from the highest shelf of the cabinet or a cookbook to be brought down from the top of the refrigerator, I'm the woman for the job. My relatively impressive stature comes in handy quite often when we're all in the kitchen together, because for such a little family, we collectively have a rather sizeable appetite. The demand for hard-to-reach food and food-related items is nearly insatiable. And this past weekend was no exception, when a handful of us convened in California to celebrate Katie's attainment of a hard-earned B.A. in architecture.
As one might expect, the high point of the festivities was to be a party, involving seventy guests, coolers crammed with beer and wine, white lights strung from the back deck, a rousing lip-sync performance of the Doobie Brothers' "Takin' It to the Streets" by yours truly (a special request from Sarah, who loves to exercise my talent for remembering easy-listening lyrics), a bonfire on the "beach" (the former site of our childhood sandbox and aluminum swing set), and of course, a generous spread on the dining room table. In the preceding weeks, Katie and her boyfriend Andrew had dutifully tasted and tested wines, and we exchanged a flurry of e-mails and phone calls, carrying out the menu-planning ritual that that lays the groundwork for any proper family event. With minimal haggling, it was decided that three sides of salmon, grilled and painted with pesto, would be sufficient, along with chicken sausages; Tina's trademark corn salad; a green salad with candied pecans, sliced cucumbers, and cherry tomatoes; crudités; an assortment of cheeses; blue and yellow corn chips; and salsa. Most importantly, however, there would be an uncommonly luscious white bean hummus, a recipe created by a Little Family within our little family, a subdivision official enough to require capitalization.
In 2004, when Katie spent several months living in Boston with Sarah and Sarah's husband Jim,* the three came to call themselves the "Little Family," both for the size of their household and for the stature of its female members, and for Christmas that year, they assembled The Little Family Cookbook, a compilation of some of the dishes they prepared during those months together. "We did a lot of cooking, a lot of eating, and some might say a lot of drinking," they explain. "In these pages we share with you the fruits of our labors and the grapes and malts we paired them with." Full of vibrant color photos, beverage suggestions, and such enticing section headings as "White Beans, White Beans Everywhere!"; "We Love to Coook Indian"; "Baa-Baa Yummy Lamb"; and "Slow Cook This," it can be hard to decide where to begin. But the white bean hummus—unusually smooth and creamy, with the airiness of whipped cream—isn't a bad starting point, or even springboard for, say, an entire party.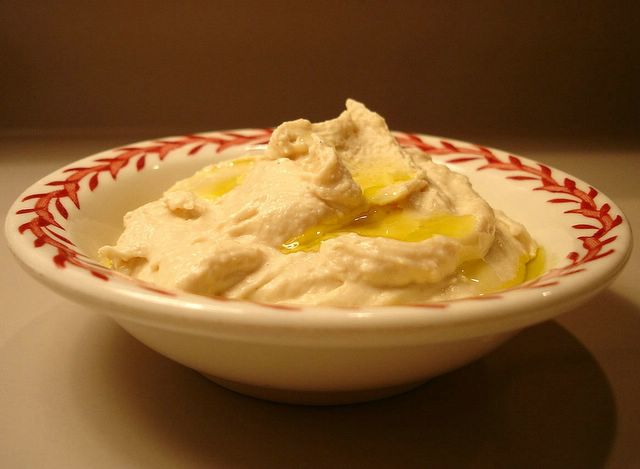 Nutty with tahini, it finishes with a smart kick of lemon, and slathered on a wedge of pita or scooped up on a carrot stick, it's rich enough to keep a crowd fueled for hours of rigorous reveling. And at the end of a night of what lesser-than-little people might call a lot of eating and drinking, there's nothing I like better than being asked to reach up to the tippy-top cabinet above the oven to retrieve a Tupperware for leftover hummus. After all, the next morning, our appetites will surely be enormous, even though we are not.
*For surviving prolonged exposure to two giggly sisters speaking with a faux-Russian accent, Jim deserves a Time Magazine "Man of the Year" Award, or at least, as we say, three "attaboys."
Little Family White Bean Hummus
Adapted from The Little Family Cookbook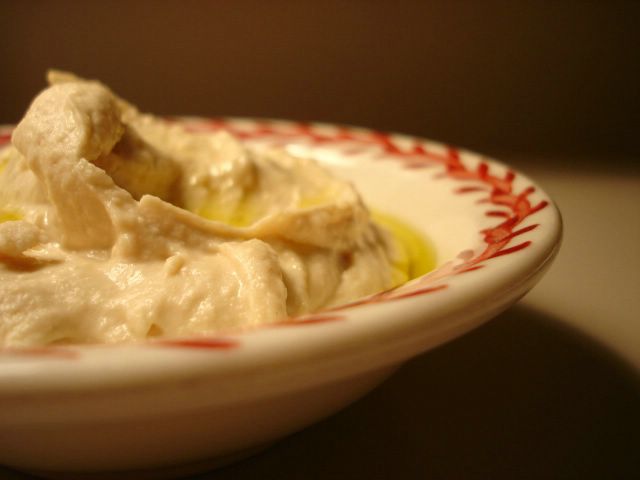 2 large garlic cloves, or more to taste
1 20-ounce can or jar white beans, drained and rinsed well
2/3 cup well-stirred tahini
¼ cup lemon juice, or more to taste
1 tsp salt
Cumin, to taste
Water
Extra virgin olive oil, for serving
Pita
In a food processor, pulse the garlic cloves to mince them thoroughly. Add the white beans, tahini, lemon juice, salt, and a pinch or two of cumin. Puree well, scraping down the sides of the food processor bowl with a spatula as needed. Add water a couple of tablespoons at a time, until the hummus is as thick or thin as you like (I use about ¼ cup). It should have a very smooth, light, almost whipped consistency. Taste to check for seasoning, and adjust as necessary. Serve the hummus at room temperature, drizzled with olive oil, and eat with pita.