Every now and then, something comes over me, and I produce. With no real hunger or purpose, I make, say, three mini-loaves of fancy banana bread, a batch of strawberry scones, a loaf of sourdough, and barrelfuls of Italian vegetable soup—all in less than twenty-four hours, and mostly on a Friday night, no less. Behold the pinnacle of geekiness! But because a girl's got to keep these things in check, I usually make sure that my bouts of industriousness are immediately followed by a good dose of sloth, generally in the company of someone upon whom I can foist some of the products of my labor. Hence Saturday night's languorous session on the couch, spooning whipped cream and sipping wine, wearing unusually wavy bedroom hair, and snorting and guffawing in intentionally bad French with Kate. Whoever said that sloth is a deadly sin has obviously never spent an evening with us.
I arrived at Kate's with a heavy bag of loot: a crusty homemade sourdough boule, my jagged-toothed Wüsthof bread knife, a wedge of bleu d'Auvergne from my personal ripening cellar (a.k.a. the refrigerator), a baggie of scones, and a Tupperware full of still-warm soup. Taking stock of our wares and coming up short, we ran down to DeLaurenti's, barraged the poor wine saleswoman with inarticulate questions about Italian reds, and returned to Kate's with a bottle of Argiolas Perdera Isola dei Nuraghi 2002, jammy, spicy, and as fun to pronounce as it is to drink. I set the table—complete with the few napkins I didn't set on fire at my birthday dinner—while she washed lettuce and handfuls of peppery watercress. With rain falling on the cold streets outside, we sat down to a warming winter dinner: steaming bowls of soup, hearty with carrots, cabbage, zucchini, Swiss chard, and sweet white beans,
and, on the side, greens with vinaigrette, creamy bleu d'Auvergne, and chewy bread.
And, because we needed to meet our regular whipped-cream quota, we collaborated on a now-routine-but-still-exhilarating gâteau au chocolat fondant, which, incidentally, gave me a chance to show off my natural grace in the kitchen. Not only did I drop a chocolate-batter-covered spoon on the floor and nearly knock over a pitcher of kitchen utensils while making the thing, but, once it was out of the oven and cool, I shot a knife across the kitchen trying to serve it. I just get so eager.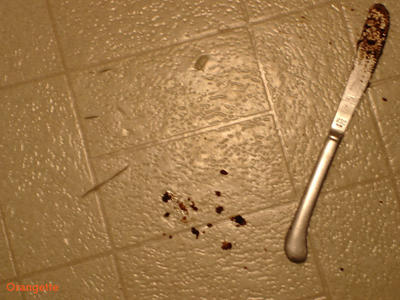 Kate, on the other hand, whipped the cream with uncommon elegance.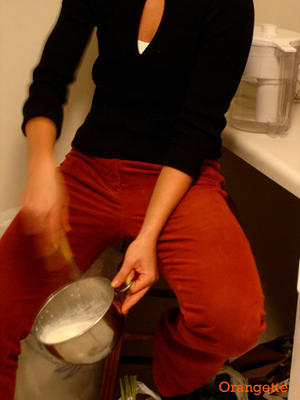 We collapsed onto the couch and, wine glasses and bowl of cream nearby, made fast work of the cake. Then, in only a couple of hours, we planned our entire lives and a cocktail party. Even in times of slothfulness, we can't help but be productive.
And what's more, before I left, we even took out the trash.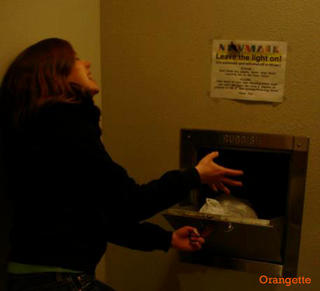 The rubbish chute is the highlight of every visit chez Kate. I adore it, and, knowing this, Kate saves her very best trash just for me. I've thrown into the chute's greedy mouth everything from a candy-coated apple to a bag full of mussel shells, and I can't get enough of the clicketty-clacketty-THUMP! of trash tumbling down through the darkness. It's pure heaven. Someday I'll have a rubbish chute of my own, and I'll fulfill my dream of sliding down it. I've long had visions of putting myself in small, confined spaces: cabinets, the space under airplane seats, and so on. When I was moving into my current apartment, I crawled into a corner cabinet in the kitchen and had my mother close the door behind me. It was strangely satisfying, if only for a few seconds. A rubbish-chute ride would surely be divine, if painful.
Coming home and sighing contentedly, I gave thanks for so much industry and indolence by turning out the light and tumbling down through the darkness to my bed.
Fretwell (Italian Vegetable) Soup
This soup recipe comes from the Fretwell family, longtime friends in Oklahoma, and they in turn discovered it somewhere in Italy. I have only a blurry Xeroxed copy of the recipe (which the Fretwells had faxed to them from wherever they first ate it), and so I thus cannot give credit here to its original author. That's a true shame, because this is one of the most delicious vegetable soups I've ever tasted. The Fretwells brought us many meals while my father was ill, and this was one we requested repeatedly. But consider yourself warned: this recipe makes a veritable cauldron of soup. If you don't have a stockpot that can hold twelve quarts or so, do this in two batches, or halve the recipe.
1 ½ lbs. dried cannellini or Great Northern beans
Olive oil
Salt
2 or 3 fresh sage leaves
1 or 2 garlic cloves, peeled and left whole
2 or 3 medium yellow onions, chopped
8 medium carrots, sliced into ¼-inch coins
5 celery stalks, trimmed and sliced into ¼-inch crescents
2 medium zucchini, halved lengthwise and sliced into ¼-inch half-circles
1 bunch red Swiss chard, washed, dried, and sliced
½ head green cabbage, cored and chopped roughly
1 quart vegetable broth (I used Imagine brand)
1 28-oz can whole peeled tomatoes, juices reserved and tomatoes chopped roughly
Soak the beans overnight. The next day, drain them, put them into a large pot, add water to cover by 2 inches, and cook, with sage and garlic, for about one hour. As the beans cook, skim off any white foam that rises to the surface, and halfway through their cooking time, add ½ Tbs salt.
Heat 2 or 3 Tbs olive oil in a large soup pot, add onions, carrots, and celery, and sauté for 10-15 minutes, stirring occasionally, salting lightly, and adding more oil if necessary. Add the zucchini and the vegetable broth, cover, and bring mixture to a simmer. Then add Swiss chard, cabbage, tomatoes, and tomato juices. Cover the pot, and simmer over low heat for half an hour or so. Add the beans and their cooking water, salt to taste, and simmer, covered, over low heat for one hour, stirring occasionally. Taste and adjust seasoning as needed. Serve over slices of day-old crusty bread, and garnish with a drizzle of olive oil if you like.
Serves scads—but scads!—of people.