Two thousand five has officially arrived, bearing hip-shakin' hip-hop, sparkly lights for the Space Needle, an unwelcome nuzzle, and tater tots.
Seeking a relatively low-price, low-key New Year's Eve celebration with the possibility of dancing, three of us traipsed down Fremont Avenue to a hip-hop show at Suite G. I stuck to gin and tonic—not quite ginny or limey enough, but then again, the bartender was no David Rosengarten—and Teresa took quite a liking to the "Strasberi Drop," while Megan sampled the "Bird of Paradise." Featuring crème de cacao, amaretto, something else I've forgotten, and cream (reassuringly billed as "fresh"), it was dessert in a martini glass. I wanted desperately to fill a bathtub with the stuff and roll around in it, although Megan seemed to prefer the idea of dipping herself in her aunt's banana cream pie.
Over the hubbub ("This is it, WHAT! Blue Scholars in the place—put your fist up! Doin' it large to bring in 2005, y'all!"), we talked bacon fat, pulled pork, lamb-chop sideburns, wild animal desire, and anthropology. I made the mistake of accidentally catching the eye of a fairly drunk-looking but otherwise handsome man as he passed us, and he generously rewarded me with a warm and scary neck-nuzzle. Blessedly soon thereafter, the clock struck midnight and we, weary after so much stimulation, snuck out in search of something greasy.
Late-night, rain-slicked Fremont doesn't offer much, but we did find an auspicious first meal of 2005 in a basketful of chips with salsa and guacamole at Dad Watson's,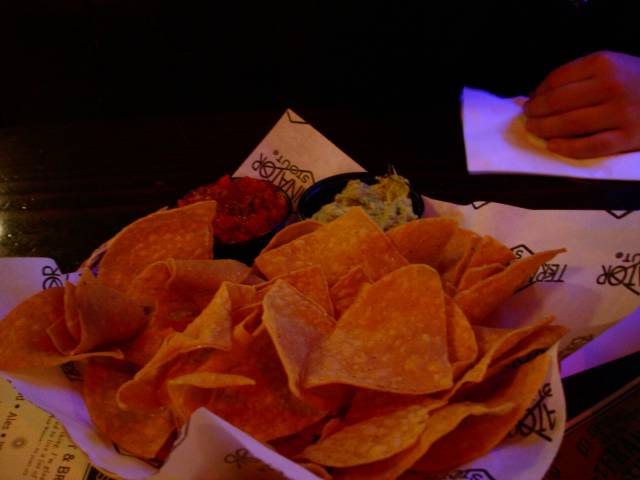 and Megan demonstrated the proper way to eat a tater tot with Ranch dressing.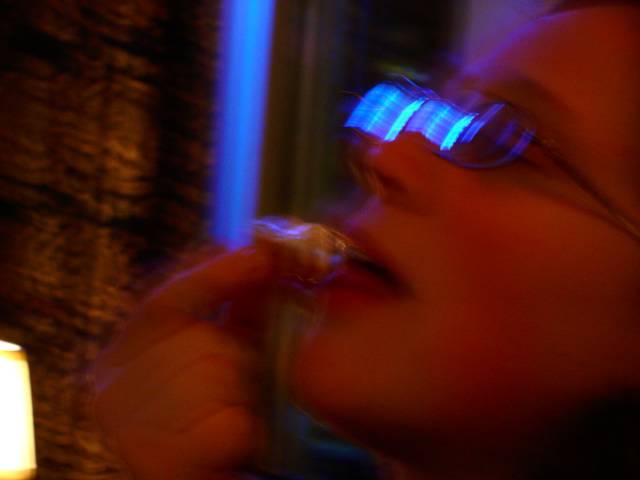 Now, perhaps you're wondering at the lack of Champagne, caviar, and other highfalutin celebration fare, but think again: tater tots, I've been told, are the noblest form of potato. Apparently, these crunchy little barrels of potatoeyness are no longer to be frowned upon or shoved aside with other unsightly flashbacks of the school cafeteria. I believe, dear reader, that we're witnessing the birth of a trend, and in fact, 2005 may well turn out to be the year of the tater tot. But frankly, I'm undecided. I'm a little afraid of what might be lurking within, of what lies behind that über-potato flavor. I sense the work of a laboratory. But I did make fast work of the tortilla chips.
And then, perfectly sober, I knocked a glass of ice water into my lap while doing a seated shimmy to Michael Jackson's "Wanna Be Startin' Somethin.'"
Thus began 2005, already making good on promises of thrills, adventure, and salty snacks and treats. Happy New Year to you and yours. May you be warm, dry, and well-fed.