Happy anniversary to a shameless reader of Us Weekly and his significant other! Have a wonderful dinner at Ceiba, Doron, complete with an exotic-sounding cocktail or two and some Jamaican crab fritters! And please, don't be shy: ask for my brother David, introduce yourselves, and demand to be treated like kings. Were I there, I'd roll out a red carpet for you to saunter down in your excellent pants. If all is not perfect, I will give that brother of mine the best sisterly talking-to I can muster. When he was a teenager and rode his motorcycle down our street without a helmet, I—then only two or three years old—tattled on him to Mom and Burg. And [, she says threateningly,] I can do it again.
Now, dear Doron, I'm going to hijack your happy occasion and use it to my own ends. This is a fantastic chance to share, gush over, and celebrate two things you've taught me—both food-related, of course.
The first, in our 1999-2000 students-on-a-stipend days: l'As du Fallafel (34, rue des Rosiers, 75004 Paris).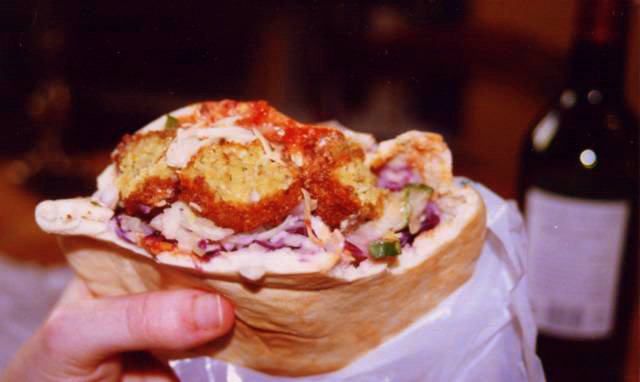 How many times have I ordered these messy meals from hip-hoppy waiters with slicked black hair and yarmulkes? How much tahini-soaked cabbage have I dripped onto the table or licked from my fingers, sauce piquante burning a hole in my tongue? How many crispy, golden knobs of fallafel can one small girl eat without seeming reckless? Unfathomable questions, all. This summer Doron had the tremendously good fortune of finding an apartment only four doors down from this Israeli outpost, and the season's refrain was "Une fallafel spéciale, s'il vous plait!" L'As, I dream of you. Seattle's Zaina works in a pinch, but it doesn't come close.
The second, in our June-July 2004 sorely-missing-a-stipend days: gin and tonic! [Actually, Doron and Elizabeth were my co-teachers in this venture, so I celebrate you both. In fact, those who've been reading closely may have noticed that I've celebrated you often this summer.] Oh swelteringly hot Parisian summer evenings under the eaves, nothing tames you like a gin and tonic. Oh dirty laundry and cursed crowded streets and a million flights of skinny stairs and sweat dripping into the crease of my elbow, nothing refreshes like a gin and tonic. Liz says that gin tastes like paint thinner, and if that's true, I'm lucky that my art supplies are in Oklahoma. Before summer recedes and we turn to more wintery beverages, please try this:
David Rosengarten's Frosty Plymouth Gin and Tonic*

This formula serves two if your name is Molly, or one if you are less of a lightweight and/or do not find yourself sometimes restrained, as I do, by the vestiges of teenage straight-edgedom. I can say from experience that the recipe halves just fine.
Mille bises à toi et le tien, Doron, from your darling Bitter.
*Update as of May 2005: since the date of this posting, I've been converted to Tanqueray 10, thanks to a very thoughtful and gastronomically adventurous reader of Orangette. David Rosengarten would kill me, but I'll say it anyway: his formula is even better with Tanqueray 10.