You guys are to be commended. It takes a very kind, optimistic crowd to greet the homely old celery root with open arms, and by gosh, you did. You're clearly well schooled in the old saying, "You can't judge a celery root by its cover." You're great.
So after all that good will and pale green soup, you deserve some dessert, don't you think? I hope you won't mind if it's kind of, um, homely. You're probably used to that by now.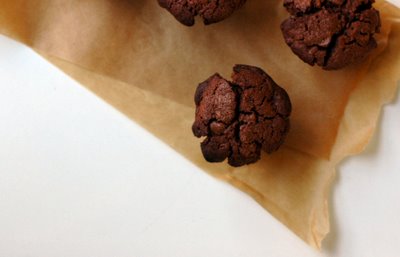 Back in October, I took a weekend trip to Portland, Oregon, for work. I meant to tell you about it then, but I was knee-deep in my book proposal, and it was pretty much all I could do to keep feeding, bathing, and clothing myself, much less write something adequate to such a lovely, lovely city. I fell hard for Portland. It's my new favorite. Oh, Portland, from your old brick train station to your free light rail, your river, your bridges, and that pair of shoes (cute and comfortable!) that leapt from your storefront into my suitcase, you got me, hook, line, and sinker. And that was before Pearl Bakery, even.
A reader of this site had told me about Pearl Bakery, but I had no idea just how bewitching it would be. Be-witch-ing. I went there three times in three days, friends. I took extra-long lunch breaks. I made it happen. I hoofed across town in high heels. I almost missed my train. I had to have my daily bouchon.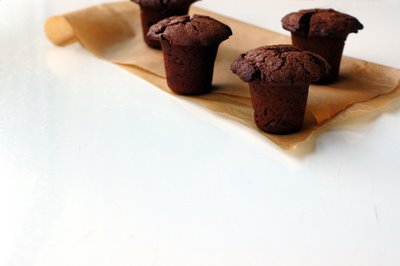 So named – en français – for their faint resemblance to a champagne cork, these little chocolate cakes could have easily kept me in Portland indefinitely, if I hadn't had that pesky return ticket. Dense and delicate, with a fine, tight crumb, they were unusual in nearly every way – and unusually good. Tinted a deep, reddish brown from plenty of dark chocolate, they sat somewhere between brownie, scone, and day-old chocolate cake, and were studded throughout with semisweet chips. Some could call their texture a tad dry, I guess, but once on the tongue, a mouthful melted almost instantly – at which point, of course, I started pawing for more. This could have been a big problem back in Seattle, as you can imagine, had I not discovered that the recipe for bouchons was waiting on my cookbook shelf.
I'm sure I'm not the first to say it, but thank heavens for David Lebovitz. Within the folds of his Great Book of Chocolate lies the recipe for Pearl Bakery's funny little beauties, as told to him by pastry chef Lee Posey. And, as with the book's other recipes – I've tried a good handful now – this one works. I made just a few tweaks – substituting regular-size Ghirardelli chips for the mini ones indicated, mainly because I can't find a worthy brand of the latter, and using a mini popover pan instead of a regular muffin tin – but otherwise, David, wow. Thank you.
With a shape not unlike a pert, stocky mushroom and a deliciously craggly, cracked top, these humble-looking cakelets are chocolate to the core – which is how, I think, we all should strive to be. They're tailor-made for a chilly afternoon with a girlfriend, or boyfriend, and a good, strong cup of coffee. I can also tell you that they fit quite nicely into a Sunday evening with a couch, a DVD, a bottle of tawny port, my man, and my mother, who was in town for another installment of wedding planning. [Rehearsal dinner site: check. Rehearsal dinner menu: check. Wedding menu: check. Tables, chairs, tents rented: check. Exhausted and cold and tanked on a single glass of port: check!] I am also happy to report, thanks to an ingenious accident on the part of my mother, that bouchons are stunningly good when served with a dusting of fleur de sel. I didn't think they could get any better, but they did. And then we all had seconds. They're real keepers, right up there with celery root.
P.S. I hardly know what to say. For the second year in row, I am humbled to be among the winners in Wellfed.net's 2006 Food Blog Awards. Thank you for thinking of me and my Orangette. Really. Thank you, thank you, thank you.
Bouchons au chocolat
Adapted from David Lebovitz's The Great Book of Chocolate, and Pearl Bakery
David's method for making these lovelies calls for them to be baked in a standard-size (½-cup capacity) muffin tin. I have made them that way with very good results, but on my most recent go, I chose to try them instead in my new mini popover pan. [Big ups – man, my slang is wicked today – to my very petite cousin Katie and her man Andrew. You guys did very well in the Christmas gift department.] That way, I guessed, their shape would more closely resemble the ones at Pearl Bakery, which are taller and narrower than a typical muffin – more "cork-like," if you will. As it turned out, I guessed right. So, friends, if you have a mini popover pan, now's your chance to use it. But if not, no problem: just use a muffin tin.
Also, for the chocolates, be sure choose good ones – these are chocolate cakes, you know, so don't skimp.
3 ½ ounces bittersweet chocolate, such as Valrhona Guanaja 70%, chopped
3 ½ ounces unsweetened chocolate, such as Scharffen Berger 99%, chopped
1 ¾ cups cake flour
1 ½ Tbs unsweetened cocoa powder
Pinch of salt
½ pound (2 sticks) unsalted butter, at room temperature
1 ¼ cups granulated sugar
4 large eggs, at room temperature
1 cup semisweet chocolate chips, such as Ghirardelli
Adjust a rack to the middle position, and preheat the oven to 375 degrees Fahrenheit. Grease a 12-well muffin pan or mini popover pan with butter or cooking spray.
In a heatproof bowl set over a pan of barely simmering water, melt the bittersweet and unsweetened chocolates together, stirring occasionally. When the chocolates are just melted, remove the bowl from the heat and set it aside.
Sift the flour, cocoa, and salt together into a medium bowl. Set it aside.
In the bowl of an electric mixer (or a mixing bowl), beat the butter and sugar until very light and fluffy. Add the eggs one at a time, mixing well after each addition. Beat in the melted chocolate until well incorporated. Using a rubber spatula or spoon, stir and fold in the dry ingredients in three additions. Add the chocolate chips and stir to combine. The batter will be quite thick.
Divide the batter between the wells of the muffin tin or popover pan. Bake the cakes for 15-18 minutes, or until they still feel quite soft in their centers when pressed lightly with your index finger. Do not overbake them, or they will be dry.
Remove the pan from the oven, and allow to cool on a rack for about 10 minutes. Carefully remove the cakes from the pan and cool completely before eating or storing. (I find that they taste best when they've been allowed to rest for a couple of hours. The chocolate flavor needs time to settle and ripen a bit. Oddly enough, they really don't taste all that great when they're warm.)
Note: The bouchons are best eaten on the day they're made, but they're still very good the next day. Store them at room temperature in an airtight container. I also froze a few and let them defrost at room temperature, and they were quite tasty.
Yield: 12 cakes