At some point in my impressionable youth, I was told that one should never eat while standing up. This well-meaning killjoy of a tip was probably given to me during one of my mother's various dieting phases, the idea being that one can't be fully mindful of what crosses one's lips unless one is seated, preferably with a knife, fork, and a napkin. There's a good degree of truth to this, certainly, and I'll almost always take a civilized sit-down over a standing scarf-down, but honestly, some things just taste better when taken on two feet. Take, for example, the drippy peach eaten over the kitchen sink, or the tip of the baguette torn off outside the boulangerie: really, sometimes sitting is superfluous.
If you'd like further proof, look no further than New York, America's street food capital. There are carts for nearly everything capable of being eaten out of hand: hot dogs, coffee, deliciously salty soft pretzels, ice cream concoctions in colorful paper, doughnuts, muffins, and, as Brandon and I discovered one nibbly afternoon in Chinatown, a little creation called "hot mini cakes."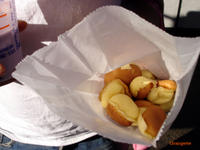 You'd miss them if you weren't careful, or if you happened to arrive too late in the day, after the last of the batter is gone. But if your timing is just right and your stars are in alignment, as ours were one sunny afternoon,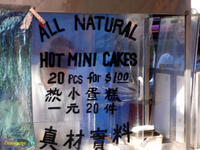 you'll find at the corner of Grand and Bowery a rickety-looking cart, half wrapped in a blue tarp and parked under a red-and-white striped umbrella. Behind its glass front window, an elderly man in white gloves gracefully turns out pan after pan of "all natural hot mini cakes,"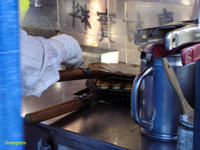 twenty for a dollar.
Alternately known as "egg cakes," "Hong Kong cakes," "eggettes," or "gai daan jai," these sweet, quarter-sized orbs are made in a two-sided, hinged cast iron pan covered with tiny round wells, something across between a waffle iron, a pancake pan, and a sandwich press. When a customer steps up to his cart, the mini-cake man quietly springs into action, greasing the pan with a wooden-handled brush and filling it with a thin stream of the batter. He carefully closes the hinge and holds the pan over a propane flame, turning it a time or two to evenly brown the cakes. Then, scraping any excess batter from the rim, he turns the finished cakes into a bowl and delivers them to his waiting customer, still hot, in a little waxed-paper bag.



We stood on the corner and popped them one by one into our mouths, the two-tone cakes speckled with pin-sized holes and trimmed with lacy edges that flipped like tiny, soft skirts. Eggy and light, their flavor was unassuming, familiar, and completely delicious—the scent and sweetness of a white-flour crepe melded with the texture of an airy, fine-crumbed cake.
Now, being so tasty—and so mini—these cakes tend to disappear at an alarming rate. In fact, you may find, as we did, that they fall just shy of the afternoon sidewalk-snack quota for two. But you'll be pleased to note, dear reader, that there's another street-side treat to be had only a few blocks away.
I'm certainly not the first to sample the delights at Il Laboratorio del Gelato, but I can't resist adding my voice to the chorus. I hate to think of anyone missing a bite of this fine stuff, or the chance to stroll the Lower East Side with a scoop or two.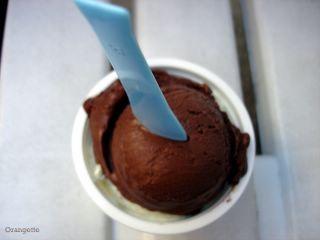 Il Laboratorio del Gelato is a skinny storefront at 95 Orchard Street, a sterile white-walled space with a modest display case near the front window and a very big list of flavors. We sampled a few before settling on two small cups with two scoops each: chocolate sorbet and fresh mint gelato for Brandon, and milk chocolate and strawberry gelatos for me. Though lacking the soft, famously elastic texture of Italy's classic gelatos, these New York-style offerings were enough to send us into small raptures on the street outside. The sorbet was dark with cocoa and impossibly smooth, without an ice crystal to be found—an ideal match for the mint gelato, which tasted like spearmint leaves steeped in fresh, lightly sweetened cream. My milk chocolate gelato made some of the finest chocolate ice cream I've ever eaten, and the strawberry was bright and true, finishing with a rush of rich cream. I tried to savor it slowly—a sort of milk-based meditation, if you will—but between the warm street, the softly melting scoops, and my deliciously distracting gelato-eating partner,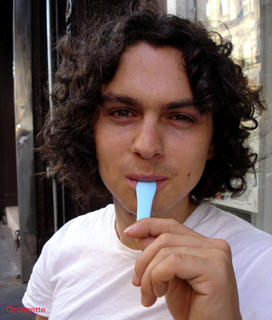 I was a lost cause. Really, sometimes mindfulness is overrated. I'll settle for taste buds, two feet, and the teeming street.