I am not, by nature, wildly energetic. I'm far from slothful—give or take a few semantic quibbles, of course—but I've never been one to wake up with itchy excess energy nagging to be burned. I have just the right amount of oomph to get me happily through the day, and though infamous in certain circles for my speedy stride, I'm really very good at sitting still. I've even been known to go horizontal—and in mid-afternoon, no less. All of this is to say that from my perspective, seated or supine, my half-sister Lisa is nothing short of superhuman.
Mother to five talented children—ages (almost-)six to (almost-)sixteen—and husband to one lucky man, she almost never stops. Whether delivering the kids to soccer, track, Little League, or soccer practice; cello, guitar, piano, or violin lessons; jazz, tap, or modern dance classes; art camp, math camp; or one of four different schools, she's on the go, and gracefully. She's doing laundry at 1 am, playing doubles tennis at 11, and meeting the bus at 3. But—as you might expect, given our shared paternal heritage—it's in the kitchen that Lisa is busiest, and most astounding.
Her shelves are stacked with cookbooks and clippings, her drawers filled with gadgets and graters. She bakes quiches and lemon cakes and clafoutis; she makes Chinese noodle salads, ginger-pumpkin mousse, banana tarts, blintzes for Rosh Hashanah, and luscious Indian-style cumin chicken with buttery, onion-flecked rice. She candies orange rind and rolls her own ganache truffles. At midnight, when the house is quiet, she tempers dark chocolate for homemade almond bark. And by way of a miracle in time management, she keeps an organic plot—a beautifully manicured one—at the local community garden a few minutes away, where she grows snap peas and snow peas, tomatoes and blackberries, radishes, onions, lettuce, and asparagus, not to mention herbs and assorted flowers. And as luck would have it, when I stopped in to visit a couple of weeks ago, her rhubarb was ripe for its first harvesting. Dear reader, you know how I feel about rhubarb; it's enough to get me downright busy in the kitchen.
So to make the most of our brief, all-too-rare, and all-too-frenetic time together, we headed home with a handful of rosy stalks. Lisa retrieved from the shelf a cookbook that, she explained as she leafed through the glossy pages, she had bought solely for one recipe: a rhubarb meringue tart. Rhubarb. Meringue. Tart. With a few notable exceptions, no three words are better suited for each other, and that's a certifiable fact. So we sliced up the rhubarb, juiced an orange, and rolled out the pastry dough, and then, after Little League, a cello lesson, and a few miles on the odometer,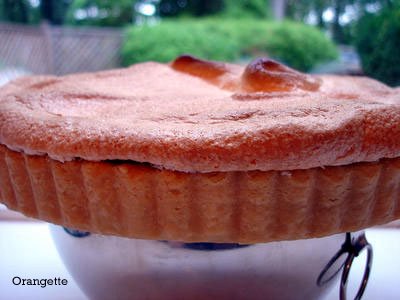 we slowed down; we sat still; we scraped our plates; we talked; and we didn't stop until nearly 2 in the morning. It was delicious.
Rhubarb Meringue Tart
Adapted from Tamasin Day-Lewis's The Art of the Tart
Day-Lewis credits her friend and colleague Nigella Lawson with the creation of this delicate, unusual tart. It begins with a buttery shell, over which is poured a sheet of unsweetened(!) cooked rhubarb and a layer of a egg-sugar-butter batter. This base is cooked until shiny and golden, and then the tart is capped with meringue and baked until lightly browned. The result is a multi-layered tart in which the rhubarb is mellowed by the buttery crust beneath it and the sugar- and butter-rich batter atop it, and the light, sweet meringue topcoat makes a perfect foil for the puckery compote it blankets. Although the tart is best, texture-wise, about 30 to 60 minutes of the oven, it also keeps nicely and tastes surprisingly wonderful cold, straight from the fridge. Lisa and I made sure to try it both ways, as should you.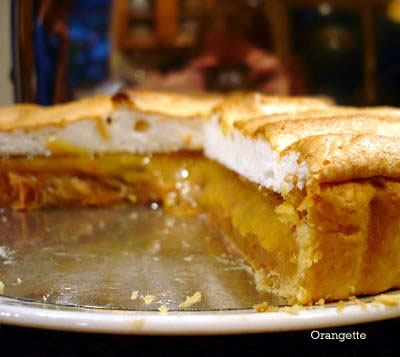 ½ recipe Martha Stewart's pâte brisée, made with fresh orange juice rather than water
2 lbs rhubarb, trimmed and chopped into roughly ½-inch chunks
Juice of ½ an orange
2 eggs, separated
2/3 cup plus ½ cup granulated sugar
2 Tbs unbleached all-purpose flour
2 Tbs unsalted butter, melted
¼ tsp cream of tartar
Preheat the oven to 400 degrees Fahrenheit.
Roll out the pâte brisée to fit a 9-inch removable-bottom tart pan, and line the pan with the dough. Press a sheet of aluminum foil gently into the lined pan, and fill the well of the pan with pie weights. Place the tart pan on a baking sheet, and bake until the shell is lightly golden and set, about 20 minutes. Remove from the oven, discard the foil and weights, and allow the tart shell to cool.
Put the rhubarb in a medium saucepan with the orange juice and heat gently until just softened and beginning to fall apart. Remove it from the heat.
In a small bowl, beat the egg yolks with a fork. In a medium bowl, mix 2/3 cup sugar with the flour and melted butter. Add the yolks, and stir briefly. Place a sieve over the mouth of the bowl, and pour the cooked rhubarb into the sieve. Press the rhubarb lightly to drain off its juices, allowing them to trickle into the egg-sugar-butter-flour mixture. You should add enough rhubarb liquid to make the mixture into a smooth, runny paste.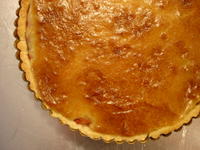 Put the sieved rhubarb into the tart shell, spreading it evenly. Pour the egg-sugar-butter-flour mixture over it. Bake until golden and just set, about 20 minutes.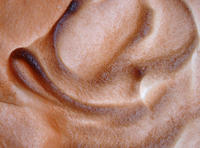 In a medium bowl, beat the egg whites until foamy. Add the cream of tartar, and continue beating until the whites form soft peaks. Slowly add the remaining ½ cup sugar, beating until the whites are shiny and opaque. Spoon the meringue over the baked tart to completely cover the fruit, sprinkle with a touch more sugar, if you like, and bake for 15 minutes, or until the meringue is lightly bronzed.
Allow to cool for 30 to 60 minutes. Serve warm or at room temperature, sliced into wedges.
Serves 6.