It seems as though every food—almonds to zabaglione, frumpy to fancy—has its fifteen minutes of fame. Yesterday's coffee is today's tea; sushi cedes the spotlight to crudo; and pricey imported olive oil gives way to pricey domestic butter. Of this year's "it" edibles, bacon has perhaps been the busiest on the scene, nabbing the title "best food in the world" in the March issue of Saveur, inspiring a fatty flurry of blogging, and finding its way into this and that, near and far. It's on everyone's lips; I long ago stopped counting the number of times I'd heard the exclamation, "Everything tastes better with bacon!" Now, granted, salt and smoke are sublime, but truth be told—no matter how shocking—I'm just not so interested. As far as I'm concerned, bacon has nothing on fish sauce, the newest "go-to" ingredient. I can't avow that everything tastes better with the stuff, but I'd venture to say that almost everything does, especially when lime juice, garlic, chilies, and sugar are involved.
It may not sound or smell so appetizing, but fish sauce, also known in Thailand as nam pla and in Vietnam as nuoc mam, is the cornerstone of the intensely delicious cuisines of Southeast Asia. Fish sauce is high in umami, one of the five basic tastes recognized by the human tongue, along with saltiness, sourness, sweetness, and bitterness. Umami translates somewhat ambiguously to "savoriness," though I'd describe it instead as a round, full flavor—the sort of sensation we experience when tasting Parmigiano-Reggiano cheese, soy sauce, or mushrooms. Fish sauce adds depth, complexity, and an appealing funkiness to dishes, and when teamed and tempered with the right partners, it's alarmingly difficult to stop eating. Take, for example, this simple rice noodle salad.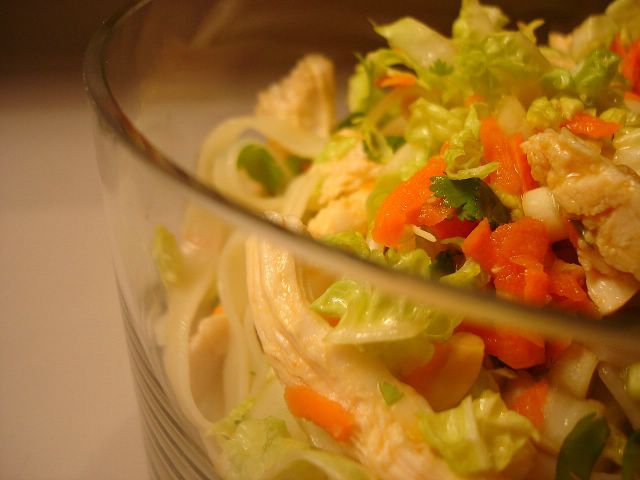 It's tough to think of a better dinner for an almost-summer night: cool slippery noodles, green slivers of scallion and Napa cabbage, sweet carrot, salty peanuts, chopped cilantro, and chunks of roasted chicken, doused in a dance-on-the-tongue dressing that balances the pungency of fish sauce with the acidity of lime, the heat of chilies, and the sweetness of sugar. You may find yourself oddly tempted to dump the dressing over everything in sight, from plain greens to sliced cucumber, grilled fish, or a bowl of sticky rice; you may want a dab behind the ears, or a long soak in a bathtub full of it. But with a cold beer in one hand and a pair of chopsticks in the other, you'll be too busy. Like everything else, fish sauce only gets fifteen minutes of fame, so there's no time to waste.
Almost-Summer Rice Noodle Salad
Adapted from Lynne Rossetto Kasper's Splendid Table Weeknight Kitchen e-mail newsletter
This salad is very versatile, and you can't go wrong with any variety of ingredients. Try using shrimp or roasted tofu in place of the chicken and roasted salted almonds instead of peanuts, or substitute basil for the cilantro. If you like, add slivered fresh spinach leaves, diced jicama, blanched and slivered snow peas, or a bit of julienned mint. The recipe makes quite a bit of dressing, so you'll have some left over; it will keep in the refrigerator for several days and can be used to marinate poultry, beef, pork, or seafood before grilling.
1 pound thin rice noodles (roughly the thickness of linguine)
3 large cloves garlic, peeled
½ cup Thai or Vietnamese fish sauce
2/3 cup water
½ cup fresh lime juice
½ cup rice vinegar
¼ to ½ cup brown sugar, to taste
1 to 2 hot chilies (red bird, jalapeño, or serrano), seeded and minced, or to taste
6 to 8 leaves Napa cabbage, thinly sliced
8 scallions, thinly sliced
1 large carrot, peeled and shredded or julienned
½ cup tightly packed cilantro leaves, coarsely chopped
2 grilled or roasted chicken breasts, shredded
1 cup salted peanuts, coarsely chopped
Bring a large pot of water to a boil. Add the rice noodles and cook for 5 minutes, or until tender but not mushy. Drain the noodles into a colander, rinse with cold water, and then place them in a large bowl.
Place the garlic cloves in the bowl of a food processor, and pulse to mince. Add the fish sauce, water, lime juice, rice wine vinegar, brown sugar, and chilies, and purée them together. [The mixture will get quite frothy.] Taste, and if necessary, add more chile and adjust the sweet/tart balance. Pour the dressing into a serving bowl, and set it on the dining table.
Toss the vegetables and cilantro with the noodles, and mound the mixture on a platter. Scatter the chicken and peanuts over the top, and serve. Traditionally, this salad is eaten in individual bowls, so invite your dining partners to scoop their own portion from the platter and dress it as they see fit.
Serves 4-6.