Month:
October 2016
I started my Monday by listening to Blood Orange until my ears fell off, which was nice. Then my friend Jenny told me to watch this (old-news) video (that I somehow had never seen before), and with that, my week is off and running. Hi to you.
Now, business:
1. The Guardian kindly invited me to write about a food that evokes home, and I wrote about a dead-simple, bare-cupboard soup that was first made for me by my aunt Tina. That's her below, on the right, living the early-eighties hot tub life with me and my cousins. Most people thinks that June gets her hair color and texture from Brandon, but world, let it be known that I think she's got my texture and my mom's/Tina's color. I have spoken.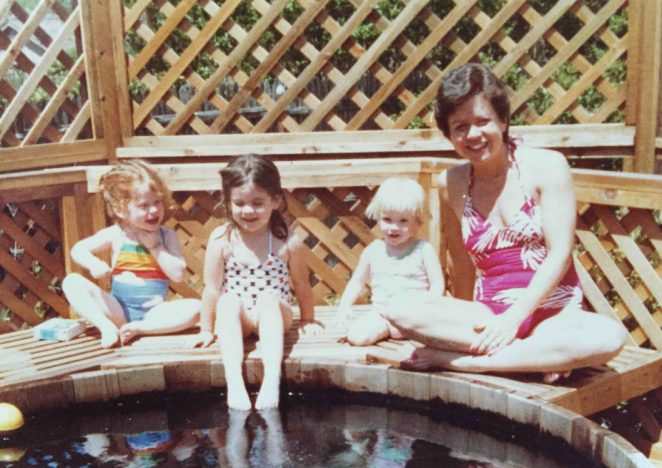 The story came out on Saturday, and you can read it over at the Guardian. I'm also including the recipe below, because it's exactly the kind of everyday cooking I love to do, and I think you might feel the same way. It makes me sad to think of not having the recipe in the index of this site. So go get 'er.
2. In other news, my friend Christophe sent me a link to an evocative BBC story on the late American musician Arthur Russell, whose work haunts me. If you haven't yet heard him, "A Little Lost" will really do it for you.
3. Last, Dino's is hosting a very worthy fundraiser tonight, October 3, for Jubilee Women's Center. If you're up for some carrying-on and dancing on a Monday night, we hope you will join us. The party starts at 8:00 and goes until 2 am, and I'm really hoping that my mom is game to June-sit, hi Mom, because I would like to go do some dancing. You can find more information here, and if you can't make it, you can always donate to Jubilee directly.
xx
Recipe
Charlie Brigham Soup
Charlie Brigham, Blanca, Tina Baylis, and Sarah Connolly
Charlie Brigham used Swanson canned chicken broth, fideo vermicelli, egg, and Kraft parmesan cheese – the green‑canister kind that keeps for a small eternity. Today, you might swap in organic chicken broth (homemade or not), capellini and freshly grated parmesan.
1 large egg
2 cups (475 ml) chicken broth
About 2 ounces (65 grams) capellini, fideo vermicelli, or other thin noodle or small pasta shape
Parmesan, grated, to taste
Black pepper, to taste
Crack the egg into a small bowl, and beat well.
In a small saucepan, bring the broth to a boil. Add the pasta, and cook according to package directions, until just tender. Drizzle in the beaten egg, stirring constantly with a fork so that the egg breaks into feather-like pieces rather than clumps.
Divide the soup between two wide, shallow bowls. Top with grated cheese and black pepper. Serve with a fork, for twirling noodles, and a spoon.
Yield: 2 (light) servings