Month:
January 2016
Split pea, the ugliest soup! The food whose appearance most closely approximates toxic waste water! The miraculous substance capable of making a home kitchen feel like a military chow hall! Capable of making a person who has never used the words "chow hall" in her entire life suddenly feel like Chow Hall is what she will call her vast, sweeping estate in the English countryside, when she somehow inherits a vast, sweeping estate in the English countryside! Split pea, a voyage for the mind!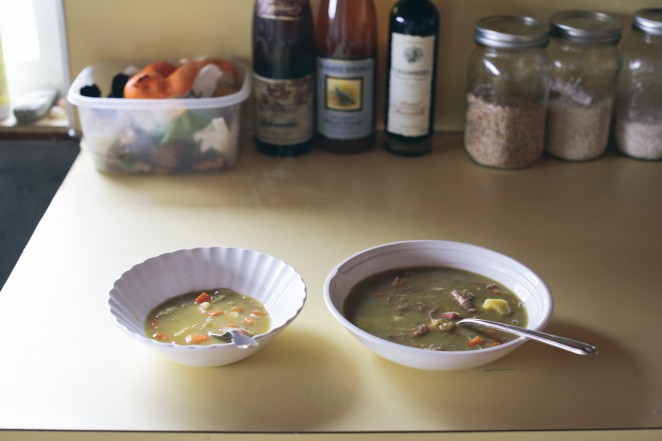 I have written before about split pea soup. It is apparently a January thing for me: I last wrote about it four years ago this month.  Until yesterday, in fact, I wasn't going to write about this particular version, because I worry that two split pea recipes in four years is possibly too much split pea for even the most ardent split pea fan, but then I realized that I am, in fact, the most ardent of all split pea fans, and I refuse to stay quiet about this soup. Also, I gave a pint of it to my mom yesterday evening, and she texted later to say, "Wow! This soup is incredible! Thanks for sharing!" She also included the kissing-face emoji, which, as you know, is universal shorthand for this soup is making me amorous.
I first tasted this recipe when Matthew made it for our "Leftovers" episode of Spilled Milk, using ham left over from, I think, his family Thanksgiving. His soup was thinner that my usual recipe, though still quite creamy, and its flavor was more delicate and nuanced. My usual split pea kind of whacks its eater over the head, in a nice way, with smoky meat and the dark richness of dried peas. But in Matthew's, I could taste not only the ham and peas, but also carrots, and soft hunks of potato, and even the occasional leaf of thyme. So this week, when I found myself in possession of a meaty ham bone – Brandon bought me a ham from Skagit River Ranch as a Christmas surprise! TRUE LOVE! And we glazed it with muscovado sugar and mustard and ate it with friends last weekend, and then had a ham-fueled, cringe-inducing, two-family "Let It Go" sing-a-long-and-dance in our living room! TRUE PARENTHOOD! – I texted Matthew for his soup recipe.
Which, as it turns out, is actually Cook's Illustrated's soup recipe. It is also not the quickest split pea soup recipe. It also dirties more than one pot. But it mostly cooks itself, as soups do. You begin by simmering the ham bone with water and a few bay leaves for a couple of hours, until the meat pulls away from the bone and the stock is fragrant. Meanwhile, you cook the aromatics – carrot, celery, onion, garlic, and thyme – in a pan with olive oil and butter, and you really let them take their time, meandering along for a good half-hour, until the vegetables are caramelized, softened and slicked with their own sugar. They then go into the ham stock – from which you've now retrieved the ham, incidentally, the ham which you've then shredded into bite-size nubs, discarding the spent bones – along with the split peas and cubed new potatoes and that shredded ham I just mentioned. And by the time the table is set, you have a tremendous split pea soup, that unlikely thing, that ugly thing, that January thing, that perfect thing – and you, you lucky thing, have a few quarts of it.
Recipe
Split Pea Soup
Cook's Illustrated, via Food.com
A meaty ham bone, roughly 2 ½ pounds (1.15 kg)
3 quarts (2.85 liters) water
4 bay leaves
1 pound (450 grams) split peas, about 2 ½ cups
1 teaspoon dried thyme
2 tablespoons olive oil
2 medium onions, diced
2 medium carrots, diced
2 medium celery stalks, diced
1 tablespoon (14 grams) unsalted butter
2 medium garlic cloves, chopped
1 pinch sugar
3 small new potatoes, diced
Freshly ground black pepper, for serving
Put the ham, bay leaves, and water in a large stock pot or Dutch oven. Cover, and bring to a boil. Reduce the heat to maintain a very gentle simmer, and cook until the meat is tender and pulls away from the bone, 2 to 2½ hours. Remove the ham meat and bone from pot. When the ham is cool enough to handle, shred the meat into bite-sized pieces. Discard the bone and any excessive fat.
Add the split peas and thyme to the ham stock. Bring back to a boil, reduce the heat, and simmer gently, uncovered, until the peas are tender but not yet dissolved, about 45 minutes.
Meanwhile, heat the oil in a large skillet over medium-high heat. Add the onions, carrots, and celery, and cook, stirring frequently, until the vegetables give off some moisture, that moisture evaporates, and the vegetables begin to brown, 5 to 10 minutes. Reduce the heat to medium-low, and add the butter, garlic, and sugar. Cook the vegetables, stirring frequently, until golden brown, the color of honey, about 30 to 35 minutes. Set aside.
When the split peas are tender but not yet dissolved, add the cooked vegetables, the potatoes, and the shredded ham to the pot. Simmer until the potatoes are tender and the peas dissolve and thicken soup to the consistency of light cream, about 20 minutes more. (Remember that the potatoes will continue to cook slightly as the soup cools down.) Taste for salt, though you won't likely need any, since ham is salty. Serve hot, with freshly ground black pepper.
Yield: Food.com says 6 cups, but that's wrong; both Matthew and I get nearly 4 quarts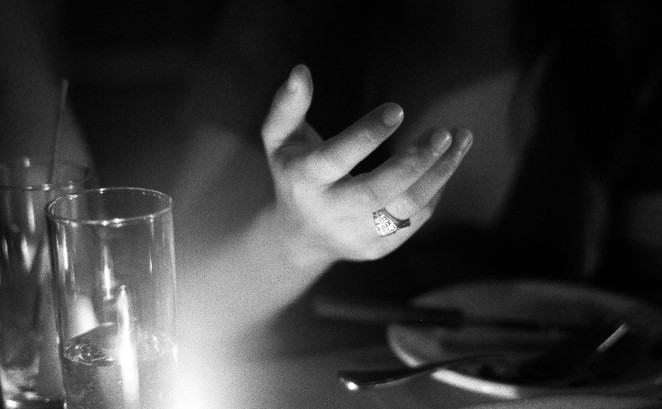 I've spent half of the past week sitting on the couch with a cold-y, not-at-school three-year-old, attempting to work while holding my neck cocked to the right at a 45-degree angle because she wants to hold a hank of my hair and smell it while she watches Daniel Tiger's Neighborhood. We've all three got whatever's been going around, the cough and constant need for Kleenex and now, naturally, a sore neck. It could always be worse, I remind myself; it could be the stomach flu. My hair could be shorter. I could, yet again, have that one Daniel Tiger song stuck in my head. After somehow forgetting about it for a couple of months, I made a fresh batch of Granola…
Read more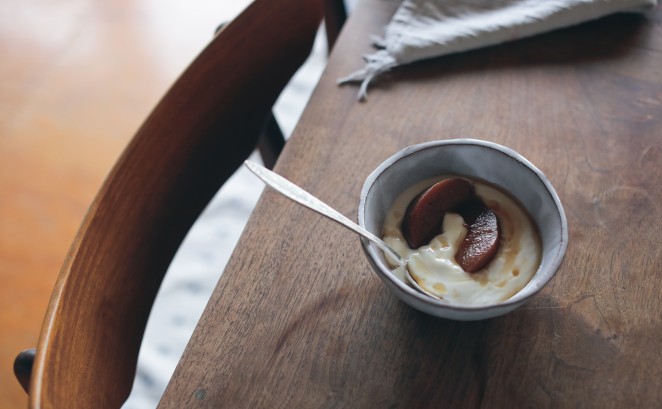 I first tasted quince the first time I had dinner with my first editor, an exceedingly kind, thoughtful woman of whom I nonetheless was terrified, because she was very New York Publishing World, and because she was my first editor. She had let me choose the restaurant, which only ratcheted up the stakes. I'm surprised that I don't remember what I wore, because I surely would have labored over the decision with a degree of care most commonly seen among people handling live explosives. The evening went better than I had expected: she told a funny story about her cat and gracefully ignored my elaborate, enthusiastic mispronunciation of the white wine she'd ordered. And when we arrived at dessert, she opened the menu…
Read more