Month:
January 2015
Oaxaca! As I said, I'm no expert, but I can tell you what I liked. I hear that some of you are hoping to travel there, and I hope what follows is helpful.
This was our second time going on vacation with our friends Brandi and John. If you can find two people you enjoy and won't want to stab after ten days in close quarters, I highly recommend it. Traveling with friends has allowed us to feel more bold, for better or worse, about long drives on mountainous roads in foreign countries, and about traveling without making a lot of plans, doing exhaustive research, or knowing the local language. Also, at the beach, two of us invariably want to swim while two of us want to lie around and read, so there's always someone to watch the towels and bags! And should one of us just haaaaaaappen to get food poisoning, there are not one but three able-bodied people available to hunt down Gatorade and saltines. Perfection!
I should also add that this was our second time going on vacation without June. She is lucky to have grandparents who are happy to look after her, and I am well aware of how lucky that makes us, too. (THANK YOU MOM AND KATHY AND BILL!!!) I like the person that being a mother makes me, but I'm also immensely grateful to get a chance every now and then to not be a parent, and to be only a spouse again. Also: I sleep so hard on these vacations, so peacefully relieved of my Bionic Mom Instincts, that when I wake up, it takes a while before I can see straight and my head feels properly screwed on, like I have some kind of sleep hangover.
I don't remember, oddly, how we decided on Oaxaca, but we began preparations early last spring, and once we'd booked lodging, we got tired of making decisions and left the rest up to chance. We planned a week on the Pacific coast of the region, plus a couple of nights in Oaxaca City. In the city, we rented a handsome, modern apartment through Airbnb, and for the coastal portion, we rented an airy house just outside of Puerto Angel, roughly six hours by car from Oaxaca City, for 78 dollars per night. For a whole house! With multiple hammocks! HAMMOCKS!
Though the drive along Highway 175 from Oaxaca City was, shall we say, athletic, we were glad we sprung for a rental car over a flight, because along the way, we stopped in the mountain town of San Jose del Pacifico and ate lunch at a tiny roadside place that I think was called La Morelita, where the kindly woman manning the fire made us quesadillas of grilled beef and chewy quesillo Oaxaca served with bowl of a garlicky salsa the color of a Creamsicle, and, when we begged, a single spectacular hunk of the smoky, buttery chicken she was grilling out front for her own family, wrapped in a tortilla. A week later, we were still talking about that chicken.
We arrived at the coast at nightfall and woke up the next morning to the view below, of which I have no fewer than a dozen pictures, taken at varying times of day, over and over and over:
Puerto Angel is a working fishing town. The main road is not paved and the amenities are basic, but it was a good home base for our week. (The main grocery store was well stocked with Principe cookies, of which we ate approximately three family-size boxes. For produce, we hit the region's largest market, which takes place on Mondays in the nearby town of Pochutla.) There was a beach near the house, Playa Estacahuite, at the foot of those cliffs up there, a seven-or-so-minute walk past a few driveways and down a series of stone steps that made our knees wobbly. It was beautiful, a chain of small aquamarine coves with a few palapa restaurants on the sand, all serving seafood, cold beer, and whole coconuts with a straw for drinking. Our favorite beach, though – because that's what you do on vacation: you devote your brainpower to ranking beaches – was a fifteen-minute drive to the west, at San Agustinillo, where the beach was less rocky and the water slightly warmer.
Apparently, the local beach protocol is thus: upon arriving, you choose a palapa restaurant, stake out a table, and that's your camp for the day. You can leave your belongings there while you swim, and so long as you order food and drinks at some point, you're welcome to stay as long as you want. On our first day at San Agustinillo, we happened to choose Restaurant Alejandra, mostly because they had an available table in the shade. (NB: there is generally little to no signage on the beach side of these restaurants, only on the street side. Restaurant Alejandra is toward the westernmost end of the beach.) As it turned out, we liked Alejandra so much that we spent three more days there, once even arriving in time for a breakfast of chilaquiles and staying till after sundown.
For lunch, we ate a lot of camarones al mojo de ajo, head-on local shrimp cooked with garlic and chiles and served with rice and a salad, and I usually had a Corona alongside. At some point in the afternoon, I got crazy and switched to a margarita. We also got waaaaaay into their camarones al coco, shelled shrimp that had been butterflied, pounded, breaded in freshly shredded coconut, and fried until they resembled latkes, also served with rice and a salad. You can also order any number of ceviches or other freshly caught fish and seafood preparations, or even a hamburguesa, but most of the tables around us ordered shrimp, so we adopted the habit. The local shrimp were fat, sweet, always perfectly cooked. The four of us could spend an entire day at the beach, eating two meals each and drinking beer, fresh juices, and water, and the total bill would maybe top out at 700 pesos, or about fifty U.S. dollars. Then we would drag ourselves back to the car and up the road, clean up with a brisk shower – our house, like most in the area, did not have hot water – and meet in the kitchen to muster dinner, which sometimes consisted largely of Principes.
We ended the trip back in Oaxaca City, an incredibly charming and walkable city whose architecture made Brandon think of New Orleans. I cannot say enough about how charmed we were by Oaxaca City – its abundant good food, its mercado, the apartment we rented, the artisan craft fair that happened to be taking place in the center of town that weekend. But I am hoping to wrap up this post and take a shower before my child gets home from running errands with her dad and hey, you're probably not even reading anymore, anyway, right, so I'm going to give you the highlights in bullet form:
– We treated ourselves to nice dinners each night we were in the city, and generally, they came out to less than $25 per person, including tip. Our favorite was El Catedral. It looks a little touristy, and there were lots of us tourists there, yes, but the food was spectacular: mole amarillo, gorgeous steak, succulent pork ribs in green mole. We also went to Casa Oaxaca, Los Danzantes (duck tacos!!! Thanks for the tip, Alex Van Buren!), and had breakfast at Itanoni. (Reservations recommended for all but Itanoni.)
– Brandon did tastings at Vago and Mezcaloteca and brought back some killer mezcals for Essex.
– For great coffee (and, should you be needing a dose of Americana, spectacular muffins and banana bread), don't miss Cafe Brujula. We particularly liked the Alcala 104 location, with its shady courtyard seating (and bathroom that smelled intriguingly(?) of dill pickles).
– Monte Alban! A short drive from the center of town – and utterly mind-blowing. I shot an entire roll of film there and was so excited to show it to you, but sadly, I forgot it at home when I took the rest of my film to be developed.
– And last but not least, the Mercado 20 de Noviembre, an indoor food market-slash-madhouse most famous for its smoky, bustling hall of meats. Here's how it works: at one end of the hall, there are two produce stalls selling chiles, onions that look like large scallions, and salsas. Start there. Get some chiles and onions. Then walk down the hall and choose one of the meat vendors. (If you speak Spanish or are skilled at mime, ask someone which vendor is best. That's what Brandon did.) Order some meat, and they will grill it for you right there, placing your chiles and onions on the coals underneath so they come out smoky and tender. Then take your cooked stuff, go back to the produce stall for salsas, and buy some tortillas from one of the ladies who offer them to you. Then take your feast to one of the nearby tables, and enjoy. It sounds complicated, and it is, but do it anyway. (Don't go in there grumpy and starving, though; it's overwhelming at first and might take a little time to figure out.) As Rick Bayless says, this might be the best thing you eat in Oaxaca.
Happy weekend, everybody.
Note: Travelers to Oaxaca should not drink tap water. Even the locals drink only purified water. Ice is generally fine, though, because it's made from purified water. And you should be fine to eat fresh fruits and vegetables in restaurants: they've been washed and sanitized in mild bleach water.
Also: As it turned out, all of the places we visited and stayed on this trip would have been great for children, FYI.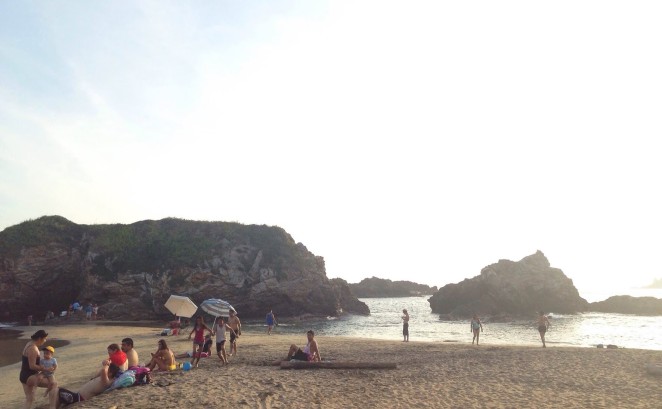 We got home this past Tuesday night, after spending Christmas with my family and then ten days in Oaxaca, Mexico, with a couple of friends, and I'm so relaxed that I can hardly remember how to type. I've never been particularly good at relaxing, but in the past year, I've started to get the hang of it: how to do nothing but read for an entire day, how to be a fair-skinned person on a tropical beach and not die of sunburn, how to drink a beer at noon, and how to enjoy swimming in open water without thinking about Jaws or that giant sturgeon they found in Lake Washington. Having just spent more than a week practicing my new…
Read more