Month:
September 2011
We left our window open last night, and when I woke up today, there was rain on the sill! I am wearing a scarf that I made! Let the hoarding of plums commence!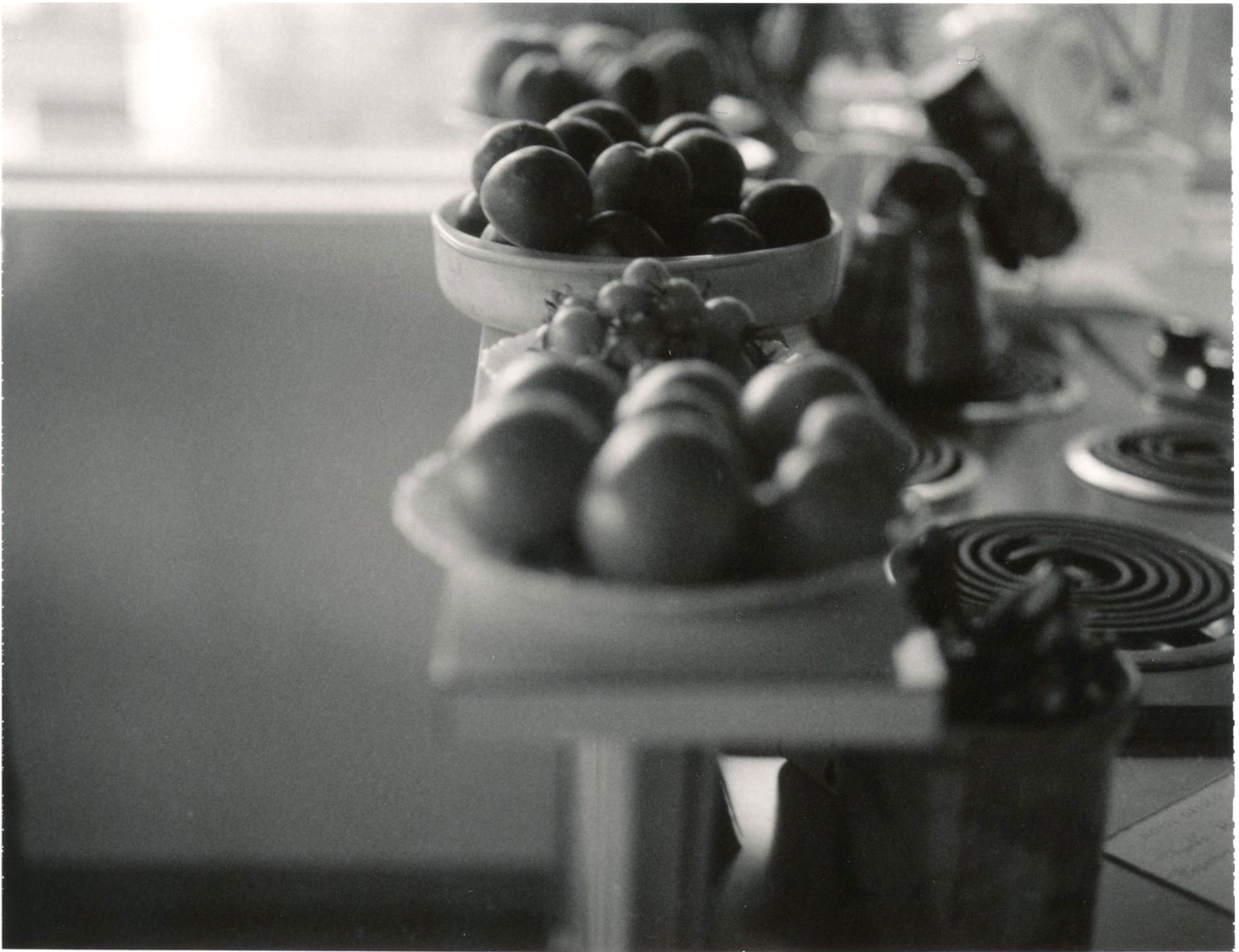 What I thought about saying next was, "The citrus is coming! The citrus is coming!" (In the privacy of my own head, I spout this kind of garbage the way Old Faithful does boiling water.) I decided against it, but during the thirty seconds when I was considering and then reconsidering, I remembered a walk I took with the dog a few weeks ago. A little boy down the street was having a birthday party, and from the skull-and-crossbones flags tied to the laurel hedge along the road, I gathered it was pirate-themed. There was some marauding role-playing going on in the yard as I passed by, lots of running and yelling, and from the other side of the hedge, I heard someone confess, "I don't like to whip her, but I really need her to run fast, because the British are coming!"
Which would be alright with me, actually, because they make good plum cakes.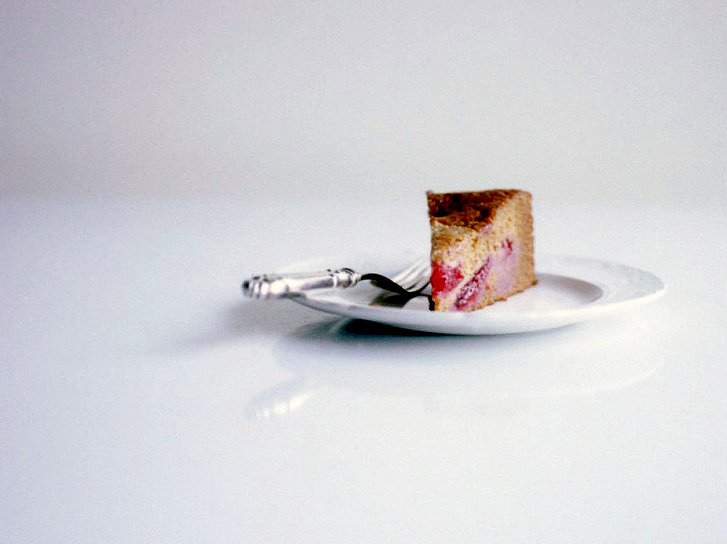 I've written about a lot of cakes over the years, but time and time again, the ones I return to are these: everyday cakes, no frosting, no ceremony. This particular example comes from Nigel Slater's Tender, Volume II: A Cook's Guide to the Fruit Garden, a tome if ever there was one. The thing weighs 3.8 pounds. I could probably spend a few years cooking only from Tender, and if anyone out there is looking for a project, well, my friend, there's a whopper for you. The two volumes live on a special shelf next to my desk, and last week, that shelf was where I went when I found myself with several pounds of rapidly ripening plums from my friend Wynne at Jerzy Boyz Farm. We buy hundreds of pounds of fruit from her every year for the restaurant, and she's taken to calling me "sweetie." She knows what I like.
Anyway, I had this box of plums, so I went to Nigel, and Nigel placed before me the words Pudding Cake of Honey, Cinnamon, and Plums. I think I could stop this post right here and you would know everything you need to know, but I will say just a little more, because as it turns out, this is going to be my new go-to cake. It's a cinnamon spice cake with plums, and as the name implies, it's dark and very tender – damp, as I once heard Nigella Lawson say. What's particularly interesting is that it uses three kinds of sweetener: golden syrup, honey, and brown sugar. When I was making it, I was convinced that it was going to be a toothache-inducing mess, but I can now say with confidence: DON'T CHANGE A THING. The sweeteners each bring a different flavor, and together, they give the cake real depth and warmth. And the plums aren't sweetened before they get dropped into the loose, caramel-colored batter, so they retain a nice sourness as they sink and soften.
This isn't the kind of cake that you reserve for company; it's a Tuesday-night sweet. It's also a Wednesday-afternoon, coming-in-from-the-rain sweet. It is also, if you're open to it, a totally reasonable breakfast. I don't like to use the word perfect, because I am fickle, but I'll say it here. I think this cake is perfect.
Happy fall.
P.S. I've fallen in love with the ease, speed, and accuracy of metric weight measurements, particularly in baking. From now on, the recipes I post here will use both cup and weight measures.
Recipe
Nigel Slater's Pudding Cake of Honey, Cinnamon, and Plums
My neighborhood grocery store carries golden syrup, and in general, I think it's getting easier to find in the US every day. I usually keep a jar in the cabinet for making flapjacks. I didn't have quite enough golden syrup for this cake recipe, so I added honey to make up the difference. Worked just fine.
2 cups (250 grams) all-purpose flour
1 slightly heaping teaspoon baking powder
1 teaspoon baking soda
1 slightly heaping teaspoon ground cinnamon
2 pinches salt
2/3 cup (200 grams) golden syrup
2 Tbsp. honey
9 Tbsp. (125 grams) unsalted butter
¾ cup (125 grams) lightly packed brown sugar or light muscovado sugar
2 large eggs
1 cup (240 ml) milk
5 (350 grams) ripe plums, pitted and quartered
Preheat the oven to 350°F (180°C). Grease an 8- or 9-inch square baking dish, and line it with parchment paper. I like to cut the parchment so that it hangs over the edge of the pan: you can use it to help you lift the cake out later. There's no need to grease the parchment.
In a large bowl, combine the flour, baking powder, baking soda, cinnamon, and salt. Whisk well.
In a saucepan, warm the golden syrup, honey, and butter over medium-low heat, stirring occasionally. When the butter is melted, stir in the brown or muscovado sugar. Remove the pan from the heat, and set aside to cool for a minute or two.
Break the eggs into a medium bowl, add the milk, and whisk to mix.
Pour the golden syrup mixture into the flour mixture, and stir with a sturdy spoon until just combined. The batter will be very thick at this point. Pour in the egg mixture, and continue to stir – it will resist incorporation and look weird at first – until you have a loose, almost sloppy batter without any traces of flour.
Pour the batter into the prepared pan, and then arrange the plums on top. (They will sink.) Bake for 35 minutes; then place a piece of foil loosely over the top of the cake, and cook for 10 to 15 minutes more. The cake should look mostly set at this point, but it might still look the slightest bit soft in the center. That's okay. Remove the piece of foil, turn off the oven, and leave the cake in there for another 15 minutes. Transfer to a rack. Cool for 20 minutes; then loosen the cake from the pan and lift it out onto the rack. Cool completely before slicing.
Note: This cake keeps beautifully at room temperature, and because it's so incredibly moist, it's actually best not to cover it too tightly, or else it can get gummy. So long as you eat it within 2 or 3 days, a piece of wax paper pressed against the cut surfaces is all you really need.
Yield: 8 servings - or maybe more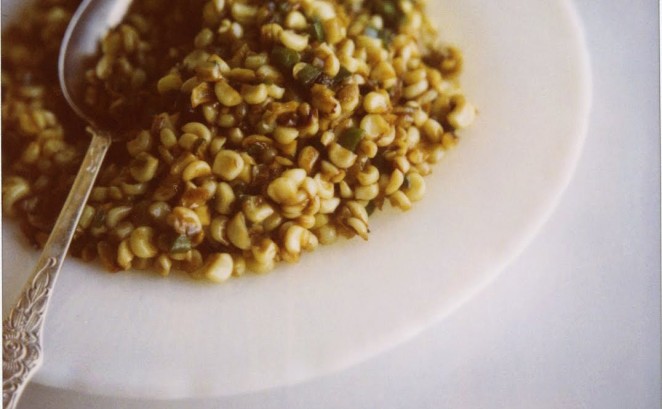 So, I turned 33 a couple of days ago. And Brandon, who was but a pup of 23 when I met him, turned 30 a few days before that. Thirty! The staff at Delancey wrote BRANDON TURNS OLD TODAY on the chalkboard and spelled out OLD BOSS in alphabet magnets on the ice machine. He told me that he hasn't thought much about being in his thirties, but I think he secretly likes the idea. I'm on the fence sometimes, but mostly, I do too. In any case, thank you for your patience. In my absence from this space, there was a return flight from Ohio, writing, more writing, payroll, a birthday cake, a big project for a friend, and…
Read more