Month:
September 2009
So, I wasn't kidding about the black hole. But I'm sorry to have been gone from here for so long. I've missed you.
Delancey is getting easier. As of two weeks ago, we now have a prep cook to work in the mornings, which means that instead of going in at 9 am to receive the first deliveries, Brandon can now go in around 11 am, and I go in sometime between noon and 2 pm, depending on the day's prep list. We still get home around midnight, but it feels a lot easier than it did a couple of weeks ago. We're getting more sleep, for one thing, but even more importantly, we know what to expect now. That's the key, I think. In the beginning, I would be mopping the floor at the end of the night, thinking I CAN'T BELIEVE I HAVE TO MOP THIS STUPID STUPID STUPID FLOOR AT ONE IN THE MORNING WHY DOES PIZZA HAVE TO BE SO MESSY AND STUPID THIS RESTAURANT IS SO MESSY AND STUPID WHERE IS THE NEAREST SHARP OBJECT SO I CAN STAB MYSELF AND GO TO THE EMERGENCY ROOM AND MAYBE THERE I CAN ACTUALLY GET SOME SLEEP, but now I just think, Ah yes, here I am again, mopping the floor late at night. This is what I do now.

Over the past couple of months, a number of people have told me that opening a restaurant seems a lot like having a baby, and while I can't say for sure, since we are not at all in the baby-having business, I think I know what they mean. You can prepare for a baby, or a restaurant, in many ways, but when it actually comes, it changes everything. The shape of your life is completely different. You are exhausted. This baby, or this restaurant, or whatever it is, is wholly dependent on you. It does not stop. And while you eventually adjust, and it adjusts to you, nothing ever quite goes back to the way it used to be. I am just figuring this out.
But it's not a bad thing. It's actually a good thing. I love this restaurant. I love our staff. I love our customers. I'm learning so much. Brandon is learning so much. We're learning so much. And it really does get easier. I've done payroll three times now, and only the first time did I come close to screaming. I actually kind of enjoy it now. I do it twice a month, in the mornings, and I use my TI-85 calculator, the one I got for trigonometry class in high school. We've been together for almost 15 years. We're tight.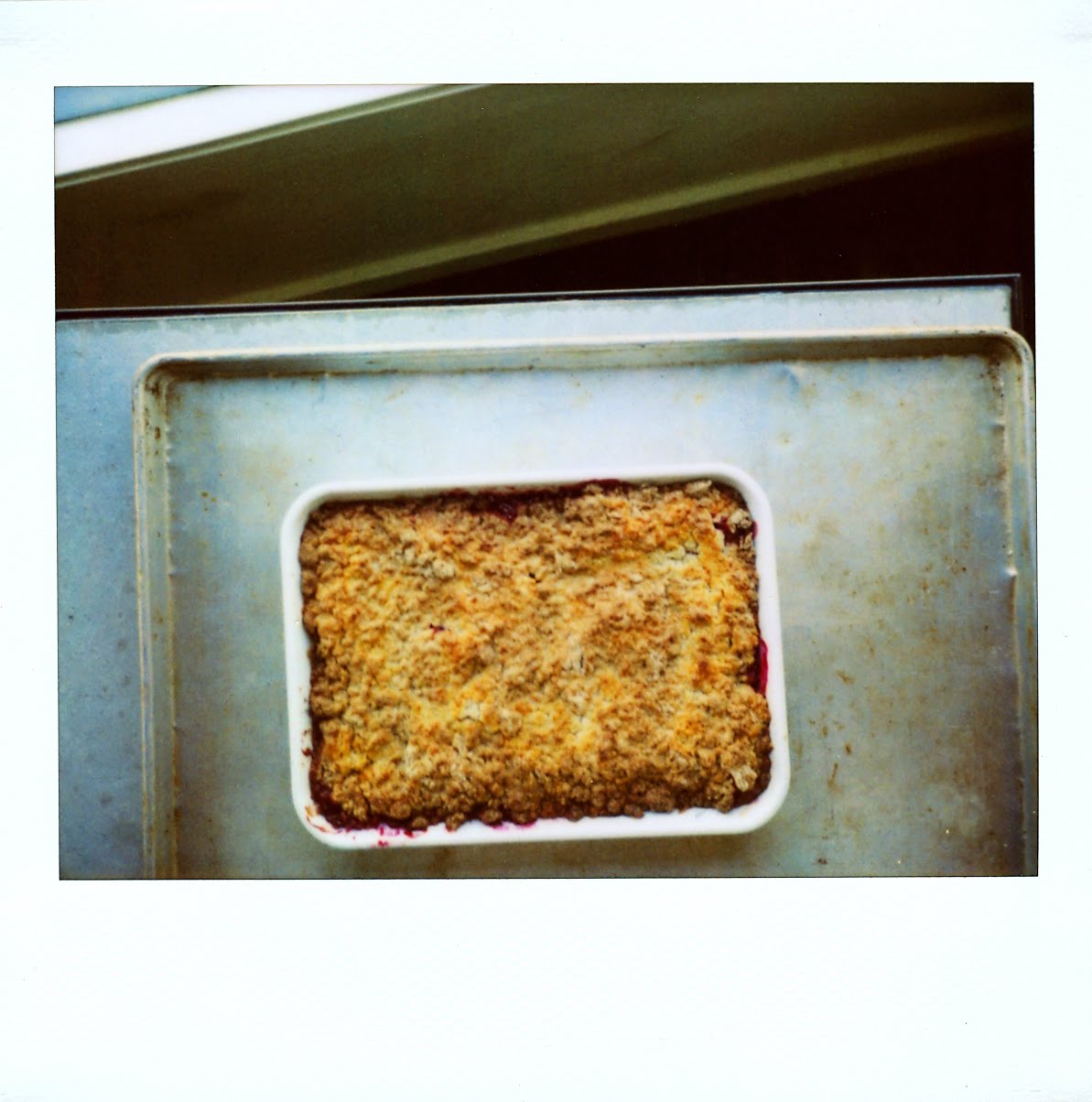 And we're starting to be able to play with the menu a bit, which feels good. We're now making our own pork sausage, and we're doing a lot of pickling: peppers, shallots, cucumbers, Walla Walla onions, you name it. This morning, as I type this, Brandon is working on an eggplant sauce for pizza, based on a killer pasta sauce that my friend Francis made up. If it works out, it'll be on the menu tonight. And last week, we started serving burrata. You probably can't tell, but that last sentence was a very, very exciting sentence to write. I am nuts for burrata. We buy ours from Gioia, a cheesemaker in LA, and it gets overnighted to us twice a week. We serve it as a first course, with a dousing of olive oil, some sea salt, and a few toasts. I am deeply in love with it. But every time I plate one, I die a little, because at the end of the week, it means one less leftover burrata for me.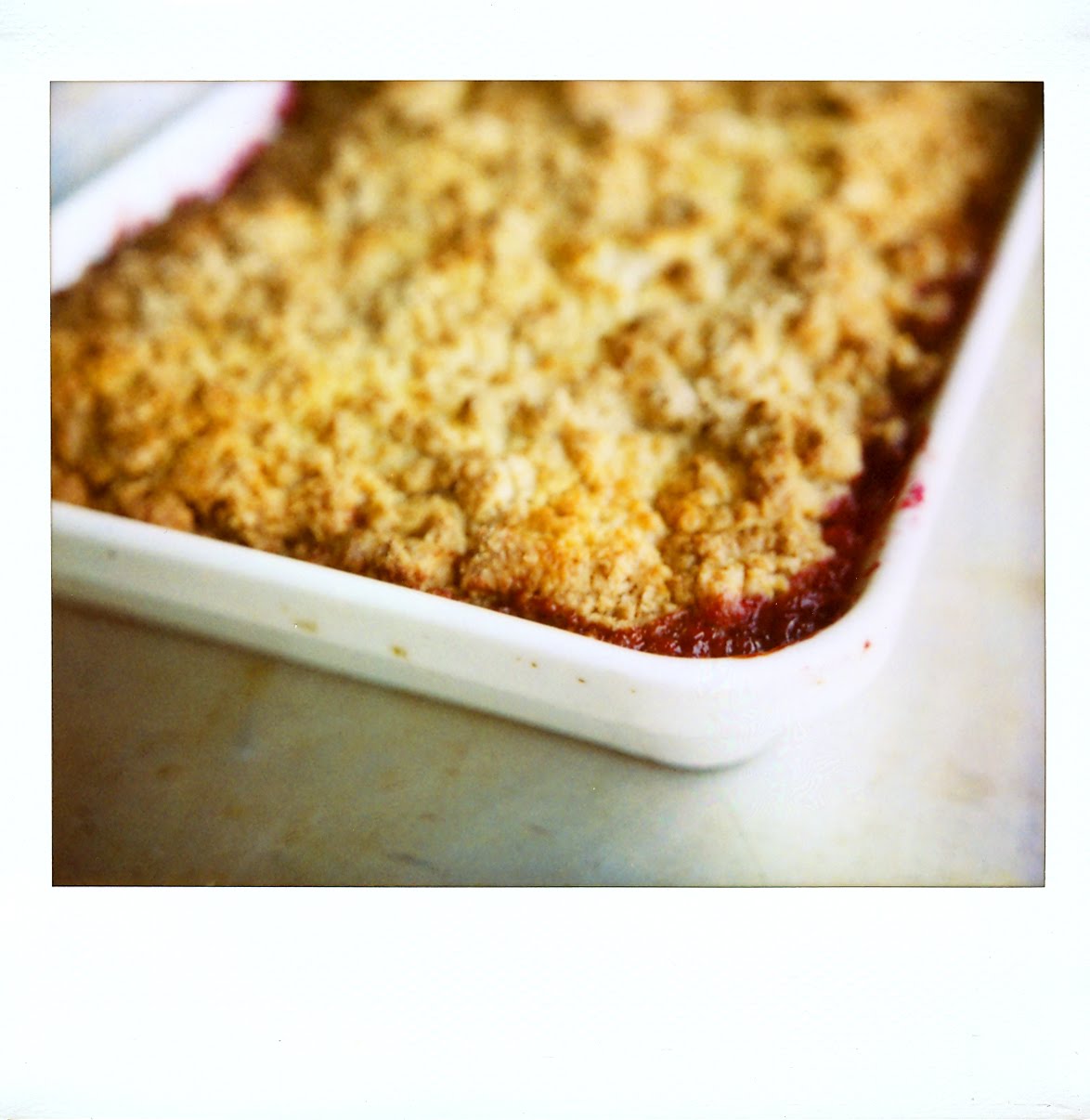 We're also changing up the dessert menu, now that fall is coming on. The chocolate chip cookies are still there, and possibly will be forever, but the chilled peaches in wine are gone, as are the popsicles. Instead, there's plum crumble. That's what all of these pictures are of, in case you were wondering. I know it took me a while to get around to explaining that.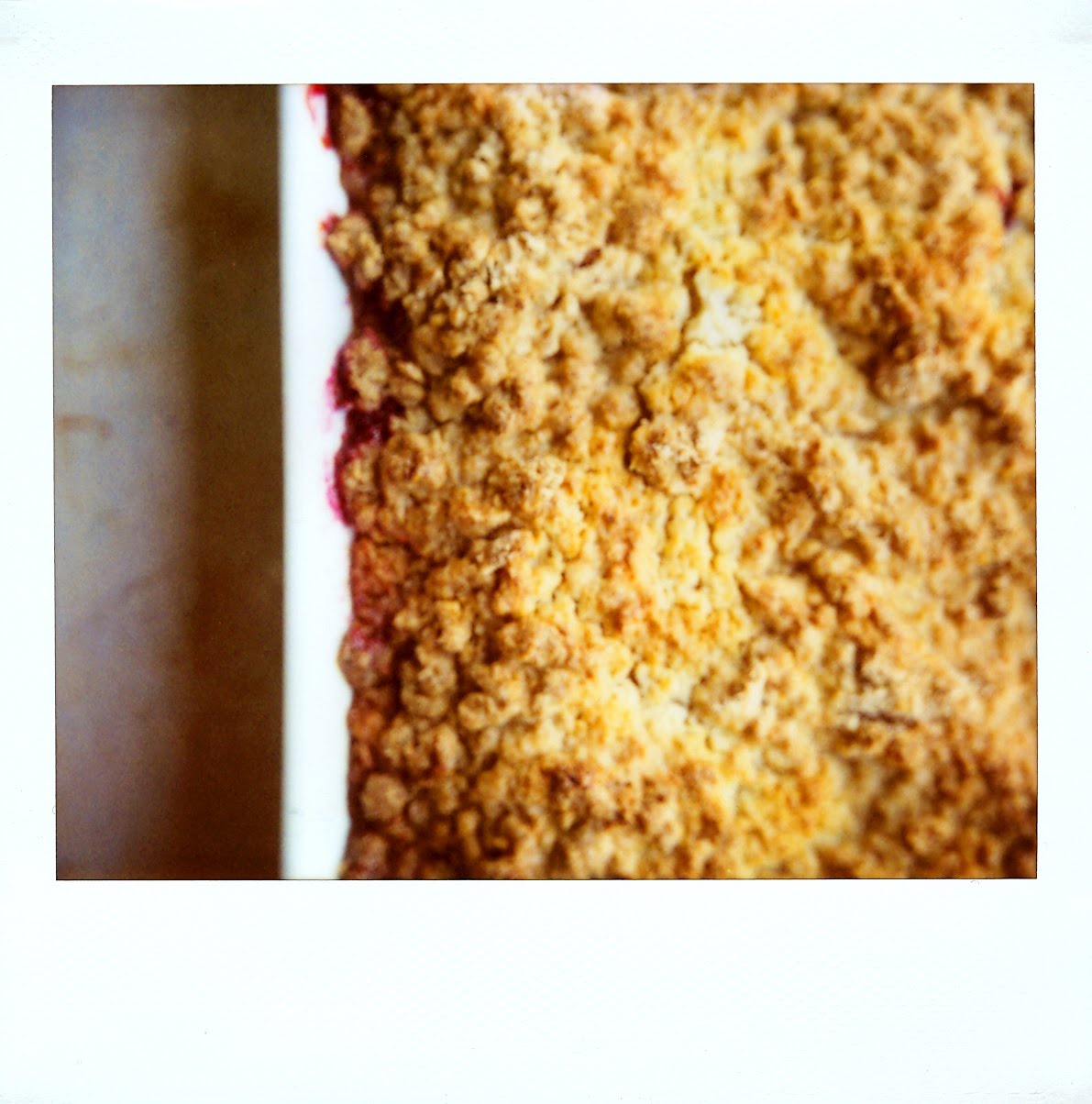 I learned about this crumble recipe about two years ago, from Luisa. I made it a couple of times that summer, and it went instantly into my keeper file. It's pretty straightforward, as most specimens of the crumble genre are, but unlike some, it's not gloppy, gluey, or the least bit too sweet. It calls for my favorite kind of plum – Italian prune plums, the deep purple, oblong ones that come out in late summer – and it doesn't mess with them much. Before going into the pan, they get a very small amount of brown sugar, even smaller amounts of ground ginger and cinnamon, just enough flour to give their juices some body, and a gentle kick in the seat from some crystallized ginger. The topping comes together a little like streusel, as Luisa so rightly described it, in hand-formed clumps and particles, which you pile on top of the plums. Then you spoon melted butter – what seems like a lot of melted butter, but be strong, be strong – over the whole thing. Once in the oven, the topping goes pale brown and pleasingly lumpy, crisp in some parts, chewy in others, soft where it meets the jammy fruit underneath: a perfect compromise, I would say, between crumble, spice cake, and cookie. I serve it with housemade crème fraîche, but it hardly needs the help.
Most nights, I make two 9"-by-13" pans of this stuff, and most nights, I want to hoard about half of it for myself. If it weren't for the servers, who stop by every few minutes with new orders and expect to find me working, I would probably get a spoon and hide in the corner by the chest freezer. Then I'd start in on the burrata.
Recipe
Plum Crumble
Adapted from Marion Burros and Luisa Weiss
The original version of this recipe is hard to improve upon, but I have made a couple of small changes. When I measure the sugar for the topping, I keep it on the scant side, because I like my plums solidly sweet-tart. I also reduced the butter a bit, because it seemed to want to pool in a kind of scary way at the bottom of the pan. Cutting it back even a little seems to help a lot.
At Delancey, I make this crumble in bigger batches, and it scales up beautifully. If you need to feed a crowd, try tripling the recipe as I've written it below, and bake it in a 9"-by-13" dish, as pictured above. Works like a charm.
For the plums:
2 Tbsp. lightly packed brown sugar
1 ½ Tbsp. all-purpose flour
¼ tsp. ground cinnamon
¼ tsp. ground ginger
2 Tbsp. finely chopped crystallized ginger
12 to 14 Italian prune plums, halved and pitted
For the topping:
Scant ¾ cup granulated sugar (about 4 to 4 ½ ounces)
1 cup all-purpose flour
½ tsp. ground cinnamon
1 tsp. baking powder
¼ tsp. kosher salt
1 egg, beaten well
7 Tbsp. unsalted butter, melted
Position a rack in the center of your oven, and preheat the oven to 375°F.
In a medium bowl, whisk together the seasoning for the plums: the brown sugar, flour, cinnamon, ginger, and crystallized ginger. Add the plums, and gently stir to coat. Arrange the plums skin side up in an ungreased deep 9-inch pie plate.
In another medium bowl, combine the dry ingredients for the topping: the granulated sugar, flour, cinnamon, baking powder, and salt. Whisk to blend well. Add the egg. Using your hands, mix thoroughly, squeezing and tossing and pinching handfuls of the mixture, to produce moist little particles. Sprinkle evenly over the plums.
Spoon the butter evenly over the topping, and bake for 30 to 35 minutes, until the top is browned and the plums yield easily when pricked with toothpick. Cool.
Serve crumble warm or at room temperature, with crème fraîche, thick yogurt, or unsweetened whipped cream.
Note: To reheat leftovers, it's best to do it slowly, in an oven set to 300 degrees.
Yield: about 6 servings