Month:
April 2008
I have a confession to make. I haven't finished writing the thank you notes for our wedding gifts. It has been nine months – nine months tomorrow – and though no one has been brave enough to confirm it, it is becoming quite clear that I am the worst bride ever. I wish someone had warned me about this when we got engaged. Maybe I would have held off on the wedding thing, or chosen a man who has legible handwriting. Instead, once all the fun stuff was over, the whole party part, I had 93 thank you notes to write. Ninety. Three. And as of today, I still have 18 more to go.
I am genuinely thankful – really, so thankful – but even gratitude has its limits. I would much rather gather all the people around one night, all the people we want to thank, and bake a big batch of cookies, make some lemonade, and climb up on a chair and thank them. That would be much better. We could even spike the lemonade with a healthy dose of vodka, so that they would understand that we were very, very grateful. Anyway, the pen I was using to write the notes ran out of ink today. Or, rather, it dried up. Because Brandon left it uncapped on the coffee table last night, after he helped me double-check the envelopes. I do still love him, but for a minute there, it was touch and go.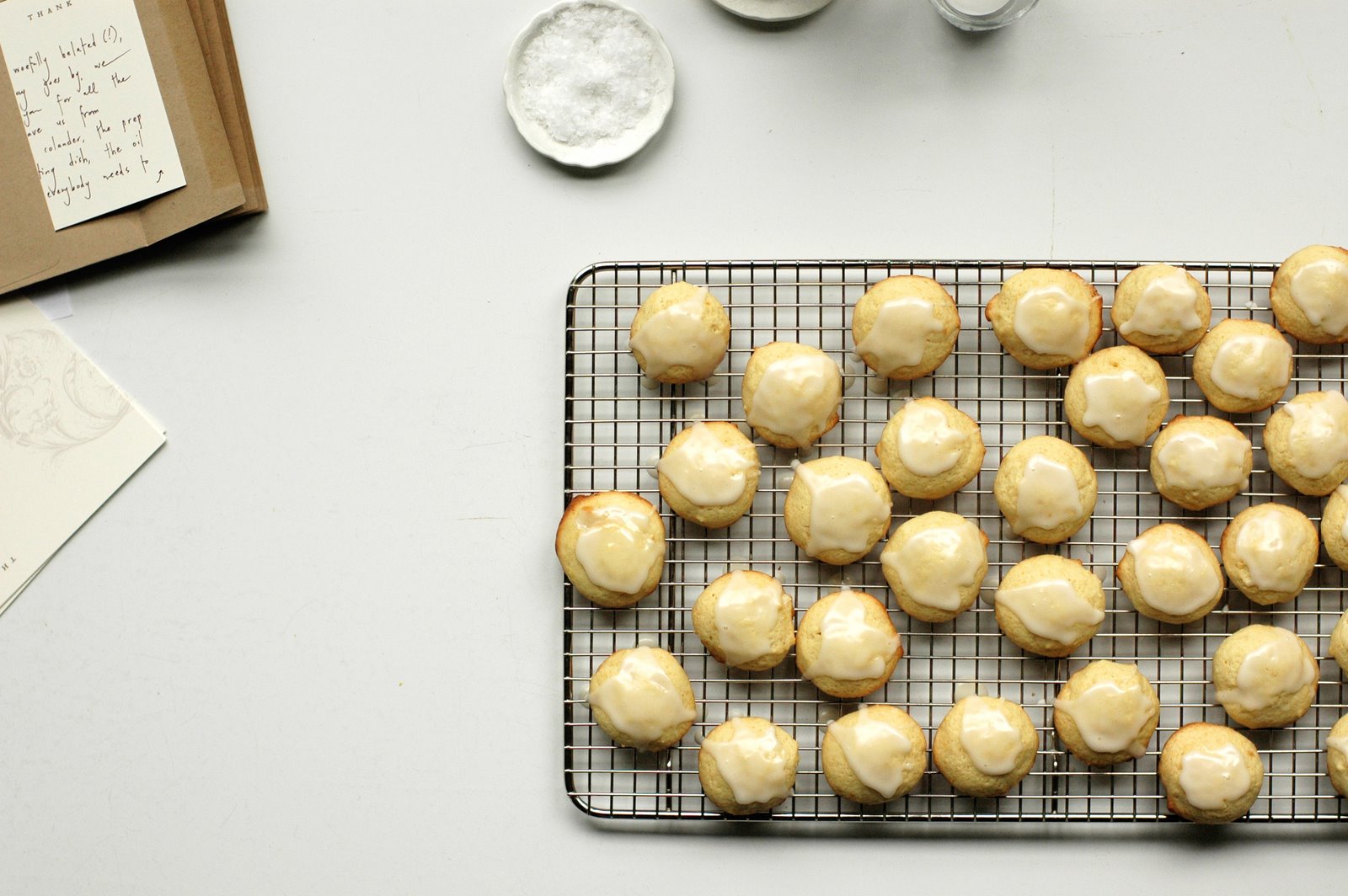 So I made an important decision. If we can't throw a party to thank everyone, the least I can do, I figure, is eat cookies while I write thank you notes. With my dried-up pen.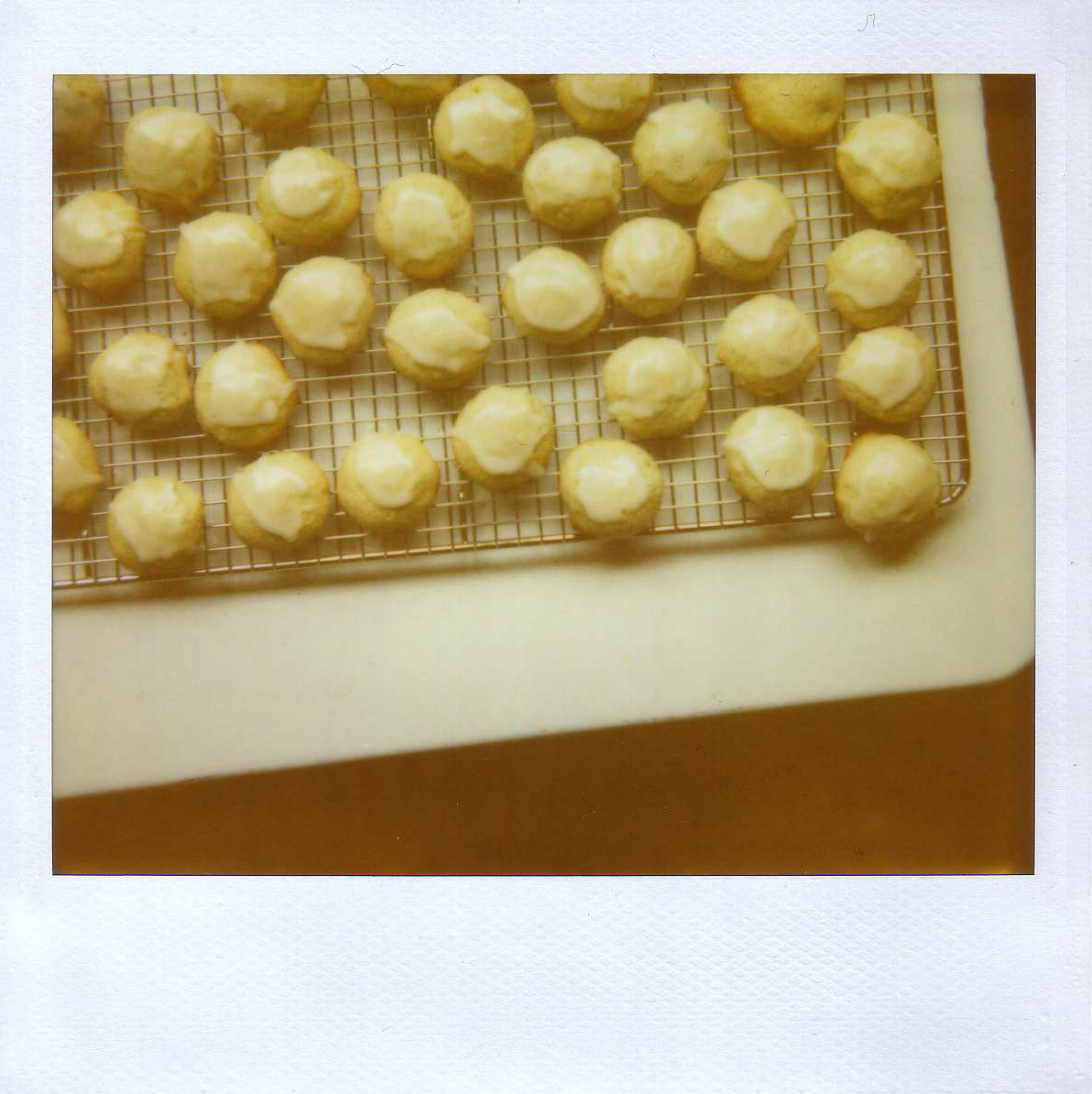 A couple of Saturdays ago, I had the dreamiest day. It was warm, almost hot, and I pushed all the windows up and opened the side door. It felt so good to be warm for the first time in months, and it made me feel a little sleepy, so I decided to sit on the couch for a while. I rounded up all the unread food magazines that have been lying around the house for the past few months – a couple next to my desk, one beside the bed, one still in its plastic sleeve by the mail slot, all dusty and ignored – and put them on the coffee table. And then I spent the afternoon sitting there, thumbing through them, flaaaaaap, flaaaaap, flaaaaaap. That was when I found the recipe for these sweet little buttermilk cookies.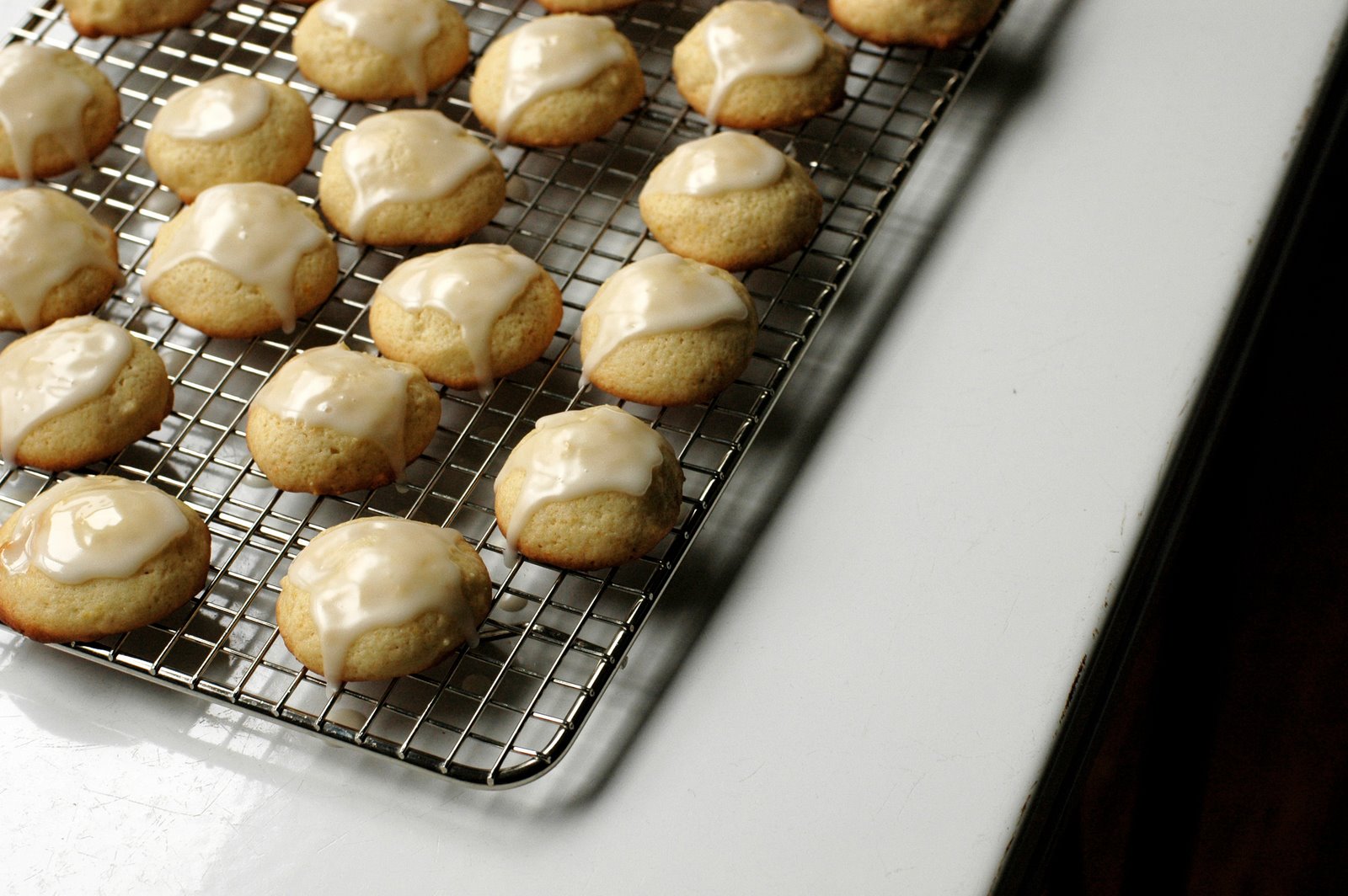 Published in the January issue of Gourmet, this recipe was inspired by none other than Edna Lewis, by an essay in which she mentions serving buttermilk cookies with ice-cold lemonade. The editors at Gourmet, eager to find a recipe for said cookies, apparently combed through her books and came away empty-handed, so they decided to create one themselves.
The happy result is what you see above, cookies like oversized coat buttons, scented with lemon zest and glazed with buttermilk and sugar. They're light and tender in the center and daintily crisp at the edges, simple but unspeakably delicious. They're the type of cookie that grandmothers in fairy tales are supposed to make, the kind that look like nothing much but over time become legend. I am almost always a chocolate cookie person, but for these, I am willing to make an exception. I ate four of them after lunch today, and all I can say is thank goodness they're small, if you know what I mean. With a plate of these by my side, I think I could come to feel good about pretty much anything, even the 18 thank you notes that remain. Miss Lewis seems like the kind of lady who always kept up with her correspondence, and between you and me, I'll bet it was because of the cookies.
Buttermilk Cookies with Lemon Zest
Adapted from Gourmet, January 2008
I halved the recipe as it was printed in Gourmet, and it yielded plenty of cookies, so what I've typed below is my halved version. The only other major change I made was to increase the amount of lemon zest. A half batch should have had only ½ teaspoon of zest, but I used a whole teaspoon instead. I highly recommend it.
For the cookies:
1 ½ cups unbleached all-purpose flour
1 tsp. grated lemon zest
¼ tsp. baking soda
¼ tsp. salt
6 Tbsp. (3 oz.) unsalted butter, at room temperature
¾ cup granulated sugar
1 large egg
½ tsp. vanilla extract
1/3 cup well-shaken buttermilk
For the glaze:
¾ cup confectioners sugar, sifted
1 ½ Tbsp. well-shaken buttermilk
¼ tsp. vanilla extract
Line 2 large baking sheets with parchment paper or silicone liners. Preheat the oven to 350°F.
In a medium bowl, whisk together the flour, zest, baking soda, and salt.
In the bowl of a stand mixer (or a large mixing bowl, if you're going to use a handheld mixer), beat the butter briefly, until creamy. Add the sugar, and beat until pale and fluffy. Add the egg, and beat well to mix. Add the vanilla, and beat briefly again. Mix in the flour mixture and the buttermilk in batches at low speed, beginning and ending with the flour. Scrape down the sides of the bowl with a rubber spatula as needed. The finished dough should be smooth and pale yellow.
Drop the dough by level tablespoons onto the prepared baking sheets, leaving about 1 ½ inches between each cookie. (If you have a very small ice cream scoop, one with a capacity of about 1 tablespoon, it's perfect for this job.) Bake, 1 sheet at a time, until the cookies are puffed and their edges are golden, about 11 to 15 minutes per batch. Cool the cookies on the baking sheet for 1 minute; then transfer them to a wire rack.
To prepare the glaze, whisk together the sifted confectioners sugar, buttermilk, and vanilla. The mixture should be very smooth, with no lumps of sugar visible. Brush or spoon the glaze onto the warm cookies. (I wound up with leftover glaze, so don't be surprised if you don't use it all.) Allow cookies to sit on the rack until they are fully cooled and the glaze is set.
Note: These cookies are most tender and delicate on the day they're made, but they're not bad after a day or so. They just get more dense and chewy – a little different, that's all. And for longer storage, they can be stashed in the freezer in an airtight container.
Yield: about 40 small cookies