Hi, friends.
I'm writing this from Oklahoma City, from my old bedroom in my mother's house, where I used to, as a teenager, write gushy poems about 18-year-old boys with sideburns. I had a real thing for 18-year-old boys with sideburns. I don't anymore.

I now have a thing for whiskey-soaked dark chocolate Bundt cakes. They hold their liquor better. Among other things.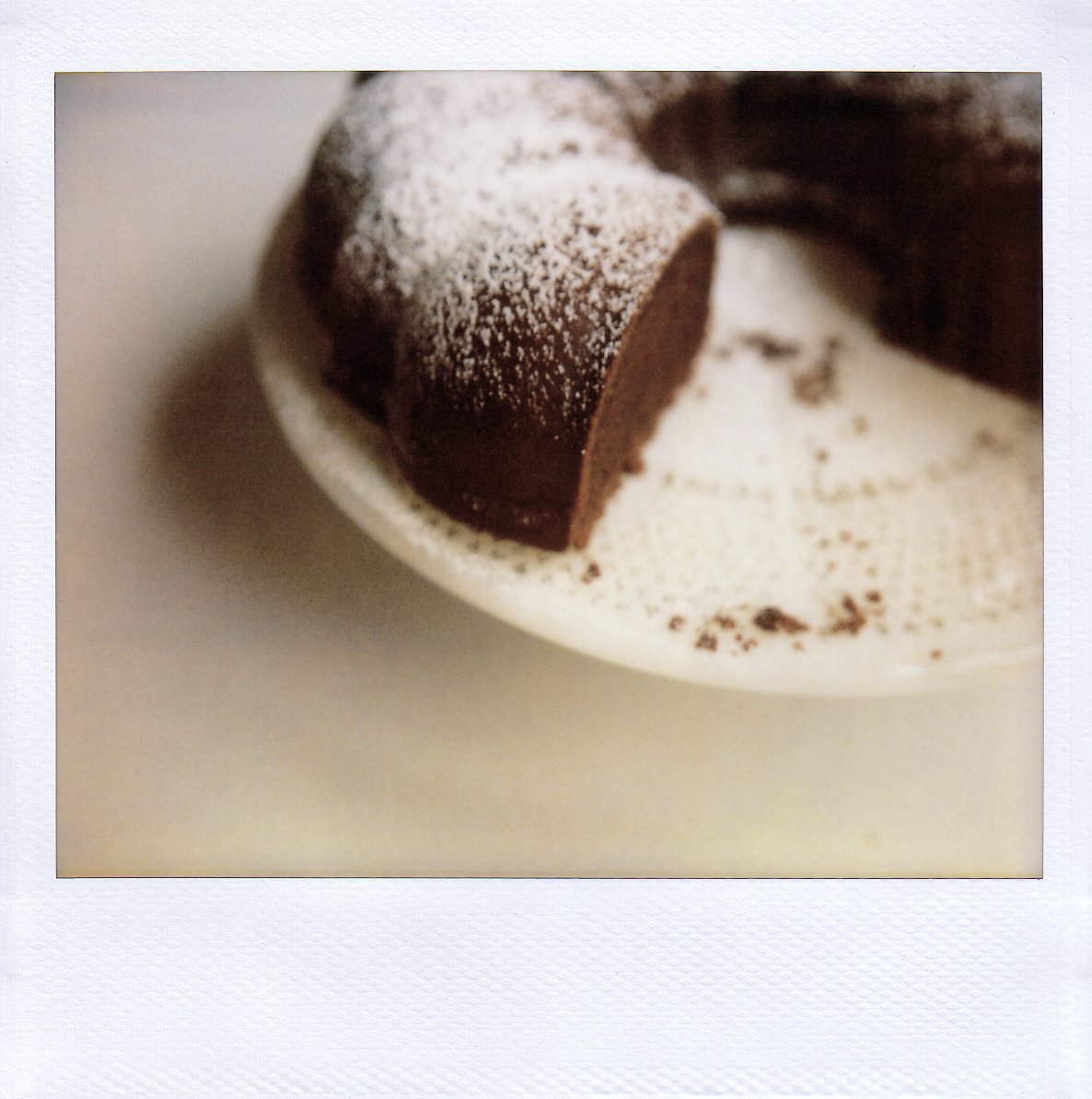 I can't talk for long today, because we arrived in Oklahoma around ten o'clock last night and then stayed up too late talking, so I'm tired. I still can't believe that we even got here, given how snowed-under Seattle is right now. The day before we left, we watched people snowboard down the hill on 65th Street in Ballard. On the way to the airport, we passed a guy on cross-country skis, making his way slowly, cheerfully, up the road. It was all pretty dreamy, really, so long as you didn't have anywhere important to be. Like the airport, for example, or your mother's house in Oklahoma. The fact that our flight even left SeaTac yesterday was, we decided, our Christmas miracle. So I think I should keep this short today, and get back to appreciating that miracle by crawling under the covers in my old bed.
But before I do that, I wanted to make sure that you had this Bundt cake recipe. If you haven't yet had your Christmas miracle, well, ta daaa! Here it is.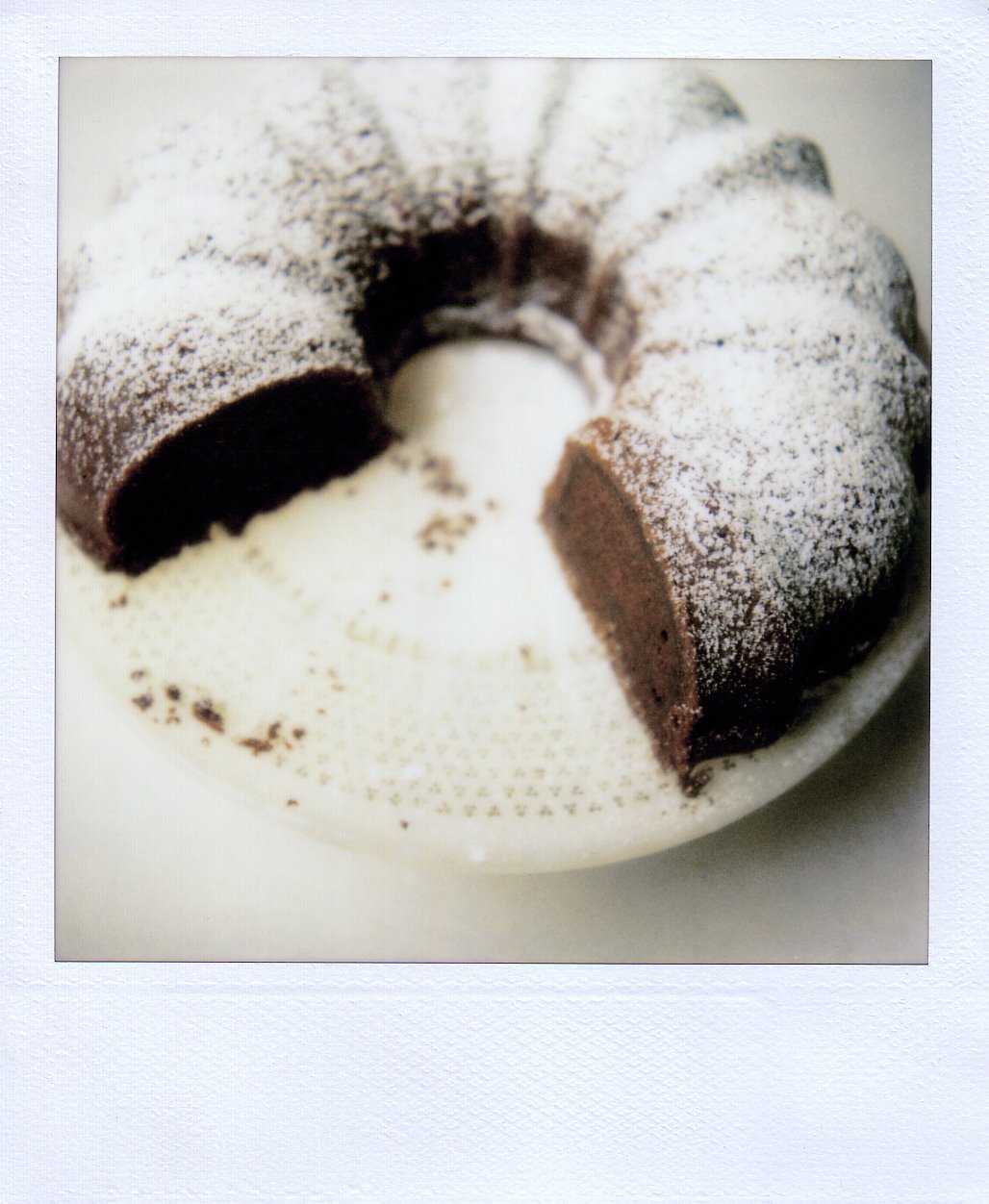 I am not, under ordinary circumstances, a great fan of alcoholic desserts. Many of them seem to involve Amaretto, and I just don't like it. This admission makes me sound sort of boring and unfun, I know, as though I sit around on Saturday nights and read the Oxford English Dictionary with a magnifying glass, but I say it so that you will understand how special this particular alcoholic dessert is. I am a great, great fan of this Bundt cake, or boozy cake, as I like to call it. You have to pronounce that as one word: not boozy cake, but boozycake. Just so you know.
The recipe comes from the New York Times, from an article by Melissa Clark that ran about three weeks ago. It's a riff on an old Maida Heatter recipe, a rich, dark chocolate cake punched up with not only a quarter-cup of instant espresso, but an entire cup, a cup, ONE CUP, of whiskey. It has a soft, moist, tightly woven crumb, and it makes the kitchen smell very sophisticated, like winter and warmth and the dinner parties my parents used to throw when I was little, after they put me to bed. It smells very chocolatey and very boozy. Because it is very boozy. The night I made it, I cut a slice while it was still a bit warm, and eating it, standing over the kitchen counter, I actually felt a little woozy. And no, I did not intend to make that rhyme. Although once I saw it happening, I didn't exactly stop it, either.
If you can, try to make this cake a day before you want to serve it, to allow the flavors to mellow and meld. On the first day, the flavor of the alcohol threatens to drown out the chocolate, but after a little overnight rest, they reach a sort of compromise, complementing each other instead of competing, the deep darkness of the chocolate rising to meet the heady afterburn of the whiskey. If you, like us, haven't trimmed your tree yet, this would be just the kind of thing for that, for eating with one hand while you hang ornaments with the other. To add to the festive feeling, you could even turn on that old Mannheim Steamroller Christmas album, the one that came out in 1984 and that my family continues to trot out every single December. If you eat enough boozy cake, the synthesizers might actually sound kind of nice. Imagine that! What a cake.
Whiskey-Soaked Dark Chocolate Bundt Cake
Adapted from The New York Times
I used St. George whiskey for this recipe, but next time, I think I would use bourbon. Whatever you choose, be sure to use something that you like to drink on its own; its flavor is the real centerpiece here.
2 sticks (8 oz.) unsalted butter, softened, plus more for the pan
2 cups all-purpose flour, plus more for the pan
5 oz. unsweetened chocolate
¼ cup instant espresso powder
2 Tbsp. unsweetened cocoa powder
1 cup bourbon, rye, or other whiskey, plus more for sprinkling
½ tsp. kosher salt
2 cups granulated sugar
3 large eggs
1 Tbsp. vanilla extract
1 tsp. baking soda
Confectioners' sugar, for garnish (optional)
Preheat oven to 325°F. Grease and flour a 10-cup-capacity Bundt pan (or two 8- or 9-inch loaf pans).
In a heatproof bowl set over – but not touching – a saucepan of simmering water, melt the chocolate until just smooth, stirring occasionally. Let cool.
Put espresso and cocoa powders in a 2-cup (or larger) glass measuring cup. Add enough boiling water to come up to the 1 cup measuring line. Stir until the powders dissolve. Add the whiskey and salt. Let cool.
Using an electric mixer, beat the butter until fluffy. Add the sugar, and beat until well combined. Add the eggs one at a time, beating well after each addition. Beat in the vanilla extract, baking soda and melted chocolate, scraping down the sides of the bowl with a rubber spatula.
With the mixer on low speed, beat in a third of the whiskey mixture. When liquid is absorbed, beat in 1 cup flour. Repeat additions, ending with the whiskey mixture. It may seem like there is too much liquid, but don't worry; it's okay. Scrape the batter into the prepared pan, and smooth the top. Bake until a toothpick inserted into the center of the cake comes out clean, about 1 hour and 10 minutes for a Bundt pan. (Loaf pans will take less time; start checking them after 55 minutes.)
Transfer the cake, still in its pan, to a rack. Unmold after 15 minutes and sprinkle warm cake with more whiskey. (I did this by pouring a little bit into a teaspoon, and then shaking the teaspoon over the cake. I'm guessing that I used 3 teaspoons' worth in all.) Cool completely before serving, garnished with confectioners' sugar, if you like.
Note: This cake tastes even better on the second day, when the intensity of the alcohol mellows a little bit.
Yield: 10 to 12 servings.