So, how many of you, after reading last week's food section of The New York Times, made a batch of chocolate chip cookies? I can't possibly be the only one susceptible to suggestion around here. Hands up, now. Don't be shy.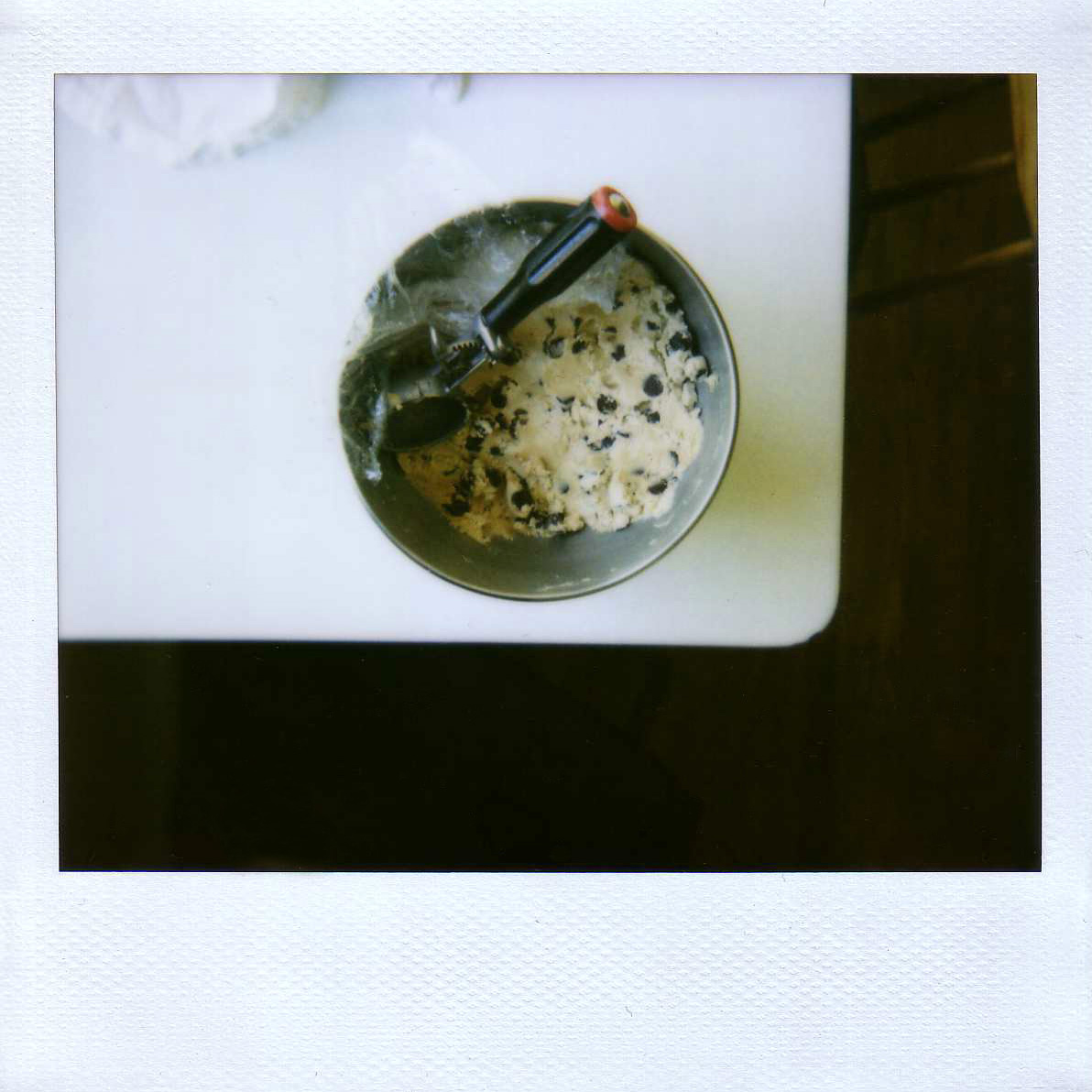 Okay, so, for those of you who made the cookies, how many ate them at every meal for multiple days, to the near-complete exclusion of other foods? I ask not only because I did, but because these cookies deserve to be eaten that way, in extravagant quantities. I mean, just look at them. A mere glimpse makes me want to pour a big glass of iced coffee and do something immoderate.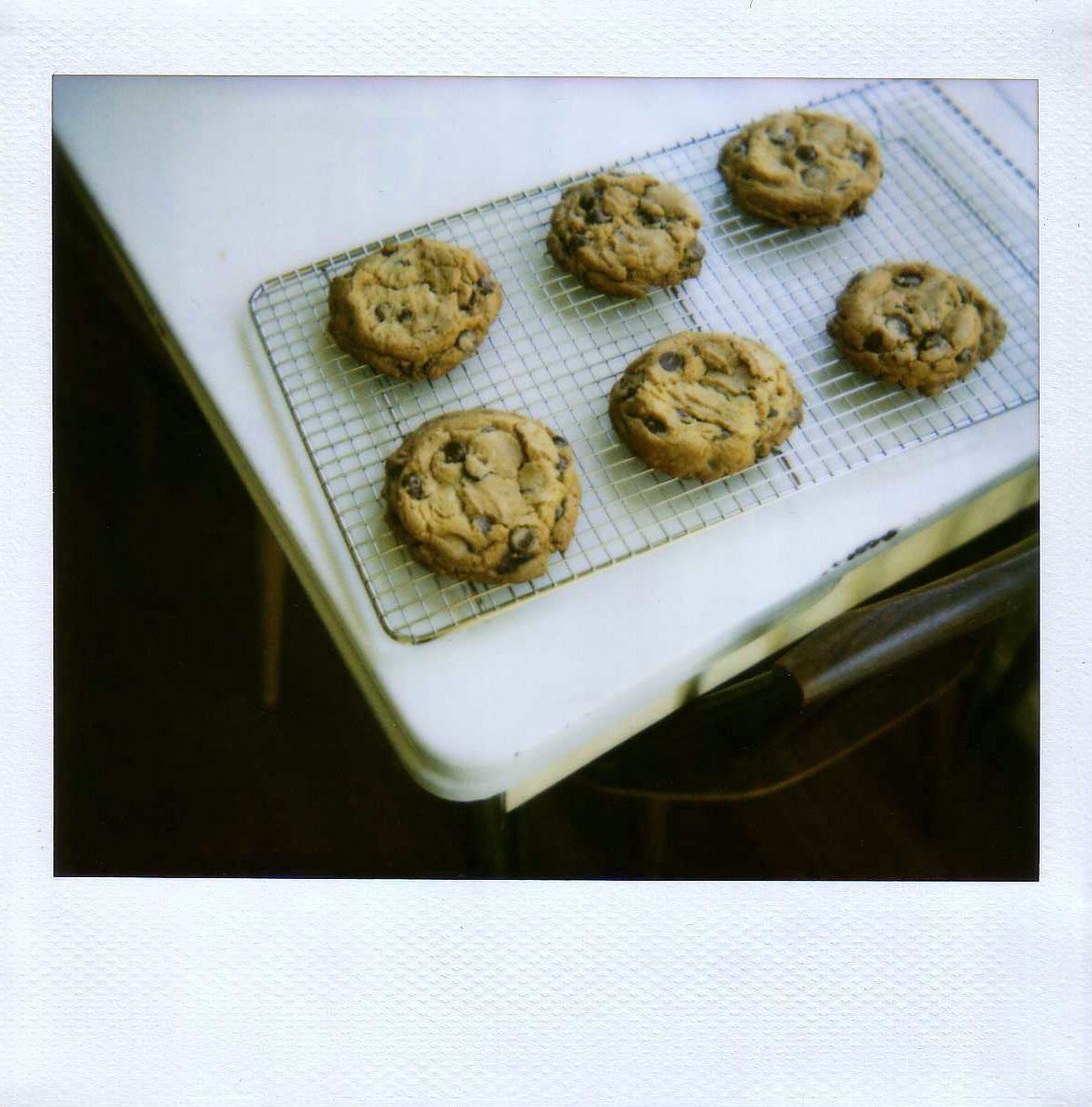 The sad part is, I would have overlooked this recipe entirely if Brandon, in his diligent, good-citizen, news-reading way, hadn't e-mailed me a link to the article last Wednesday. I was sitting at my desk, reading something far less important, when it landed in my inbox. There was no accompanying commentary – just the link – but I knew what he was saying. I promptly stood up, walked to the fridge, removed the requisite butter, and set it on the counter to soften, and that night, I made cookie dough. (This is, incidentally, part of a top secret strategy I am developing called Kill Him with Kindness and Cookies and Maybe He Will Clean His Closet Without You Having to Ask Him Again. Don't tell Brandon. So far, it's not working very well, but I still have hope.)
I won't attempt to paraphrase the article here, because you really should read it. David Leite, its author, is a wonderful writer, and those of you who like to bake will find it very informative. (Plus, it quotes Shirley Corriher! I love Shirley Corriher.) What I will say about it, however, is that it adds up to a very fine, very fetching cookie. In fact, it is, without a doubt, the best chocolate chip cookie that I have ever made at home. It is also the best chocolate chip cookie that I have ever eaten. It scares me a little to make such a bold statement, but I have decided to do it anyway.
Leite's recipe, which was adapted from Jacques Torres, produces a model specimen: big and plump and nubbly, with plenty of those endearing cracks and folds that form on the surface as the dough softens and spreads in the oven. The cookies are soft and chewy at the center, but their edges are nicely crisped, and then you've got their flavor, which develops over 36 hours (don't skimp! it's worth it!) of rest time that the dough gets before baking. The flavor is classic chocolate chip, of course, but it has an unusual depth and complexity and, for the clincher, a sprinkling of salt on top. You know how, in Charlotte's Web, Charlotte writes "SOME PIG" over Wilbur's pen? Well, we've been seeing a lot of spiders around the house lately, and these cookies are sufficiently good that I half-expect to see the words "SOME COOKIES" appear, written in spider silk, in one of the corners of our kitchen. They really are some cookies.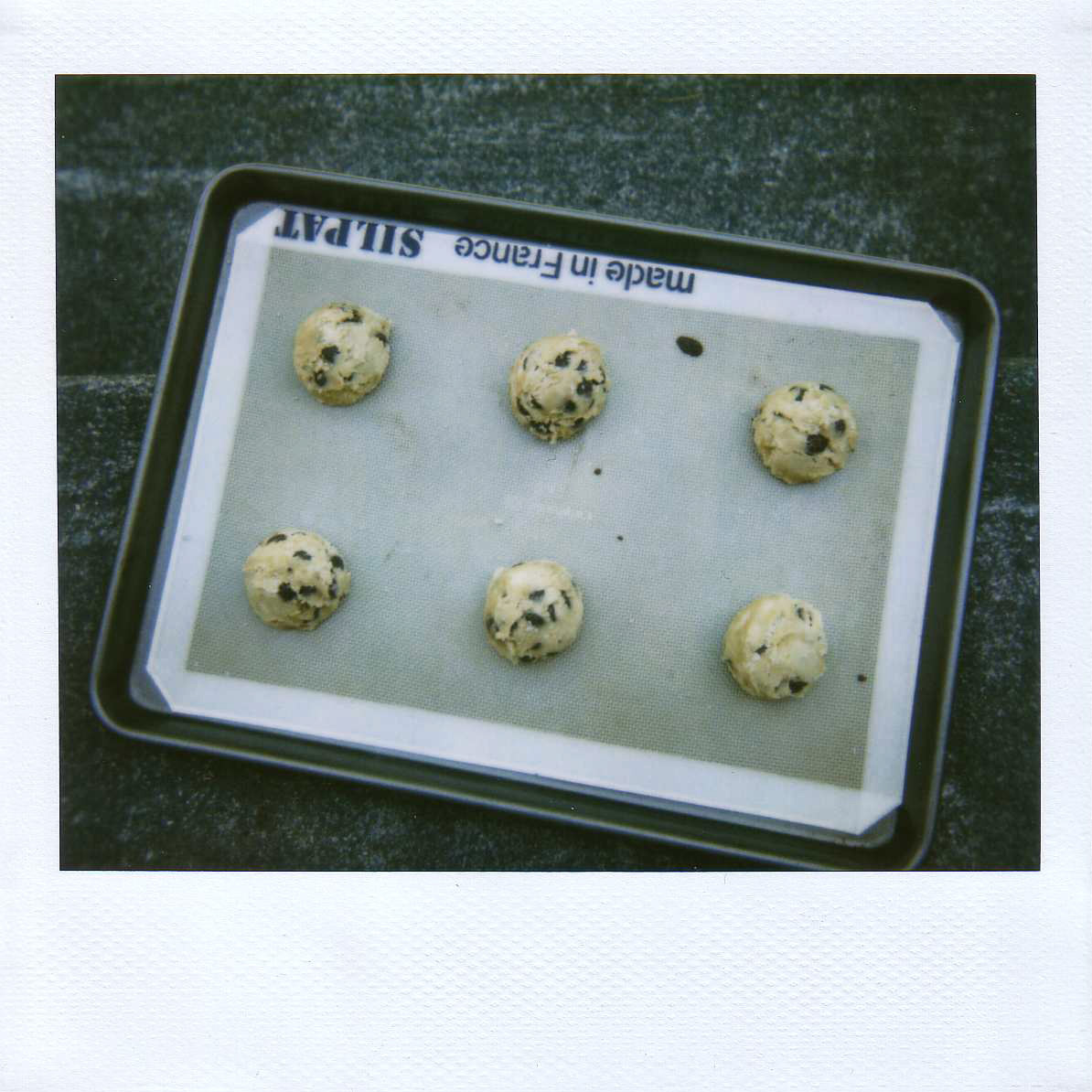 Before I shoo you away from your desk and into the kitchen to make a batch, I want to share a few thoughts about the recipe. David Leite clearly went to great pains to make it very specific and thorough, but I couldn't help but make a few tweaks, mainly for convenience's sake. First, I didn't bother with the fancy chocolate disks or fèves that he calls for. I like nice chocolate as much as the next guy, but I had to draw the line on this one. I didn't want to get in the car. Maybe next time, I'll pick up the fancy kind, but for now, I will use my standard chocolate chip of choice, Ghirardelli 60%. I think it's perfectly delicious.
Second, I didn't use a mixture of cake and bread flours, as the recipe suggests. Leite's article failed to explain why the use of two flours is important, and I don't know, it just seemed like a fussy complication. I have no doubt that it probably does something, texture-wise, but I was willing to take a risk, so I skipped it. Instead, I used a local flour that we've been trying lately. It's called Stone-Buhr Northwest-Grown All-Purpose Flour, and if you can find it, I highly recommend it. Otherwise, you might try your regular brand of all-purpose flour, or, as Leite recommends, a combination of cake and bread flours.
Lastly, after the dough had its 36 hours in the fridge, I let it soften a little bit at room temperature before I tried to scoop it. It was very hard when freshly chilled, but with about 30 minutes' to one hour's rest on the counter, it was more readily scoopable. Don't let the dough get warm, though; you want to bake it while it's still cool, and even tending toward cold. Updated on June 15, 2011: I have changed the way I do this. I now scoop the dough before chilling it. Much easier. See below.
Anyway, however you do it, MAKE THESE COOKIES. And then heed my warning: unless you have a large household, give at least some of them away to friends and next-door neighbors, or else you will eat yourself silly. In a good way. And a bad way. I took a few to our neighbor, gave three to Olaiya, and delivered a half dozen to our friends Ben and Bonnie, who live conveniently nearby. None of them complained, and in fact, Olaiya stopped by this morning to ask for more. Which, I think, means that I should make another batch.
P.S. You do know, right, that you can click on any photograph here and view in a larger size? I know that bigger can be better sometimes, especially when it comes to cookies.
Chocolate Chip Cookies
Adapted from The New York Times, David Leite, and Jacques Torres
If you have a kitchen scale, I highly recommend using it here. This recipe is written in both volume and weight, but I chose to use the latter, so that I wouldn't have to mess with measuring cups. It was unbelievably quick: just put a bowl on top of the scale, tare it to zero, and go.
2 cups minus 2 Tbsp. (8 ½ oz.) cake flour
1 2/3 cups (8 ½ oz.) bread flour
1 ¼ tsp. baking soda
1 ½ tsp. baking powder
1 ½ tsp. coarse salt, such as kosher
2 ½ sticks (1 ¼ cups; 10 oz.) unsalted butter, softened
1 ¼ cups (10 oz.) light brown sugar
1 cup plus 2 Tbsp. (8 oz.) granulated sugar
2 large eggs
2 tsp. vanilla extract
1 ¼ pounds bittersweet chocolate chips or chunks, preferably about 60% cacao content, such as Ghirardelli
Sea salt, such as Maldon
Combine flours, baking soda, baking powder, and salt in a bowl. Whisk well; then set aside.
Using a mixer fitted with paddle attachment, cream butter and sugars until very light and fluffy, about 3 to 5 minutes. Add the eggs, one at a time, mixing well after each addition. Mix in the vanilla. Scrape down the sides of the bowl with a rubber spatula as needed. Reduce the mixer speed to low; then add dry ingredients, and mix until just combined. (Unless you have a plastic guard that sits around the rim of the bowl, this will make a big mess at first, with flour flying everywhere. I found that carefully holding a dish towel around the top of the bowl helped a lot.) Add the chocolate chips, and mix briefly to incorporate. Using a standard-size ice cream scoop – mine holds about 3 fluid ounces, or about 1/3 cup – scoop the dough onto a sheet pan or large platter, or anything that will hold about two dozen dough portions in a single layer. Cover tightly with plastic wrap, and chill for 24 to 36 hours – and up to six days.
When you're ready to bake, preheat oven to 350°F. Line a baking sheet with parchment paper or a nonstick baking mat.
Place six mounds of dough on the baking sheet, making sure to space them evenly. Sprinkle lightly with sea salt, and bake until golden brown but still soft, 15 to 20 minutes. Transfer the baking sheet to a wire rack for 10 minutes, then transfer the cookies onto the rack to cool a bit more.
Repeat with remaining dough.
Note: I may be the only person in the world who feels this way, but I like room-temperature chocolate chip cookies better than warm ones. (Yes, I fully expect to be burned at the stake for saying this.) When they're warm, they taste too rich to me, and some of the nuances of their flavor get lost. I suggest that you try these cookies both ways and decide for yourself.
Yield: About 24 (5-inch) cookies.