Alright, guys.
Do you remember that chickpea salad? The one that makes such a good lunch? The one that has five ingredients and takes five seconds to make, and that tastes ten times better than you expect it to? Well, I've just met its Italian cousin, and I can't wait to introduce you. There are no chickpeas involved, but the feeling is the same, and I think you two are going to really hit it off.

I love matchmaking. Especially when it involves wild mushrooms and fresh mozzarella. (I also enjoy it when it involves our friends Sam and Meredith, but that's a whole other story.) I know it's a little hard to tell what is happening in the photograph above, but basically, what you've got there are thin slices of mushroom that have been dotted with nubbly bits of mozzarella, sprinkled with thyme and salt, drizzled with olive oil, and given a quick bronzing under the broiler. What you've got there – plus a heel of crusty bread – is one stunning, dead-simple lunch, courtesy of Mr. Jamie Oliver.
I am a little late, admittedly, in jumping on the Jamie bandwagon. Until last February, when Brandon and I got the flu and spent a week on the couch, passing a box of Kleenex back and forth and watching videos on the computer, I had never seen a single one of his shows. And I didn't own any of his cookbooks until even more recently, when Brandon came home from an errand-running session with a copy of Jamie's Italy. But that is all behind us now. I am officially on board. Anyway, I don't know how anyone could resist the ruddy charm of this book – its recipes, its down-to-earth voice, or its lush, atmospheric photographs. I am generally pretty iffy on big television personalities, but Jamie is hard to dislike. He's messy, bed-headed, and endearingly foul-mouthed, and his recipes actually work. Also, I would like to steal his seat at the table in the photograph on pages 108 and 109. I don't think he would mind. And while we're at it, I would like to be adopted by the old lady on page 268. I'll bet she makes the best polenta.
I spotted this recipe shortly after we got Jamie's Italy, but it wasn't until yesterday that I actually gave it a try. Wild mushroom season is slowly ramping up around here, and at the Sunday farmers' market, next to the morels and miner's lettuce, was a small basket of porcinis. They were thirty bucks a pound, so we only bought two of them – which, as it was, set us back a solid five dollars – but what fine specimens they were, fat and stubby, with reddish-brown caps. So we brought them home, sliced them up, and turned them into lunch.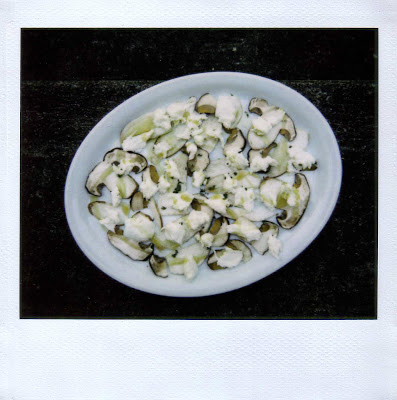 Now, I love braised onions, and buttermilk cookies, and green garlic soup, but I don't know the last time I tasted anything quite this good. A porcini alone is one thing, and a fine thing at that, but a porcini plus mozzarella, olive oil, and the fiery blaze of the broiler is another thing entirely. When the platter came out of the oven, we put it on the table, sat down, and stared at it. It was gorgeous, and it smelled even better. I picked up my fork and took a bite. And then I started cussing. The mushrooms were meaty and tender, just cooked through, with a pure, heady flavor that nestled cozily against the milky mozzarella. And when they were gone, which was about two minutes later, we called into service some crusty bread and set to work mopping up the rich, perfumed puddles that had collected around the platter. Which led to more cussing. In fact, I am having a very hard time describing this dish today without resorting to copious swearing. Please bear with me.
It may not be quite as pantry-friendly, or quite as cheap, as Brandon's chickpea salad, but I don't know. It certainly is easy, and simple, and in my book, it falls into the same category: Instant Lunch. Anyway, it's not as though the porcinis are a requirement. (Let's be real: the day I start eating porcinis without sweating a little at the price is the day that Brandon and I move back in with our parents.) I made this recipe again today, this time with supermarket creminis, and I am happy to report that for everyday purposes, the ordinary brown mushroom more than does the trick. Ba da! Meet my new favorite lunch.
Sliced Mushrooms with Fresh Mozzarella and Thyme
Adapted from Jamie's Italy, by Jamie Oliver
This is one of those recipes where exact measurements are totally unnecessary. But to give you an idea of proportions, when Brandon and I made this yesterday, we used two medium porcini mushrooms – each two or three inches tall – and topped them with about ¾ of a standard-size ball of fresh mozzarella and the leaves from one sprig of thyme. It was just about perfect as a light lunch for two, with a glass of rosé, some bread, and fruit for dessert. And today I made it again – this time with some crimini mushrooms and half a ball of mozzarella – and ate the whole thing. I plan to do it again tomorrow.
Fresh mushrooms, such as porcini, crimini, shiitake, or portobello
Fresh mozzarella
Olive oil
Fresh thyme, leaves removed and stem discarded
Sea salt
Preheat the broiler.
Clean the mushrooms with a pastry brush or damp paper towel, and then slice them thinly. (Ideally, aim for slices that are no thicker than ¼ inch.) Arrange them in a single layer on a large ovenproof platter. Tear the mozzarella into coarse bits – each about the size of a nickel – and scatter them over the mushrooms. Drizzle with olive oil. Scatter the thyme leaves over the top, along with a good pinch or two of salt.
Slide the platter under the broiler, and cook, checking frequently, for 3 to 4 minutes, or until the cheese is melted, bubbling and golden in spots. Serve with bread for mopping up the platter.
Note: Though this makes a terrific, easy lunch, it would also be great, I imagine, as a first course for a low-key, elbows-on-the-table dinner party.
Yield: As much as you want