There is only one thing that I need to say to convey the state of myself and my kitchen, and that is this: Brandon is boarding a plane to Seattle tomorrow with a one-way ticket. Oh, baby.
It was not quite a year ago today—about 51 weeks ago, to be precise—that I first introduced him here, served up with a side of nutmeg muffins. Sometimes I forget how improbable our story is, and how uncertain it could have felt—because it didn't, and because we made it possible. I remember telling someone, shortly after I met him, that Brandon was like magic, that he could make things happen. He does, every day. He reminds me of something that my mother once told me about my father: that one of the things she loved about him was that she could learn so much from him. I know what she means.
I used to think that I had a good dowry: I can roast a mean chicken; I make a delicious chocolate cake; I can quote Minor Threat and Lionel Richie; I can find my way around Paris and Oklahoma City; and I stand to someday inherit a stunningly ugly ceramic boar that my father swore is worth a lot of money. But when Brandon gets off that plane, he brings with him more than I could have ever thought to want or to be. There are his cold soba noodles with that spicy peanut-and-citrus sauce, his well-drawn espressos, and his skill at sneaking bags of salt-and-vinegar potato chips into the grocery cart when my head is turned; the sweet smell of his conditioner, his dark curls, and his eye for vintage champagne glasses and $30 KitchenAid mixers; that Caetano Veloso song he always sings in the shower, the crease in the top of his nose, the way he throws his head back and laughs when he tastes a mouthful of something good. There's the way he ties his shoes, just like my dad; his saxophone named Ella, his homemade salsas and pizzas and beer; the horrible mess he makes of the kitchen counter, and the way he once spelled out my name in leftover pizza dough while I sat on the couch, unsuspecting, watching Six Feet Under and ignoring him. There's his chana masala, his compassion and his snark, and his love for my father, who he never met. There's the mischievous look in his eye when he turns to me at midnight and asks if I want a chocolate malt; the radishes and the butter and the salt; and the way he asks me to marry him, over and over, almost every day.

Oh, baby. You give me so much to be grateful for. Thank you. Thank you for you, and especially for loving me even when I cry over brownies and then try to give you the silent treatment. You know how I feel about brownies, and about you. I'm so glad that I get to love you every day.
Nutmeg Doughnut Muffins
Inspired by Columbia City Bakery, Seattle, WA, and adapted from Kathleen Stewart of the Downtown Bakery & Creamery, Healdsburg, CA
The only thing better than a wonderfully food-obsessed New Yorker is a wonderfully food-obsessed New Yorker who lives in Seattle, and the only thing better than a nutmeg muffin is a nutmeg doughnut muffin. Oh baby, indeed. These are exactly what they sound like, and better: something akin to doughnut batter, but baked, brushed with butter, and rolled in powdered sugar. They may look a little rumply and worse for the wear, but with their light, fragrant crumb and fried-but-not flavor, this is one very holy union of muffin, doughnut, and cake. It's one of those recipes to write with permanent ink into your "special breakfast" repertoire. It's for Brandon.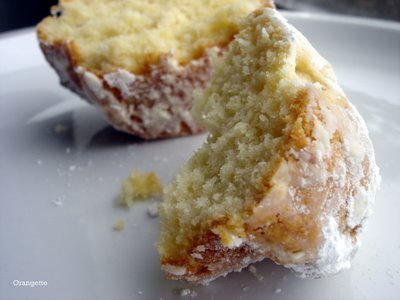 For muffins:
3 cups unbleached all-purpose flour
2 ½ tsp baking powder
¼ tsp baking soda
Scant 1 tsp salt
½ tsp freshly ground nutmeg
¾ cup plus 1 Tbs whole milk
2 Tbs buttermilk
1 ½ sticks (6 ounces) unsalted butter, at room temperature
¾ cup plus 2 Tbs granulated sugar
2 large eggs
For topping:
4 – 6 Tbs unsalted butter
1 ½ – 2 cups powdered sugar
Preheat the oven to 350 degrees Fahrenheit, and set a rack to the middle position. Spray a standard-size muffin tin with cooking spray.
In a medium bowl, combine the flour, baking powder, baking soda, salt, and nutmeg, and whisk to mix them thoroughly. Set aside.
Combine the milk and the buttermilk in a measuring cup, and set aside.
Place the butter in the bowl of a stand mixer fitted with the paddle attachment (or, alternatively, in a large mixing bowl with electric beaters nearby), and beat on medium speed for a few seconds, until the butter is soft and creamy. With the motor running, add the sugar in a steady stream. Continue beating, scraping down the sides of the bowl once or twice, until the mixture increases in volume and lightens to pale yellow. It should look light, fluffy, and wonderfully creamy, like frosting. This could take a couple of minutes. Add the eggs one at a time, beating until they are just combined.
With a wooden spoon, mix ¼ of the flour mixture into the butter mixture. Add 1/3 of the milk mixture. Continue to add the dry and wet ingredients alternately, ending with the dries. Mix until the dough is smooth and well combined, but do not overmix.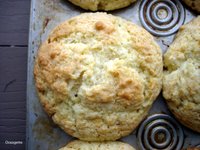 Divide the batter between the cups of the muffin tin. Bake until the muffins are firm to the touch and a toothpick inserted in the center comes out clean, about 25-32 minutes.
When the muffins are cool enough to handle, prepare the topping: melt the butter in the microwave or on the stovetop, and pour the powdered sugar into a deep bowl. Using a pastry brush and working one muffin at a time, lightly brush the entire outside of the muffin with butter, and then roll it in the powdered sugar. Shake off any excess, and place the finished muffins on a rack or serving platter. Serve.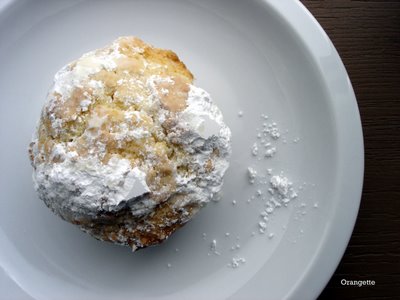 Note: These muffins are best on the day that they're made, but they're still awfully good on the second day—much better than the usual day-old muffin or stale doughnut. And for those who like advance planning, also note that this batter keeps, covered and chilled, for up to three days.
Yield: 12 muffins