The most depressing meal of my life was white and yellow. That's all I remember. As someone who spends her free waking hours trying to capture in words the look, taste, and texture of her food, I find this a little embarrassing. It tasted pale, and that's the most I can say. Maybe it involved sticky rice and a crookneck squash, or a pallid filet of plain, white-fleshed fish. Maybe it was a stir-fry constructed on the color palette of a daisy. Evidently, its details were not memorable, nor delicious. It was nearly nine years ago, a dinner in the dining hall of my freshman dormitory, and I guess that alone should tell me something. But still, all I remember is the white and the yellow, pale and pasty, and the sour taste of my disappointment as I stared at it, still hungry. And maybe that's for the best.
I'm certainly not the first person to trot out the old we-eat-with-our-eyes adage, and anyway, I'm not always sure that it's true. But on days like today, I really do think that it's all in the color. Or that's what I said to myself when I sat down to a plate of broccoli rabe, cooked just to tender and a shiny emerald green, piled atop two pieces of garlic toast.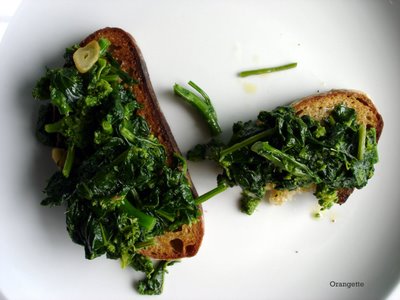 Even up here in the Pacific Northwest, where real summer is still on its way, the browns and oranges and dingy whites of winter are giving way to a whole spectrum of pinks, peaches, reds, and greens. I may be the only person out there inclined toward color-coded food cravings, but I swear, sometimes a body just wants something green. This has nothing to do with nutritional value, or at least, not on the surface. This is not about diets, bikinis, or Shape magazine. This is about the shape and flavor of the fourth color in the rainbow: grassy, earthy, and herbal.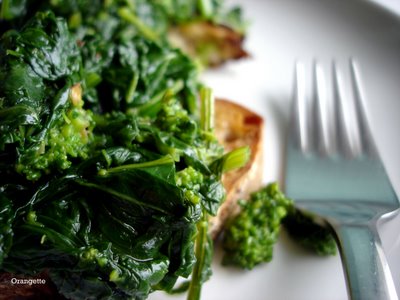 This is about a green that's sweet and garlicky with an aftertaste of heat, heaped into a tangled topknot on a slice of toast. Broccoli rabe is not a summer vegetable, per se, but there was a pretty bunch in the market this weekend, and well, I had a craving. It's a funny, hybrid-looking thing, with a wild look that sits somewhere between broccoli floret and shiso leaf. But once blanched and sautéed with lots of olive oil and garlic, it tames to a delicious, pungent, and lightly bitter flavor, not entirely unlike Swiss chard or kale. Drippy with olive oil and its own cooking juices, it calls for a plate under the chin and a napkin in hand. And it tastes of nothing but green—which is to say, not pale, and certainly not depressing.
Broccoli Rabe Toasts with Olive Oil, Garlic, and Red Pepper
Adapted from Gourmet, April 2006
This is one of those lots-of-bang-for-your-buck numbers. If you have even a bachelor pad pantry, you're most of the way there: just buy a bunch of broccoli rabe, put a pot of water on to boil, and all you have to worry about is your impending garlic breath. This Italian-flavored recipe can feed two to four people, depending on portion sizes and the number of bread slices you choose to use. I made a light lunch—with leftovers for tomorrow—out of two heaping toasts, a grapefruit, and some chocolate, but more greens-wary souls might prefer a smaller serving as a starter, or served alongside a meaty main course.
For the toasts:
A few slices, about 1/3 inch thick, from a long, crusty, country loaf
Olive oil
Salt
Pepper
1 garlic clove, halved crosswise
For the broccoli rabe:
1 lb broccoli rabe, large stems discarded and the remainder coarsely chopped
3 Tbs good-quality olive oil
2 large garlic cloves, sliced
1/8 tsp dried red pepper flakes
3 Tbs water
¼ tsp salt
Preheat the broiler, and fill a large saucepan or Dutch oven about 2/3rds full of salted water. Bring it to a boil over high heat.
While the water is heating, prepare the toasts. Place the slices of bread on a baking sheet, brush both sides of the bread with oil, and season them lightly with salt and pepper. Broil the bread about 4 inches from the heating element, turning the slices halfway through, until golden, about 3 minutes total. Gently rub both sides of the bread with the garlic. Discard the garlic, and set the toasts aside.
When the water comes to a boil, add the broccoli rabe, and cook, uncovered, until tender, about 4 to 5 minutes. Drain the broccoli rabe into a colander, and press it gently to remove any excess water. Set it aside.
Wipe the pot clean, add the oil, and warm it over medium heat. Add the sliced garlic and red pepper flakes, and cook, stirring occasionally, until the garlic is golden, about 2 minutes. Taking care to avoid hot oil splatters, add the broccoli rabe, water, and salt, and cook, covered, stirring occasionally, about 2 minutes.
Divide the warm broccoli rabe over the toasts, and serve.
Yield: 2 to 4, depending on the number of toasts and the appetites around the table