Dear reader, I've been wielding the tools of anthropology haphazardly again.
Lately I've noticed that every time I cross paths with women of a certain age, the conversation ends the same way. After a few moments of pleasant exchange, talk comes to an abrupt halt with the following exclamation: "Oh Molly, you're baking? I used to bake bread too! For years, I baked every loaf we ate!" Without fail, in the seconds that follow, her eyes glaze over, her pulse visibly quickens, and she lets slip a telltale sigh that settles into silence. This is more than a simple fit of nostalgia. I know, because I am what these women used to be. What they wistfully recall, and what I embody, is an as-yet-undocumented stage in the development of the human female: the bread-baking frenzy.* As you can see, I will make my mark on anthropology yet.
With no further ado, I present the evidence.
Margot, the source of all things sourdough, has no fewer than five loaves in her freezer at all times. She is a machine. And Kate, her little sister, is also producing like there's no tomorrow: she's up at six in the morning to bake boules for her father, and in one of her more brilliant schemes, she's trading bread for sashimi-grade ahi at Pike Place Market. Even Keaton, a self-proclaimed non-baker, recently made a loaf or two. And as for me, ever since that momentous evening in October when Margot gave me a jar of starter, I too have been compelled by a mysterious inner drive—something visceral and inarticulate, something that doesn't ask but tells. I must bake bread. I must, I must, I must.
In the beginning, there was Jack Lang's sourdough method, a lean dough baked into a rustic boule which, when well-behaved, quite nearly made a (pioneer) woman out of me. But unfortunately, it's not well-behaved very often. My sourdough starter is tough to please and very temperamental. It gets lonely. It gets cold easily. It wants more food. My Jack Lang bread is like the little girl with the little curl right in the middle of her forehead: when it's good, it's very good, and when it's bad, it's gummy.

Not being one to take failure well, I've kept these dark moments from you, gentle reader, and I've sought solace in the company of another: Fleischmann's active dry yeast. I've retreated into Rancho La Puerta whole wheat bread, dense, delicious, and reliable, and last Friday night, I stayed home with my oven and two loaves of honey gold oatmeal bread.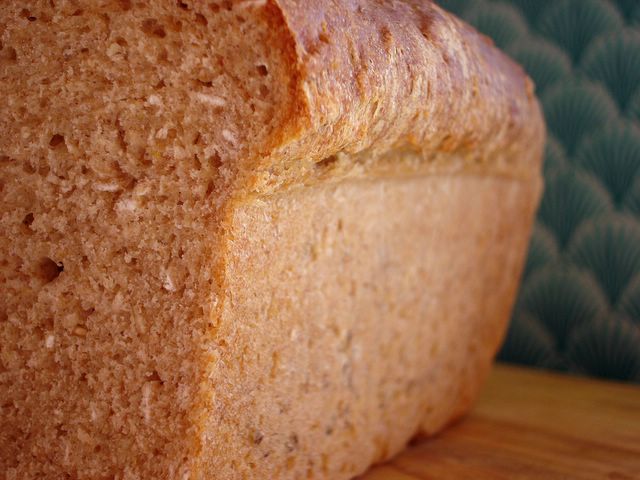 This tall, nutty loaf not only brings together all kinds of tasty, wholesome stuff—milk, honey, whole wheat flour, wheat germ, oats—but it invites my lonely, prissy sourdough starter in from the cold to get cozy with a strong, dependable package of yeast. It was quite a Friday night for all of us.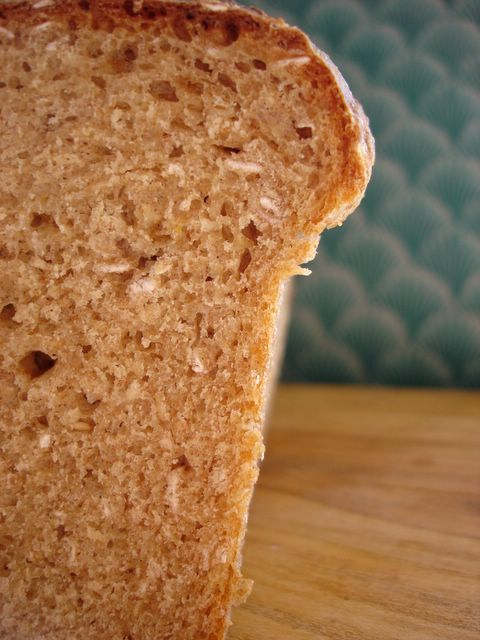 And Saturday afternoon, after a good night's rest, I tucked two slices into a sandwich bag and headed out to meet Margot and Kate at Pioneer Square Park (or, as Kate explained over the phone, "le parc où tous les hommes font pipi" (the park where all the [drunk] men pee); we're practicing our French together, and Kate is really outdoing herself). It was sunny but deceptively cold, and the lovely sisters were waiting for me on a bench, squinting happily into the light. I handed over the slices for their inspection. They inhaled them solemnly, thoughtfully, co-conspirators in a very serious mission.

And then we spent the afternoon as one would expect, walking the city and talking bread—give or take a few minor tangents involving barbeque-pork hum bows, fresh tofu, and mini handcuffs for a roasted chicken. It was beautiful, an afternoon for the social science books. We're in it together, fervent and frenzied, until the next stage.
* The bread-baking frenzy generally occurs between ages 22 and 35, after college and before the kids start school. It is occasionally seen to be coterminous with the knitting stage, although the two should not be conflated.
Honey Gold Oatmeal Bread
Adapted from Knight Family Recipes 2005, which in turn excerpted from Sourdough Jack's Cookery
Last Christmas, Kate officially brought me into the clan by giving me a copy of her family's recipe book. This is serious stuff, and I feel a bit more sappy about it than I should probably admit.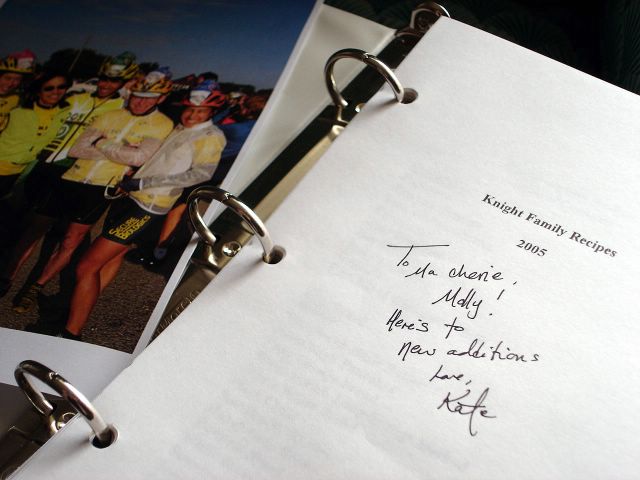 Although the book includes such tempting offerings as RAGBRAI Cinnamon Rolls, Lilly's Lentil Salad, Boyfriend Pork Chops, Bruna's Flan, and a Chinese Salmon Sauce that includes a fire hazard warning, I'm starting simple. And anyway, I've got a frenzy to work through.
1 cup sourdough starter (if you don't have a stash in your fridge, let me know; we'll talk options)
2 cups warm water
4 ½ cups all-purpose flour
2 cups milk (any fat percentage should be fine; I used nonfat)
2 Tbs butter or oil (I used walnut oil, which gave the bread a wonderfully nutty quality)
¼ cup honey
1 package active dry yeast
2 cups whole wheat flour
¼ cup wheat germ
2 tsp salt
2 tsp baking soda
2 cups quick-cook oats (not rolled oats)
The night before you want to bake the bread, mix together in a large bowl the starter, the warm water, and 2 ½ cups of all-purpose flour. Mix well, but it's alright if it's a bit lumpy; fermentation will smooth it. Cover the bowl with plastic wrap, and let it stand in a warm place for at least 12 hours. This will be your "basic batter."
When you are ready to begin the dough, remove a cup of the basic batter from the bowl and return it to your starter pot in the refrigerator. Spray two 8- by 5-inch loaf pans with cooking spray.
Pour the milk into a small saucepan, and bring it to a near boil over low to medium heat. Remove it from the heat, and stir in butter or oil and honey. Allow it to cool to lukewarm, and then add the yeast, stirring until dissolved. Stir the milk-yeast mixture into the bowl of basic batter; then stir in the wheat flour and wheat germ. Blend salt and soda in a small bowl and sprinkle it over the dough. Stir it in gently, and then set the bowl of dough aside to rest in a warm spot, covered with a cloth, for 20 minutes.
Preheat the oven to 400 degrees Fahrenheit.
Stir the dough down with a wooden spoon. Add the remaining 2 cups of all-purpose flour and 2 cups of oats. If the dough is still very loose and sticky, add a bit more flour, but keep in mind that this dough is just a sticky one. Turn the dough out onto a floured surface and knead until smooth and satiny, adding flour as necessary—too little is better than too much, but you may have to add more than you'd think. [Do not knead too long or include too much flour, or the bread will be heavy and dry; you're aiming for a nice, elastic dough that doesn't stick to your hands too terribly.]
Cut the dough into two equal portions, flour them lightly, and tuck and shape them into fat cylinders. Place the loaves in the pans, cover them with a cloth, and let them rise in a warm place for 1 to 1 ½ hours, or until doubled in bulk. Bake the loaves at 400 degrees for 20 minutes; then decrease the oven temperature to 325 degrees and continue baking until the bread is golden and sounds hollow when thumped, about 15-25 minutes more. Remove the loaves from the oven, turn them out onto a rack, and let cool (at least a little bit) before eating.
Yield: 2 loaves.