I've got nothing against fall. Really, it's just fine. It's plums and pumpkins and leaves changing color and apple cider and all that. The problem is that it paves the way for winter. The way I see it, fall is sort of like the butler in an English novel, and winter is the shadowy, black-clad, slightly deranged visitor at the gate. Fall, being very polite and professional, escorts Winter into the parlor to have a seat. Then, while Fall is upstairs, alerting his master to the arrival of the visitor, Winter wreaks havoc on the manor, downing an entire decanter of brandy, startling the maid, and stealing the sterling tea service from the sideboard in the dining room. Is this making any sense? Maybe not. Sometimes I read too much P.G. Wodehouse.
I guess what I wanted to say is this: it is October, and it is raining. I am wearing a scarf and wool socks. I don't think there is any going back now. It is solidly fall, which is okay. But soon, it will be winter. For a while, I was hoping that this photograph of some artichokes, if clutched tightly enough to my chest, might ward off the chill in the air, but I'm starting to have my doubts. It does make me happy, though, in an October kind of way.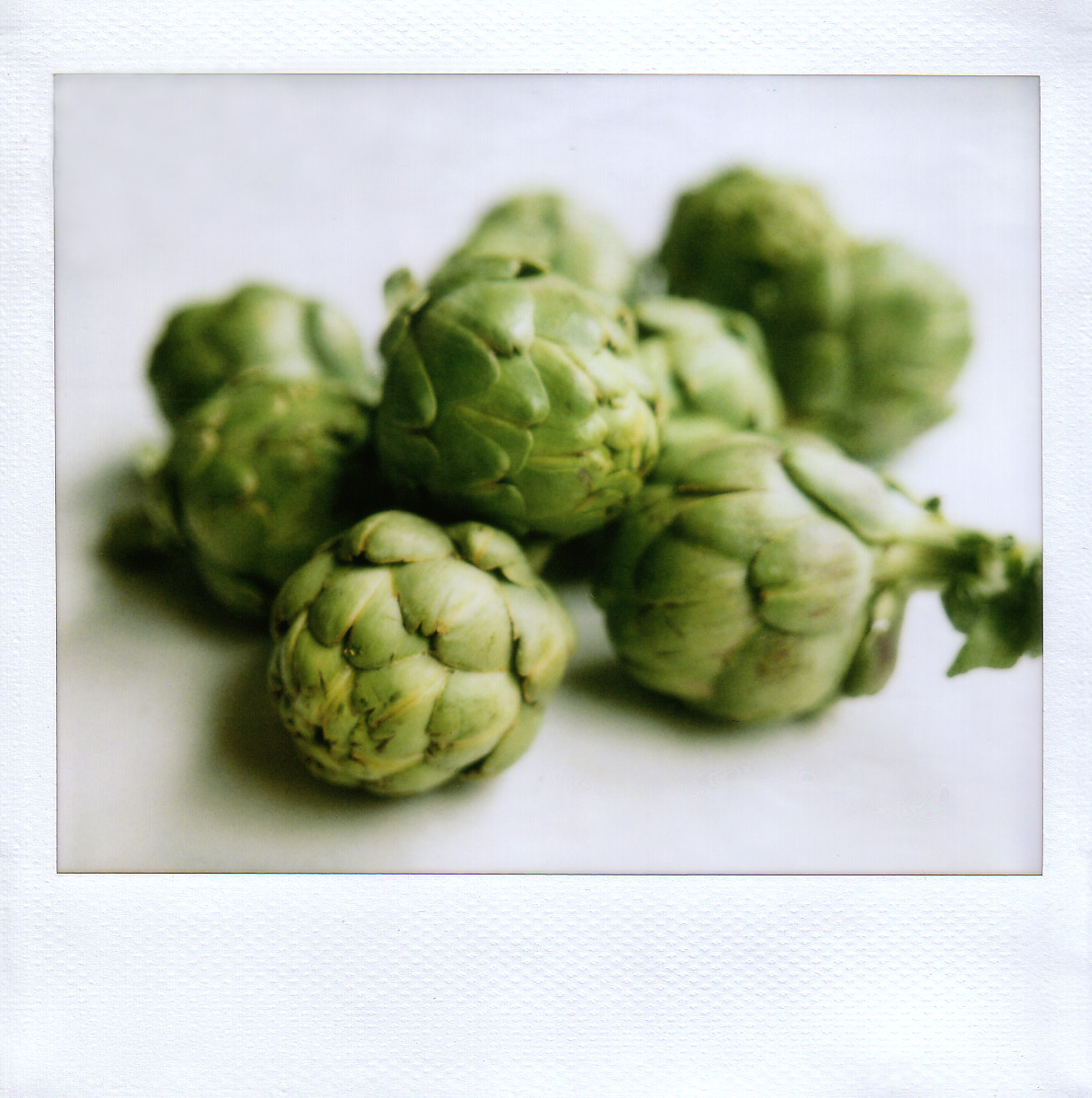 I know I have mentioned this before, but I love artichokes. They may be a little tricky to prepare, what with their thorns and furry chokes, but to those who persevere, they are particularly generous, because they bear two crops a year. They love cool weather, so they thrive in both the spring and early fall, producing fat flower buds, the part that we eat. So if you, like me, didn't quite get your fill last spring, you get a second shot at it now, before you are sentenced to several months of cabbage and potatoes. Not that I equate cabbage and potatoes with jail time, but you know what I mean.
I found the specimens you see above at Whole Foods on Friday morning, when I went out in search of some breakfast. I had woken up to find that we had nothing in the house, so I got in the car. Of course, going to the grocery store on an empty stomach is never a good idea, but I had no choice, and I think I did alright. I came home with a box of cereal (breakfast), one bag of baby artichokes (cute, in season), one box of Hint 'O Mint Newman-Os (RIP, Paul Newman), and one sweet potato (no clue). I didn't have any plans past a bowl of cereal, but a couple of weeks prior, our friend Carla had invited us to dinner, and one of the dishes she made, I remembered, was baby artichokes braised with garlic and thyme.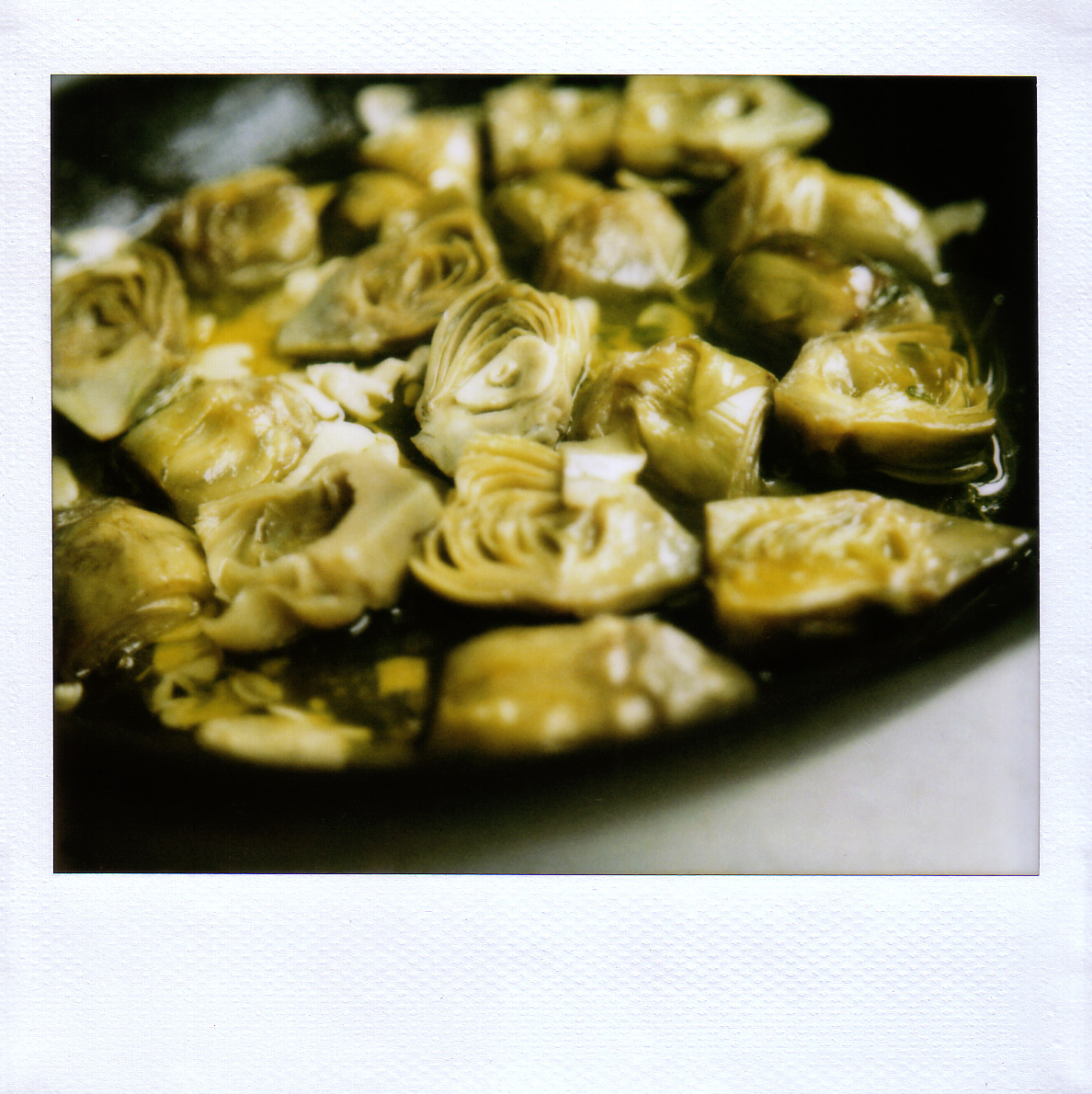 Carla has been leading me to lots of great recipes lately, so I probably shouldn't say this out loud, but on first glance, they looked to me like those marinated artichokes you sometimes find in the deli section of the grocery store, with the olives and pepperoncini. But once in the mouth, they were much more delicate than that, sweeter and more mellow, fragrant with grassy olive oil and earthy from all the garlic. They were fantastic. Carla had found the recipe in Chez Panisse Vegetables, she told me, and it called for only a few ingredients, not counting water and salt. When they were ready, she put them, still warm, in a ceramic bowl on the kitchen counter, and while we stood around and cooked, we plucked them up with our fingers. I ate three, which, since there were not a lot of them, was a little impolite, but Carla, being infinitely more polite, didn't say anything.
And I needed even more, of course. So when I brought home those baby artichokes last Friday, I knew what had to be done.
There is a decent amount of prep work involved in cooking baby artichokes – or artichokes in general, really – but that should never stop anyone. I'm just letting you know. It takes a while to peel away all the tough leaves, so if you make this recipe – and I hope you do – be sure to think ahead about something to keep you occupied: a phone call, maybe, or that old album you've been meaning to dig out, or that Maira Kalman interview you've had bookmarked forever. It's worth the trouble. Basically, you trim the stems, chop off the top, and then peel away the outer leaves until you reach the tender yellow inner ones. Then you dump the artichokes, thus groomed, in a skillet with some water, sliced garlic, fresh thyme sprigs, and a good dose of oil. They simmer gently for a while, until they are tender to the tooth, and then you serve them just like that, simple and perfect, with some curls of Parmesan on top and some warm bread alongside. I can't think of a better, more savory first course for fall. Or, if you want to, you could serve them as part of a larger appetizer spread, with salami and the like. Either way.
Friday's batch disappeared quickly, so I made another today, and for a few minutes, while the scent of garlic and artichokes wafted through the house, the rain outside didn't feel quite so ominous. I ate a few of them for lunch, with some leftover baguette, an apple, and some cheddar cheese. And three Hint 'O Mint Newman-Os. I highly recommend it all.
Braised Baby Artichokes with Garlic, Thyme, and Parmesan
Adapted from Chez Panisse Vegetables, by Alice Waters
The original version of this recipe calls for 20 very small artichokes. Alice Waters isn't very specific about it, but I assume she means the ones that are roughly the size of large strawberries. The artichokes I used, however, weren't quite that petite: before I began trimming them, they were about the size of tennis balls. If you can find smaller ones, go for it. But if yours are more like mine – which I am calling "small" here, as opposed to "very small" – you can use them too. Just use fewer of them, that's all.
Serve these as a first course or hors d'oeuvre, with some warm bread for sopping up the pan juices. With a bowl of olives, some salami, and some cheese, and you've got a nice spread.
1 lemon, halved
About 20 very small artichokes, or 10 small artichokes (see headnote)
5 large cloves garlic, thinly sliced
1/3 cup olive oil
1 cup water
4 sprigs thyme
Salt
Parmesan cheese
Fill a medium-sized bowl with cool water, and squeeze 1 half of the lemon into the water.
Cut off all but about half an inch of the artichoke stems, and trim off the tops to remove any thorns. Break and peel off the outer layers of leaves until the tender, yellowish inner leaves show. (When in doubt, keep peeling: you don't want to wind up with a mouthful of tough leaves.) If you want, pare the ragged edges of the base where the outer leaves were torn off. If your artichokes are only small – as opposed to very small – cut them in half from stem to tip. If there is a choke inside, use a demitasse spoon (or something similar) to scoop it out. As you finish working with them, drop the prepared artichokes into the bowl of lemon water.
In a shallow, nonreactive pan – I used a 10-inch skillet – combine the artichokes, garlic, olive oil, water, and thyme. Season lightly with salt, cover, and bring to a gentle simmer. Cook for 10 minutes, until the artichokes begin to soften, shaking the pan occasionally. Remove the lid, raise the heat slightly, and cook for a few minutes more, shaking the pan occasionally, until the artichokes are soft and tender. Salt again, and squeeze the other half of the lemon into the pan.
Serve the artichokes warm, with some of their liquid and with curls of Parmesan on top.
Serves 4.