I owe you an apology, dear reader. For the past week, I've cruelly paraded before you a small smorgasbord of foods that, unless you happen to find yourself within the New York metropolitan area, you may never eat. If you're anything like me, this could be cause for irritation, agitation, or even boredom; if I can't run out and taste it—or better yet, create it at home—I often find my desire to read about it severely curbed. Yes, learning about new or exotic edibles can be inspiring, both in terms of hunger and curiosity, but when all is said and done, reading about faraway, unobtainable foods can feel a bit like having a crush on a movie star: if I can't get my hands on it, why bother?

All of this is just to say that when Brandon and I went to the Union Square Greenmarket, we went with you in mind. It's all well and good to wax poetic about juice-heavy heirloom tomatoes, peppery pale pink radishes, baby heads of fennel, elephant heart plums, and early ginger-gold apples, but such precious, prissy produce does not travel, literally or figuratively. In the interest of instant gratification for you, hungry reader, I wanted something sturdy and suitcase- or postal service-ready, a transportable taste of New York.
It was a Wednesday morning, almost noon, and a prime hour for public consumption of alcohol—or rather, sipping samples from plastic Dixie cups at the Château Renaissance Wine Cellars stand. We stepped up to the checkered tablecloth and were met by French-born winemaker Patrice DeMay, who drives weekly into Manhattan from his vineyard in the western Finger Lakes region. Château Renaissance is best known for its champagnes (or, if we're going to get technical, "sparkling wines," I suppose), made using the DeMay family's 400-year-old Loire Valley recipe. Brandon is an ardent fan of the "naturel" variety, as well as a concoction called the "pear sparkle," a fizzy, not-too-sweet blend of champagne and one of the vineyard's seasonal fruit wines. My devotion lies with this last, a line of delicate, well-balanced wines made from 100% whole fruit—apricot to blackberry, elderberry, and rhubarb—and fermented with naturally occurring wild yeasts.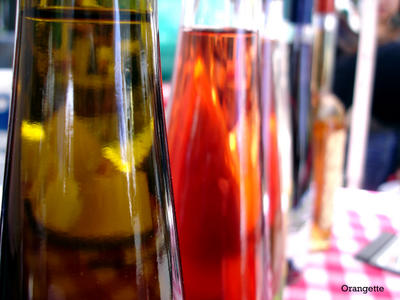 Perfect as an aperitif or alongside dessert, Château Renaissance's jewel-toned fruit wines come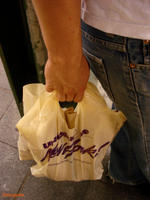 in tall, sleek bottles that tuck nicely inside a suitcase or—better yet—ship quite handily from the Finger Lakes with a single phone call. In June, I brought home a bottle of strawberry-rhubarb—light and bright on the tip of the tongue, floral, silky, aromatic. This time I snagged a deep purply-blue bottle of blueberry and a second of apricot, a high-pitched, ethereal liquid version of the sweet, meaty fruit. Patrice handed them to me in a bag with "Uncork New York!" written loudly across its belly, and you know, I don't mind if I do.
So much sipping calls for something solid and savory, and so Brandon steered me to another market must-do: Martin's Pretzels.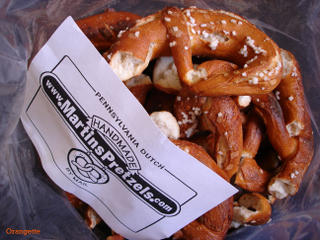 A fixture of New York's greenmarkets since 1982, these plump, shatteringly crunchy pretzels are handmade by Mennonite women in Lancaster County, Pennsylvania. Deep brown with a light sheen, these über-snacks are freckled with salt and filled with uneven air holes like a good rustic bread, the happy result of hand-rolling. They're remarkably toasty, slightly nutty, and made from nothing but flour, water, yeast, and salt. If you're in the know, you'll step up to the stand and ask for a bag of "brokens,"

sold on the cheap in dollar increments and not one bit the worse for their less-than-perfect appearance. But if you're more than a step—or a city—away, you can order Martin's Pretzels online* and have them shipped to your door. I may well have to do so myself, since we nearly demolished my supply on the subway ride back uptown. And by the time I landed in Seattle a few days later, all I had were crumbs from a few itty-bitty broken bits.
But I can console myself—and you too—with the knowledge that at least some faraway, five-boroughs foodstuffs can be delivered to my doorstep any day I please. Now, if only the same were true of a certain New Yorker—or, hell, while we're at it, a movie star or two.
*Sadly, it appears that the brokens are not available via mail order. For that, you'll just have to show up in person. Consider it yet another reason to visit New York.