Dear supportive reader, I need not have feared.
My near-disaster cake was roundly applauded and went smashingly with Keaton's Bonny Doon Framboise dessert wine.
Saturday evening's early-birthday festivities began lazily around the table with dollops of Jessica's garlicky Greek lima bean puree and whole wheat pita, which some of us washed down with Fischer Amber. Next up was Keaton's autumn-like carrot-fennel soup, with a 2001 Charles Mitchell Pinot Noir I had inherited from Burg and saved for a special occasion. Then Kate presented us with lovely composed plates of linguine with red chili flakes and olive oil, steamed clams, cherry tomatoes, and bias-cut scallions.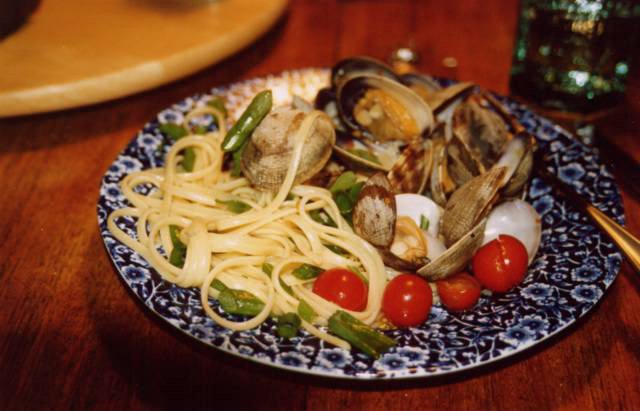 I slurped, splashed, and, yes, succeeded in staining my flimsy filmy 0044 shirt yet again.
And then I lit my cloth napkin on fire.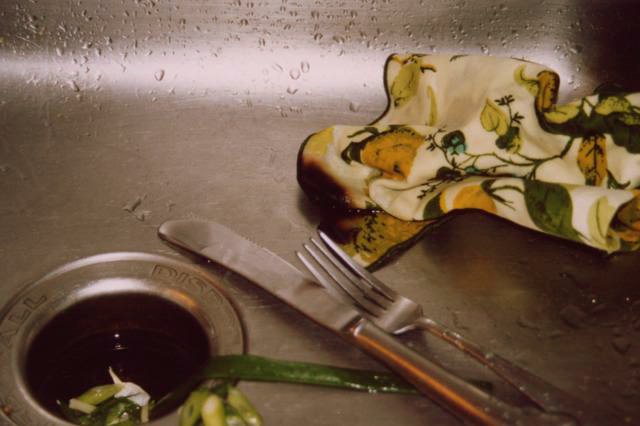 Accidents are so exciting! I'm sorry, Kate. But then again, have you noticed that your napkins match your (heinous) flowered hot-pant bikini bottoms? When I buy you a new set of napkins, I'll look for a more flattering color scheme. I am a generous and memorable—if occasionally alarming—dinner guest.
After cake and dessert wine,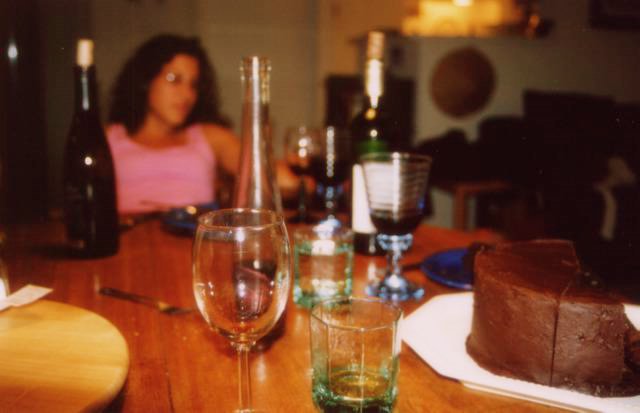 Keats and I did our best to imitate David Byrne's signature dance techniques, and there was much lying around on the floor, watching of "Mr. Belly" across the street through Kate's binoculars, and talk of my smug superiority at 19 over Keaton and the unsanctioned Fugazi patch on her backpack. And Jess regaled us with stories of bowing reverently to QFC employees and showing excessive gratitude for correct change, effects of culture shock upon returning to the U.S. after four years in Japan.
We tumbled out onto the downtown streets around midnight, me bearing the leftover cake and an enormous bouquet of flowers from Kate. On the sidewalk all eyes were riveted to the cake platter; someone even said, "Nice cake!" as we passed. I was in heaven.
You girls know how to do birthdays, or mine at least.